On 14th January 2021, Sun transits to the sign of Capricorn. This is a critical transit as the Sun is moving in Uttarayana. This year, the transit is of particular importance, and it will have major implications for all rasis alike, as Sun joins Saturn and Jupiter in the sign of Capricorn. This conjunction will have different effects on different rasis, and knowing them is essential to excel in situations and overcome the challenges at hand. 
ARIES
This is a favourable transit for Aries, as the Lord of the 5th house moves to the house of career and profession. This will mark a good phase in your professional life, particularly in the government sector. You may get recognition for your work, or even a promotion might come about. However, since Sun conjuncts with Saturn here, you need to be very diplomatic in your approach towards your father, or any other figure of authority like your senior at work, or government officials. This transit will direct your focus towards what you are meant to do, so this is a good time to put in hard work, and you will get appropriate rewards. But if you fail to do your karma, you may have to face many difficulties, so it is always advisable that you come clean to your conscience. 
Get your personalized yearly horoscope now!
TAURUS
The Sun moves in your 9th house of the father, luck, and spirituality. This transit will bring with itself material wealth and fortune, but if you are not careful enough, you may soon overshoot your spending. You may also feel a lot more spiritually inclined, and reading the scriptures will help you in various ways. However, your relationship with your father might come under strain, so it is advisable to take your father's opinion in matters that are important so that any clash is averted. This transit also indicates chances of distant travels, including to foreign countries, particularly on the work front. Since your 4th house also comes into focus during this period, your mother will play an important role now and is likely to influence key decisions. 
GEMINI
The natives of Gemini will experience major transformations during this transit, so try to make sure that these changes are in your favour. This might be a difficult phase, as you are very likely to get deceived or cheated. You need to keep your secrets to yourself, as sharing them with someone might lead to betrayal. Your health might also be affected now, and your knee area and your lower abdomen could be under stress during this transit. A healthy diet is recommended. You might also have some minor problems with your eyes or neck. This transit will also see a loss of money, and your expenses will shoot up drastically, which might also be for medical reasons. Try cutting down on unnecessary expenses. 
CANCER
In this transit, Sun is placed in your 7th house, the house of relationships, and resultantly, all the important relations in your life will come into focus during this time, whether personal or professional. You may have some issues with your spouse, and your marital life is very likely to suffer, you must maintain calm and try to keep your aggression in check. Weigh out every matter with a practical mind, before you arrive at any decision, and do not hasten things. This applies to businesses as well, as this might be a difficult phase. While there are chances of growth, disagreements are also possible in partnerships. You need to tread carefully, as you may also have some trouble with your seniors or boss.  
Get your FREE 60-page horoscope now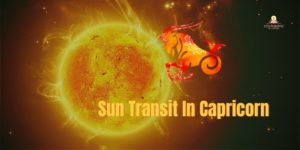 LEO
This will be a pleasant transit for the natives of Leo. Sun moving into your 6th house of debts, diseases and enemies will bear good fruits for you. This will help you end the enmity, and overcome several other challenges in your life. You may also witness a significant improvement in your health, and may start paying greater attention to your diet and general well-being. This is also a perfect time for career growth, for services and businesses alike. Those looking for employment in government services through competitive exams are likely to find success, as this is a period of winning over the challenges and obstacles. You will gain recognition for your work at your workplace, especially in the government sector, while businesses will also register greater profits. This transit will also free you from debts. 
VIRGO
The Sun transit on the 14th January 2021 will bring in mixed results for you. While you may have a pleasant time in some matters, you might be faced with immense challenges dealing with other issues. You might feel your health improving, but you may have to face troubles on your career front. This is not a very good time to switch your job, even though you might have problems with your colleagues. It is better if you sort out the issues yourselves, and not let the matter escalate. Try to make little improvements in your professional attitude, which will help you go a long way. You may need to undertake long travels, particularly for your job, and it might also involve going abroad on a professional trip. Good communication is the key to a successful relationship, and this is truer during this transit, so try to communicate more effectively with your partner. The health of the younger members of your family might also come under stress. 
Get your 60-page FREE Kundli
LIBRA
The Sun transit to the house of Capricorn from 14th January to 12th February will place the Sun in your 4th house, which is the house of the mother, friends, and properties. This transit will not have many promising outcomes for you. Sun is not very powerful in the sign of Libra, so you will have to face some challenges during this time. The challenges may be in the form of friends who are not very favourable during this time, or who tend to do something to harm you. This transit will affect your mother's health, as well as strain your relationship with her. There will also be several other issues in your head that will ruin your mental peace, and you may want to turn to spirituality for finding peace. During this transit, you should abstain from investing in real estate or property. Try not to buy a new property or even a vehicle for this time. 
SCORPIO
This is a very fruitful transit for the natives of Scorpio. You will excel on many fronts, and see good things happening. Sun is in the 3rd house for you, the house of siblings, neighbours, and communications. You will get a lot of support from your siblings in your endeavours, both personal and professional. Even in your career, you will put in a lot of hard work, and it will pay off well. You will gain recognition for everything that you do now. You are also likely to gain wealth during this transit, which might be the result of your dedication to your work. The communication sector will be particularly active now, so if you work in the media sector, you will see significant progress. This is a great time for Scorpio transit, and you should make use of the most of it. 
Get 55% OFF on your personalized yearly horoscope 2021
SAGITTARIUS
For Sagittarius, this transit marks an increase in income, but this may also shoot up your expenses. It is very wise to save now so that you can reap the benefits that the transit brings to you. There will be many opportunities to gain now, and your income will increase substantially. But this transit might also create problems in your relationship with your elders. You should try to avoid getting into a tussle with them, and respecting them is important. There may be several problems at the family level, as you may be too outspoken, and being assertive even with your elders will only bring trouble. When at home, keep your behaviour in check, and when at work, do not try to dominate over others, or force your opinion on everyone else at the office. 
CAPRICORN
The Sun transits your 1st house, and this will bring a lot of focus on yourself. You may seek improvements everywhere, but your relationship with your spouse may suffer to a great extent. During this transit, you will try to assert yourself everywhere, particularly with your spouse, and it is likely to sour the relationship. Try to keep yourself in check when dealing with them. This transit will also affect your professional life. You will have to work very hard to achieve what you want. Since Jupiter and Saturn are also in this house, you will get results, but only after you have done your karma.  Everything will come, but only after some struggle. There may be some arguments with your colleagues as well, but a calm approach will help. If you are looking for a job now, you may get it, but only after many delays and challenges. 
AQUARIUS
The Sun transit will not produce very good results for you. You will have to face difficulties and challenges on multiple fronts. Professionally, this is a period of missed opportunities. Though many doors will open for you, it will go in vain, as you are not prepared for those opportunities. You are not very careful about what you do and try to reap as many benefits as you can. In your personal life, your health or that of your spouse is likely to deteriorate. You may have a lot of expenses now, so try to be wise with your money. This is not a very good time for businesses either. You need to carefully analyse every business deal that is on the cards and take a well-considered decision. 
Get your free 60-page horoscope now!
PISCES
This is an exceptional transit for Pisces natives. The Sun transits to the 11th house—the house of unexpected gains, profit, and prosperity. This is a time when you will grow in your career. People, particularly your seniors will appreciate you, and this might also result in promotion. You can gain from unexpected sources as well. Likely, some investments that you had made earlier will now bear fruit. It is a great time for businesses as well, and you can expect to see a good increase in profits. Many new opportunities await you during this transit, and with your increased interest and hard work, you can make the best use of this time. There might, however, be some minor issues with your younger siblings, but you can easily solve the problem with a little effort and understanding. It will also be a good phase for your relationship with your spouse.