Jupiter Transit and its Importance
Vedic astrology
, Jupiter is referred to as the Guru, the one who educates. It is also known as the planet of luck and money.
What are the effects of Jupiter transit?
The period of transit is when
Jupiter transits
from one sign to another. The transit period of Jupiter across the horoscope takes 12 years, which means it stays in a sign for one year or so.
In 2023, Jupiter, the planet for wealth and prosperity, will transit from Pisces to the sign of Aries on April 22. Jupiter will enter Aries sign in a combust state as the planet will go combust on March 28 while still in Pisces. It will come out of its combust state on April 27. On September 4, Jupiter will become retrograde and it will come out of retrograde on December 31, 2023.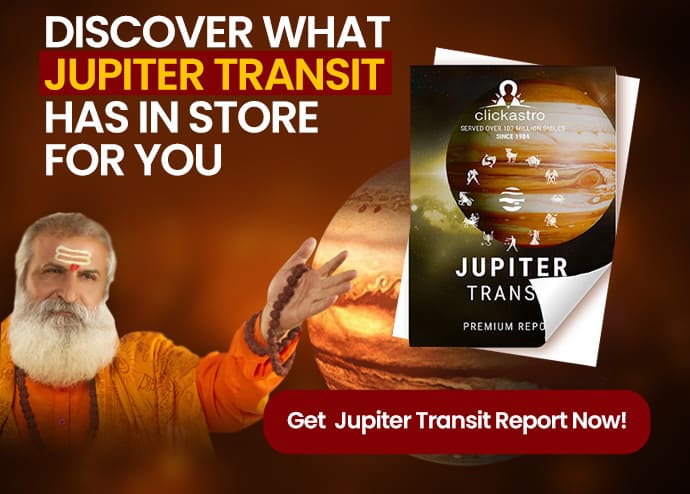 The impact that Jupiter changing signs have on human lives is more than that of other planets like Mercury or Venus. Whichever house Jupiter is transiting in, it will impart positive vibrations on the person. At the same time, it can also make him a bit unrealistic.
Jupiter rules watery Pisces and fiery Sagittarius. It is the most important planet for creating auspicious events in life. It also defines the respect and reputation that the individual will gain from others in society. When Jupiter becomes retrograde, it marks a period of inner growth. Changes will be made to existing beliefs, and one may see things in a new light.
Meet Lakhan. He is a good kid – a good son, a good friend, and a good human being who wants to influence the world around him in a positive way. Lakhan has just finished college and is now on the lookout for his dream job. The transit of Jupiter through his chart at this time will have huge implications for the life of Lakhan. The effect of Jupiter's transit will have him view every day as a new beginning filled with new opportunities. He will face obstacles in good spirit and see every setback as a chance to learn new things.
However, the influence of Jupiter can also make him quite unrealistic and foolhardy. He may overlook how cruel and malevolent society can get, especially towards the colourful aspirations held by young men and women. This can push Lakhan into the hands of fraudsters who will take pleasure in using him and then discard him. Still, despite the unrealism, Jupiter indicates spiritual blessings, and its transit is seen as an important transit in astrology. It will ensure Lakhan enjoys life now more than at any other time.
As Jupiter becomes retrograde, he will have second thoughts on many of the beliefs he had been holding up as sacred in life. The harsh realities of life may make Lakhan adopt a more open and inclusive approach towards life. He will mature as an adult and start taking responsibility for his actions.
What is so special about Jupiter transit this year?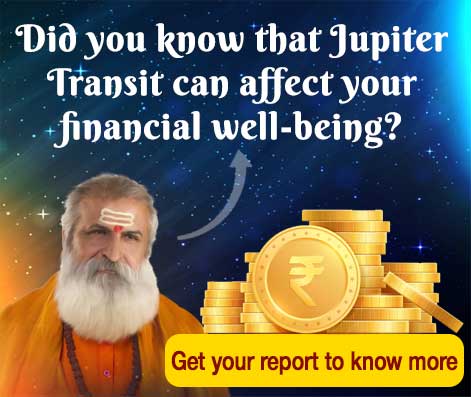 On April 22, 2023, Jupiter will transit from Pisces to the fiery sign of Aries. This period will bring out more of the fiery element in your life. You will fight for your rights, seek perfection and will be naturally optimistic. This transit may make you particular about details and you will want to get everything just right. You will also make a big change in other people's lives with your positive attitude. You may opt for a healthier lifestyle and seek to help out others who need helping out. Jupiter's transit through Aries multiplies whatever is going through your mind, therefore, this transit is the ideal time to harbour positive thoughts and envision positive outcomes for your cherished dreams.
Aries borns may face some degradation in health. The progress of work may face some disturbance and due to that there may be mental stress and low morale. The period will be beneficial if the person stays vigilant
Taurus people have to make sure that they are progressing toward life in a lawful manner, otherwise, there will be problems. Those engaged in a job or business might get a chance to travel abroad. Domestic expenses may increase.
Gemini people will have to work hard if their financial wishes are to be completed. There may be a quarrel with a senior officer. You may also be eager to move towards marriage. There will be progress in the business. Students will face barriers but continue to progress.
A change in job or business will give Cancerians huge success. Peace will prevail in family life. Financial conditions will strengthen. There will be a success in matters related to court. You may become a leader in your field.
There will be a success in religious and non-religious works for Leo borns. There may also be financial gains. You may receive support from siblings in your work. You will also receive good news related to children.
For Virgo borns, this transit will not be that prosperous. If you put your mind onto religious work and worship, it will fulfil your desires and provide you with success. Health may face problems.
For Libra people, this transit will bring important life changes. Businesses may face huge problems. Marital life will see good times. Decision-making skills will gradually improve.
Scorpio people will come across positive outcomes. However, you must stay vigilant regarding your health. There may be an increase in expenses. The career will see good times.
Sagittarius people may get worried about children. Financial conditions will gradually improve. Things may not be smooth in familial life. Students may find it hard to focus on their studies.
Capricorn people have to take good care of their health. There will be opportunities to showcase talents at work. Peace and prosperity will prevail in family life.
Aquarius people may celebrate life to the detriment of their health and finances. There will be prosperity in marital life. Only hard work will bring a financial upturn.
Pisces people have to take care of their diet. You have to keep your speech in check. There may be quarrels in the family. Enemies will be overcome. Hard work is the only path to success.
Read Jupiter transit Predictions in detail
Which are the houses to watch out for during Jupiter's transit?
The seventh house is the house of relationships, both personal and professional. When Jupiter moves through the seventh house, it is a good time to improve your relationship with others. This is the time to build your reputation and establish yourself as a valuable player. The native will be honoured for his services. Marital relationships will improve during this phase. This is a good time to initiate healthy changes in life like exercise and dieting. For Lakhan, who is set to face the world with all the zest and fervour of a 21st-century millennial, this is a very important time. He will meet new people with whom he may strike a long-lasting bond. This phase could present him with the best opportunity to make a strong start to his career. He may also find that special person during this time and get to relish the sweet nectar of true love. If you are Lakhan, make sure you enjoy every moment of this particularly blissful time of your life. When Jupiter moves through the tenth house, the focus will be on career as well as home. If Jupiter is favourably placed, the native will experience good things in his career.
Jupiter, being the Guru
, will make the native more efficient at the office and may help him get a promotion. At home, the native will indulge in repair or renovation works to improve safety and comfort. For Lakhan, this period presents the best time to land his dream job. He will establish a good rapport with his superiors and impress them with his discipline and cleverness. Also, make an extra effort to make the parents happy. He will help out at home and may even purchase home essentials using his salary. This will make his parents swell with pride thinking about the son they have raised. Lakhan, at this time, will be high on life and can achieve whatever he sets his eyes upon. The only thing is to not get carried away by becoming too optimistic.
Download Your Yearly Horoscope 2023
Why is it important to get a Jupiter transit report?
Jupiter transit is considered the most important in Vedic astrology along with
Saturn transit
. Jupiter signifies the virtue of Dharma. No beneficial event can take place without the blessing of Jupiter. Being a
benefic planet
will mitigate the bad effects of a house. It also expands the features of any particular house. It boosts confidence levels, gives hope and builds enthusiasm. This will enable the native to learn and grow. Even when it is a functional malefic or debilitated, it is still able to bring some positive results. A well-placed Jupiter is auspicious for the whole chart. Jupiter going through a house or other planet means that good things related to that house or planet are on their way to influencing you. The joint impact of the Jupiter-Saturn transit is a key factor in profound predictions. Their joint impact on a house or planet means things related to that planet or house will most likely occur. Also, with Jupiter being the giver of knowledge and wisdom, in whichever house it transits or over whichever planet it transits, it bestows on the person with knowledge and wisdom related to qualities represented by that house or planet. If you are like Lakhan, then getting a detailed Jupiter transit report is the best move you can make to make the most of life. Not only will it help you to channel your inner spirit towards success in your personal and professional life, but getting the report will help you unlock the spiritual being within you, making you a better person overall. For getting the best report, choose Clickastro, the pioneer in the field of online astrology.
Personalized Jupiter transit reports
are available on the Clickastro website.
Premium reports
are available. One can download and see a sample report to get an idea of how in-depth the report will be. You can read the
reviews on Clickastro
products before proceeding to purchase. The report is available in English, Kannada, Tamil, Telugu, Hindi, and Marathi languages. Payments can be made through G-Pay, credit/debit cards, net banking, UPI, Wallets, Paytm, and Phonepe. Payment can also be made in USD. Get your report and unleash the best within you today!