IPL 2020 Predictions: Mumbai Indians vs Sunrisers Hyderabad
Defending champions Mumbai Indians meet Sunrisers Hyderabad in Sharjah on Sunday. Two opening batsmen are leading the two teams. MI and SRH are balanced teams this year. Key players of MI are in form and the overall team performance is as expected. Though they usually take their time to get in form, MI has this time around got the groove from the beginning itself. The presence of Williamson has given SRH a much-needed boost. Their second level players are also performing excellently. This match is set to be a close one.  Let's analyse IPL 2020 today's match.

IPL 2020

Match 17 of 56

MI vs SRH
Date
 – 04 October, Sunday
Time
 – 15:30 IST
Venue
 – Sharjah Cricket Stadium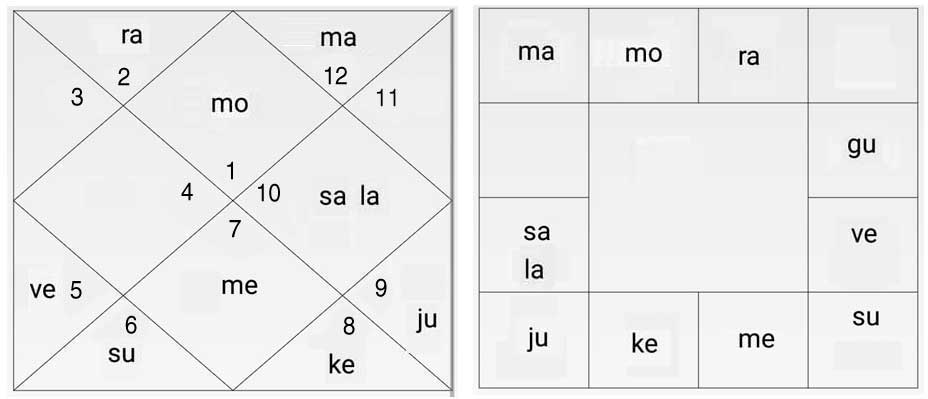 Key Players of IPL 2020 Today's Match
IPL 2020 Team Mumbai Indians 
Kieron Pollard, Hardik Pandya and Jasprit Bumrah are the key players in this squad. Kieron Pollard and Hardik Pandya may perform to their top talents.
IPL 2020 Team Sunrisers  Hyderabad
Kane Williamson, Manish Pandey and Jonny Bairstow are the key players in SRH. They may not perform to their expectations
IPL 2020 Predictions – Analysis of MI Team 
Horoscope Analysis of Rohit Sharma
Rohit Sharma, the hitman of India, is in batting form. He and his teammates are doing well now. It is going to be very difficult to continue this tempo till the last match of this tournament. So there will be some challenges in later matches. His Lagna is Cancer whose lord is Moon. Moon is the planet for the mind, emotions, concentration etc. We can see these benefits in people who are born in Cancer Lagna. These qualities help Rohit change his strategies without much conflict. He is able to get the right support from his teammates. He is currently passing through the Rahu Dasa under the sub influence of Ketu.
Find the influence of Rahu Ketu transit
This is not a good time. This is a time when the unexpected happens. But since Rahu is at nine and Ketu is at three, it can be assumed that there won't be too much interference in the form of bad luck. In transit prediction, Guru transits through the ninth house which is favourable. In transit forecast, Jupiter is in the ninth house which gives favourable situations in career, benefits from the knowledge, right advice from mentors etc. But Saturn transits in the tenth house which is not favourable. Saturn is in its own house. This position may reduce the negative effects. The today luck factor is influencing the end result of the match. Daily predictions say today is slightly favourable for Rohith. There may be right support from his resources.
IPL 2020 Predictions – Analysis of SRH Team 
David Warner could perform well in the last match, which will make him confident in this match. He also has the support of Williamson. According to Warner's horoscope, his ascendant is Gemini. The feature of Gemini is their adaptive nature and flexibility to the conditions. Gemini is ruled by Mercury. Mercury stands for communication. We have often seen Warner communicate warmly with his teammates. He is currently passing through the Dasa period of Sun and sub-period of Venus. Sun is debilitated in his horoscope and a debilitated planet's Dasa period would not be favourable. But Sun also shows neechabanga rajayoga in his horoscope. So this period may not be too unfavourable. In the transit forecast, Jupiter is travelling at six, and it also shows as a time of Kantaka Shani(Saturn in the seventh house). When Jupiter transits on the sixth house it results in instability, lack of confidence, lack of support from people who are with him. The positive part is that both planets are in their own houses. So it may reduce the unfavourable effects. Mars moves at ten, which is again unfavourable. But the luck factor on a particular day will give that day's outcome. Today is a good day for Warner as per daily predictions.  We can see how luck factors help him in today's match. His teammates may perform to his expectations. 
Last ball
There are so many astrological factors influencing a prediction. Analysing every aspect is an impossible task. But here we consider two captains and key players only. From analysing these people, today Rohith Sharma has slightly more blessing from stars than Warner. The match will be a very close one with an exciting finish.
Indian astrology predictions are based on the time, date and place of birth, hence the accuracy of the predictions depends upon the accuracy of these details.