IPL Today Playoff Match: Delhi Capitals vs Sunrisers Hyderabad

The penultimate match of this year's IPL tournament is between Sunrisers Hyderabad and Delhi Capitals, and it promises to be exciting as it is a do or die situation for both teams. The winner of IPL today playoff match will play against Mumbai Indians in the final. SRH had won two matches against DC earlier, and their last win against RCB will also boost their confidence. On the other hand, DC's performance against MI was pathetic. But DC has talented players who single-handedly change the result. But the inconsistency of key players is an issue faced by both teams. While comparing team balance, SRH has a slight upper hand than DC. But in T20, we cannot predict the winner by analysing team strength and history of wins.
Know about your life. Get your FREE Kundli now!
IPL Play-Off Match DC vs SRH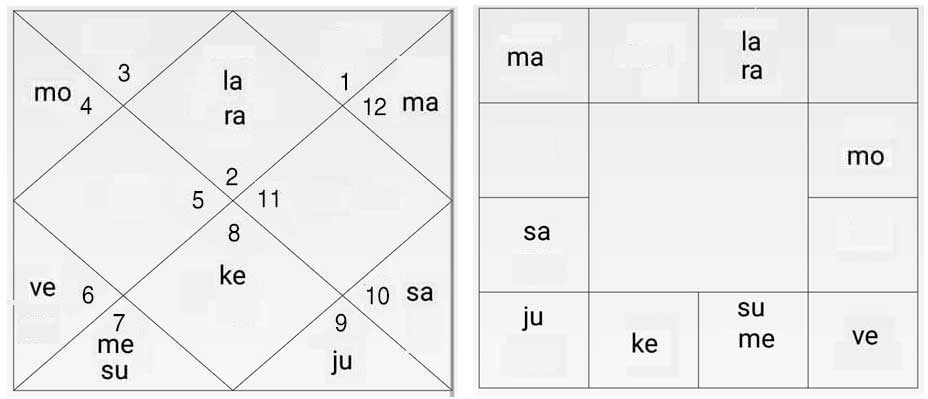 IPL Today Playoff Match Astrology Predictions
IPL Today Playoff Match Astrology Predictions – Team SRH
David Warner is a good fighter and motivator. He is playing in front of the battle. His last win gives him more confidence. He is confident in the bowling department. But his batting section is not up to par. We can expect a great performance form, Warner. According to Warner's horoscope, his ascendant is Gemini. The feature of Gemini is their adaptive nature and flexibility to the conditions. Mercury rules Gemini. Mercury stands for communication. We have often seen Warner communicate warmly with his teammates. He is currently passing through the Dasa period of Sun and sub-period of Venus. Sun is debilitated in his horoscope and a debilitated planet's Dasa period would not be favourable. But Sun also shows neechabanga rajayoga in his horoscope. So this period may not be too unfavourable.
In the transit forecast, Jupiter is travelling at six, and it also shows as a time of Kantaka Shani (Saturn in the seventh house). When Jupiter transits on the sixth house, it results in instability, lack of confidence, lack of support from people who are with him. The positive part is that both planets are in their own houses. So it may reduce the unfavourable effects. Mars moves at ten, which is again unfavourable. But the luck factor on a particular day will give that day's outcome. Today is a good day for Warner according to daily predictions. But he may get good support from his teammates. 
IPL Today Playoff Match Astrology Predictions – Team DC
Shreyas Iyer is a young captain with a lack of experience in chasing big totals. He is not able to stop the run flow of the opponent team with his bowling strategies. His last defeat against MI was pathetic and such performance from a team placed second in the points table is unacceptable. He has talented players in bowling and batting. But inconsistency and lack of captaincy strategies have resulted in defeats. There are capable and proven players in his squad. If he effectively uses his resource, he can win the match. His Lagna is Leo, who is a lion. Leo zodiac sign possesses qualities like bravery, leadership, charisma, generosity etc. Their weaknesses are egoistic, controlling, demanding, dominating etc. We can see some of the characteristics in Shreyas also. Lagna lord is Sun, it denotes leadership, authenticity, utilising the resources etc. Currently, he is passing through the Dasa period of Rahu and sub-period of Guru. This is a favourable period for him.
Get your detailed horoscope analysis now!
In this period, he can achieve or learn many things related to his career. Transit forecasts see Jupiter transiting through the twelfth house and Shani in Lagna. Both are not favourable, but both are in their own house. So he cannot face significant challenges. According to daily predictions, the day is a good one for him. He will get good support from his resources.
Key players of IPL today playoff match
Key players of team Sunrisers Hyderabad
Kane Williamson, Manish Pandey, Jonny Bairstow and Rashid Khan are the key players in SRH. Warner may get good support from his key players
Key players of team Delhi Capitals
Prithvi Sha, Rishab Panth and Ravichandran Ashwin are some the key players in this squad. Shreyas Iyer may get good support from his teammates.
Last ball
We can see different kinds of approaches and strategies in this match. Both of the captains have a good blessing from planets. So it is difficult to predict who will win the match. Warner has slightly better luck than Shreyas. The game will be very close.
Indian astrology predictions are based on the time, date and place of birth; hence the accuracy of the predictions depend upon the accuracy of these details.