IPL 2020 Final Match: Mumbai Indians vs Delhi Capitals
IPL 2020 final is here and as expected Mumbai Indians meet Delhi Capitals, the top teams on the points table. Both teams have the perfect combination of foreign and domestic players. But it is understood that Mumbai Indians has an upper hand when considering team balance and performance. MI is the only team that has performed consistently in the league stage this season. In the initial stage, DC too was consistent, but post the halfway mark of the tournament, they faced continuous defeats. We witnessed an all-round performance from DC during the last match. If they keep the same form in the finals, they may make history as it is the first final for DC. But MI is a proven team and all players are in their prime. They have performed well during the league as well as the playoff sessions. So the finals will not be easy for DC. We can witness the beauty of T20 in this final. 
Get your 60-page FREE horoscope now!
IPL 2020 Final Match MI vs DC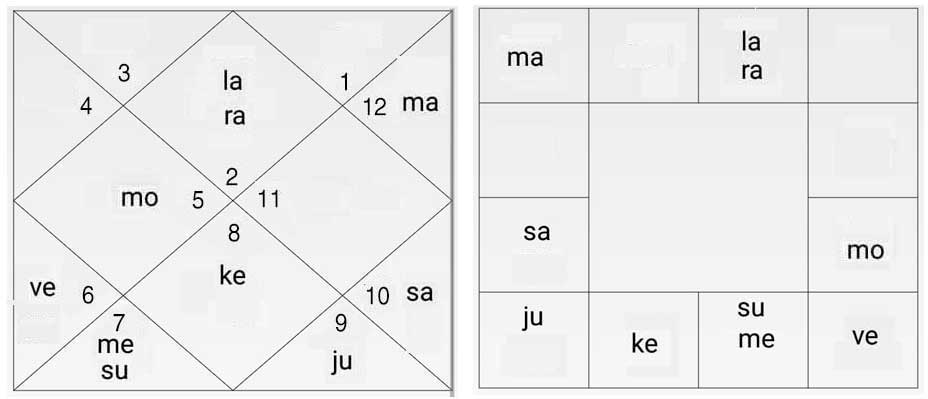 IPL 2020 Final Match Astrology Predictions
Astrology Predictions for Team MI
Rohit Sharma is leading a well-balanced team this year. Most of the players are in form and are thinking of only winning. Rohit's main task is to maintain the winning formula in the final. This is the sixth time MI is playing in the final. MI has won four out of five times in the finals. They have talented players, who can make any game theirs. Rohit Sharma's Lagna is Cancer and the house lord of cancer is Moon. His moon Rashi is Aries. People born in Aries are always restless. We can observe this character in Rohit Sharma. The double tons of Rohit Sharma are prime examples of that.
Detailed Horoscope Analysis of Rohit Sharma
Presently Rohit is passing through the Rahu Dasa under the sub influence of Kethu. This is not a good time. This is a time when the unexpected happens. But since Rahu is at nine and Ketu is at three, it can be assumed that there won't be too much interference in the form of bad luck. In transit prediction, Guru transits through the ninth house. It is very favourable. But Saturn transiting in the tenth house is not favourable.  Daily prediction is unfavourable for Rohit. Some of his decisions will not be beneficial in this match.
Get your 60-page FREE horoscope now!
Astrology Predictions for Team DC
Shreyas Iyer is a young captain who lacks the experience for chasing big totals. He has been unable to stop the flow of runs for the opponent team with his bowling strategies. DC's last defeat against MI was without even any fight. This is not the performance expected from a team who is in the second position in the points table. He has talented players in bowling and batting. But inconsistency and lack of captaincy strategies have resulted in defeats. There are talented and proven players in his squad. If he uses his resources in an effective way, he can win the match. His Lagna is Leo, who is a lion. Leos possess qualities like bravery, leadership, charisma, generosity etc. Their weaknesses are egoistic, controlling, demanding, dominating etc. We can see some of the characteristics in Shreyas also. Lagna lord is Sun, it denotes leadership, authenticity, utilising the resources etc.
Get 45% OFF on Jupiter Transit Report
Currently, he is passing through the Dasa period of Rahu and sub-period of Guru. This is a favourable period for him. In this period he can achieve or learn many things related to his career. Transit forecasts see Jupiter transiting through the twelfth house and Shani in Lagna. Both are not favourable, but both are in their own house. So he cannot face significant challenges. According to daily predictions, the day is not a good one for him. He may not get the right support from expected resources.
Key Players of IPL 2020 Final Match
Keyplayers of Mumbai Indians
Suryakumar Yadav, Hardik Pandya, Kieron Pollard and Jasprit Bumrah are the key players in this squad. He may get the right support from Bumrah and Pollard.
Keyplayers of Delhi Capitals
Prithvi Sha, Rishab Panth and Ravichandran Ashwin are some the key players in this squad. Shreyas Iyer may get good support from his teammates.
Last ball
We can see different kind of approaches and strategies in this match. Both captains are not in much favour of the planets. So it is difficult to predict who will win the match. Shreyas Iyer has slightly better luck than Rohit Sharma today, but remaining factors, like the position of guru, Dasa periods etc. are favourable for Rohit. The match will be very close.
Indian astrology predictions are based on the time, date and place of birth, hence the accuracy of the predictions depend upon the accuracy of these details.