IPL 2020: SUNRISERS HYDERABAD vs CHENNAI SUPER KINGS

IPL 2020 today's match is between SRH and CSK. Chennai Super Kings get a chance for a payback today for their loss against Sunrisers Hyderabad earlier in the tournament. CSK is reeling under heavy losses and lingers at the bottom of the table just above KXIP. SRH too is coming in after a lost match against RR. But, SRH seems to be having a better time when compared to CSK, at least on the points table. CSK, meanwhile, is enriched with talented international and national players. The team confidence level must be equal.
Is the time good for your career? Check now!
Both teams are putting up the inconsistent performance this season. Though CSK usually has a balanced team, this season the lack of Suresh Raina is really showing. The uniqueness of CSK was their ability to chase any challenging total and the ability to play a tight match with good bowling strategies. But this season what we see of CSK is just the shadow of its previous performance.
Get insights about your life. FREE 60-page horoscope
On other hand, SRH is also being inconsistent in both batting and bowling. Both are unpredictable teams and have talented players who can change the situation in one over. The advantage of SRH is the presence of Kane Williamson, who has the ability to change the match with his batting skills.
IPL 2020 Today's match 29 of 56
Date –
 13 October, Tuesday
Time –
 19:30
Venue – 
Dubai International Stadium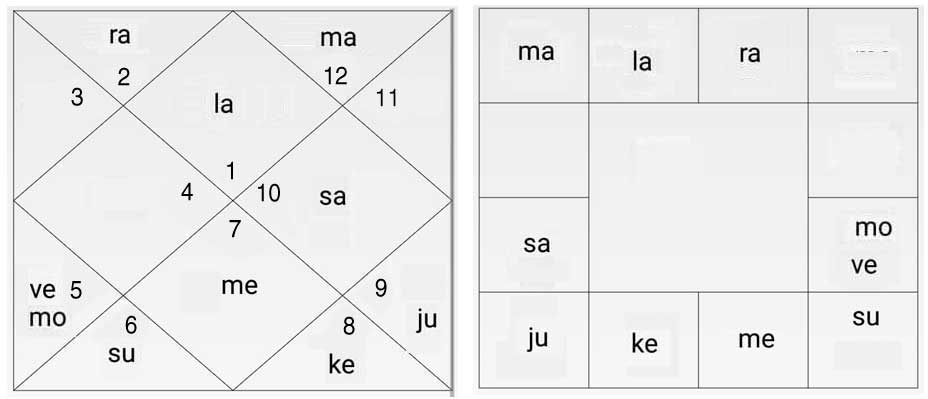 IPL 2020 – Winning Analysis of team SRH
Sunrisers Hyderabad's Captain
David Warner
has found his form which is a positive sign. He has the talent to destroy the confidence of the bowlers at the beginning of the match itself. But his captaincy is questionable in some stages. According to Warner's horoscope, his ascendant is Gemini. The
zodiac sign of Gemini
is a couple. People born in this sign will be adaptive in any conditions. The actions are timely and according to the situation. Lagna lord is mercury which stands for effective communication and skills. Warner is a good fighter and communicator. But captains need a game plan for each opposing player. Currently, he is passing through the Dasa period of Moon and sub-period of Rahu. This dasa period would not be favourable. In the transit forecast, Guru is travelling at five, and Saturn is in the sixth position from moon rasi. It is a favourable time. Kujan moves at nine, which is again unfavourable.
Today is not a bad day for Warner as per daily predictions.
Some of his decisions will be crucial and it may change the end result.
IPL 2020 Todays match Key Players Sunrisers Hyderabad
Kane Williamson, Manish Pandey and Jonny Bairstow are the key players in SRH. Kane Williamson, Manish Pandey will perform well today.
Find the detailed horoscope analysis of David Warner
IPL 2020 Predictions for team CSK
This season
MS Dhoni
is missing his trusted middle-order batsman and running with old horses. He is dependent on some players but their individual performance may not convert the match to victory. As another team, CSK does not have a good second layer of players. So his choices are limited. Dhoni's Lagna is Virgo. The house lord of Virgo is Mercury. And Mercury is the planet related to knowledge, skill, communication etc. So people born in Virgo are skilful in their areas and have good communication with their colleagues. They have practical knowledge and they often learn from their experiences. They have their own thought process for success. Dhoni is now passing through Rahu Dasa under the influence of Kuja. Though Kujan is positive, the dasa of Rahu is generally not a favourable period. This season tougher matches await him.
Horoscope analysis of MSD
Let us take a look at how transit planets influence him. Jupiter transits through fourth house and Saturn through the fifth house. Both are not very favourable. But they are in their own houses which might be beneficial. So this is not a bad period. The planet of war Mars is in the eighth house. This is also not beneficial.
The day prediction says today is not an unfavourable day for him.
We can expect the right support from some of his teammates.
IPL 2020 Today's match Key Players Chennai Super Kings
Shane Watson, Faf du Plessis, Ambati Rayudu and Sam Curran are the key players in CSK. Shane Watson will perform well today.
Is the time favourable for you? Check now!
Last ball
Today, Dhoni has slightly better luck than Warner.
We can expect exciting batting moments in this match. Indian astrology predictions are based on the time, date and place of birth, hence the accuracy of the predictions depends upon the accuracy of these details.