IPL Today's Match: Royal Challengers Bangalore vs Sunrisers Hyderabad

IPL Today's Match 52 of 60 has Royal Challengers Bangalore meeting Sunrisers Hyderabad at the Sharjah Cricket Stadium. The match is crucial for both teams, especially for SRH as it is a do or dies situation for them. If they lose this match, they may not get the chance to enter the playoffs. We can say that RCB is safe, but it is better to win this match and finish the league level in the first or second position. SRH's last win against Delhi Capitals must have boosted their confidence. After this, SRH will meet Mumbai Indians for match 56. So it is vital for SRH to win this match if they hope to enter the playoffs. IPL Today's match will be exciting. 
IPL Today's Match 52 of 60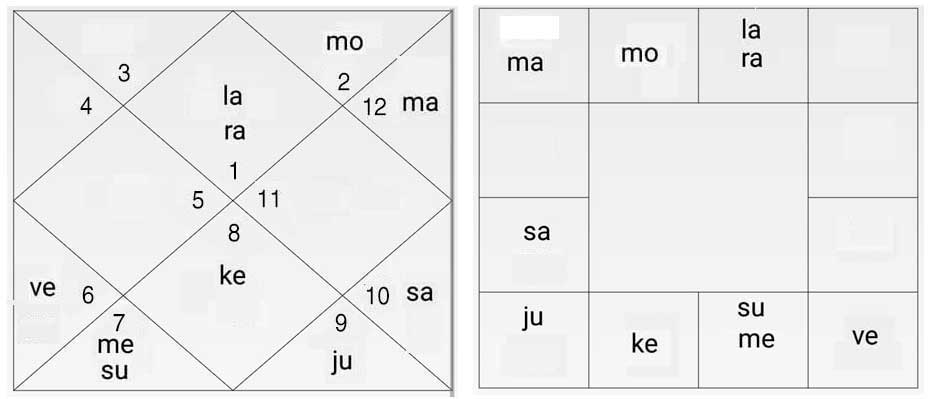 IPL Today's Match Predictions
Astrology Predictions  for Team RCB
Very energetic Virat Kohli is in form, but he is not getting the right support all the time. He is facing inconsistency of key players. Last two defeats laid bare the drawbacks in RCB squad. We cannot accept this from a championship seeking team. Kohli's Lagna is Sagittarius. An archer with a bow and arrow is the sign of Sagittarius. They are warriors who are ready for a fight. People born in these Lagna are very energetic and ready to fight at any time. Defeats never make them lose hope. They always come back with full energy and win over anyone. This is the Sagittarius man's power. He is always ready to face challenges.
Currently, he is passing through the Dasa period of Rahu and sub-period of Ketu. During this period unexpected events can occur. This might be the reason for his inconsistency in the matches till now. Transit forecast sees Jupiter travelling in the fourth house from his Chandra Lagna. When Jupiter transits through the fourth house, the person is likely to face problems from people who are assisting him. There might be sadness and lack of help from relatives, too. We can see these aspects in his last matches. Inconsistent performance of teammates is one of the examples of the above mentioned Jupiter transition. Saturn is travelling through the fifth house from moon Rashi, which is also not favourable for him. Challenges in works, sadness etc are the outcome of this placement. But both these planets transit through their own houses which could be a favourable factor. In transit forecast, Vedha position is also important. Both planets are in Vedha positions. So these unfavourable influences may reduce. Daily prediction for Kohli seems to be unfavourable. But he may get the right support from his key players.
Astrology Predictions  for Team SRH
Let us hope David Warner has learned some captaincy lessons from the past defeats. His team should win the next two matches. Unfortunately, these two matches are against the top two teams in the points table. It may put some pressure on David Warner. Captaincy requires qualities like a fighting spirit, ability to motivate teammates, planning good strategies, and good communication with teammates to lead them to success. According to Warner's horoscope, his ascendant is Gemini. The feature of Gemini is their adaptive nature and flexibility to the conditions. Gemini is ruled by Mercury. Mercury stands for communication. We have often seen Warner communicate warmly with his teammates. He is currently passing through the Dasa period of Sun and sub-period of Venus. Sun is debilitated in his horoscope and a debilitated planet's Dasa period would not be favourable. But Sun also shows neechabanga rajayoga in his horoscope. So this period may not be too unfavourable.
In the transit forecast, Jupiter is travelling at six, and it also shows as a time of Kantaka Shani (Saturn in the seventh house). When Jupiter transits on the sixth house it results in instability, lack of confidence, lack of support from people who are with him. The positive part is that both planets are in their own houses. So it may reduce the unfavourable effects. Mars moves at ten, which is again unfavourable. But the luck factor on a particular day will give that day's outcome. Today is a good day for Warner according to daily predictions. But he may not get the right support from his teammates. 
Key players of IPL today's match
Key players of Royal Challengers Bangalore
AB de Villiers, Yuzvendra Chahal and Navdeep Saini are key players in this squad. Here AB de Villiers and Saini will perform well today.
Key players of Sunrisers Hyderabad
Kane Williamson, Manish Pandey, Jonny Bairstow and Rashid Khan are the key players in SRH. Warner may not get the right support from his key players
Last ball
We can see different kind of approaches and strategies in this match. It is a complex situation where today is good for one captain, but he may not get the right support from his teammates while the other captain has a bad day, but he will get good support from his teammates. We can say Kohli has slightly more luck than Warner. The match will be very close with the possibilities of a super over.
Indian astrology predictions are based on the time, date and place of birth, hence the accuracy of the predictions depend upon the accuracy of these details.