IPL Today: Mumbai Indians Vs Royal Challengers Bangalore

Royal Challengers Bangalore lost the last match to Chennai Super King, who is already out of the playoff round. RCB's batting resources always shrink to two or three players, plus middle order and tail ends are not consistent. But in print, RCB is powerful and balanced with bowlers, batsmen and all-rounders. But the inconsistency of key players is a problem for
Virat Kohli
. Mumbai Indian captain
Rohit Sharma
could not play the last two matches because of his hamstring injury. Today also it is not sure whether he will play. Last match defeat must have definitely taught him some lessons. Rajasthan Royals had successfully chased down the high score set by MI. This match is important to both teams. So we can expect an exciting game today. Let us check what the stars say about captains' luck.
IPL Today's Match 48 of 56 MI vs RCB
Date –
 28th October, Wednesday
Time –
 19:30
Venue –
Sheikh Sayed Stadium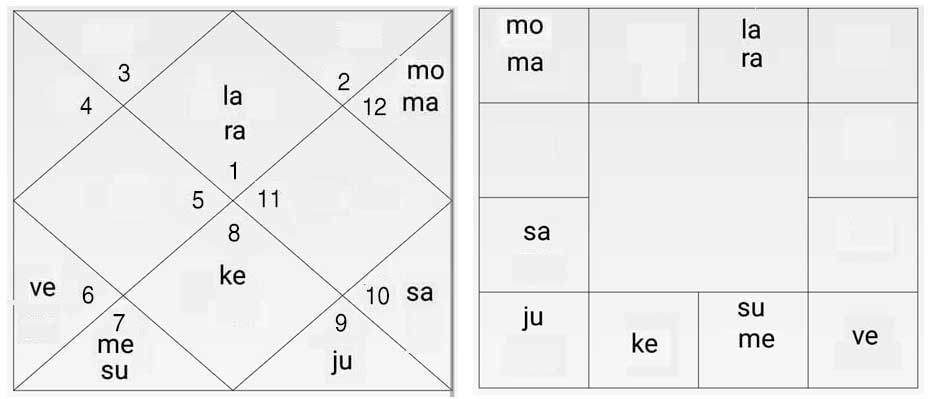 IPL Today Predictions MI vs RCB
IPL Astrology Predictions – Team RCB
The very energetic Kohli is in form, but he is not getting apt support all the time. His key players are being inconsistent. Kohli's Lagna is Sagittarius. An archer with a bow and arrow is the sign of
Sagittarius
. They are warriors who are ready for a fight. People born in this Lagna are very energetic and ready to fight at any time. Defeats never make them lose hope. They always come back with full energy and win over anyone. This is the Sagittarius man's power. He is always ready to face challenges. Currently, he is passing through the Dasa period of Rahu and sub-period of Ketu.
Get your 60-page FREE horoscope
During this period unexpected events can occur. Transit forecast sees Jupiter travelling in the fourth house from his Chandra Lagna. When
Jupiter transits
through the fourth house, the person is likely to face problems from people who are assisting him. There might be sadness and lack of help from relatives, too. We can see these aspects in his last matches. Inconsistent performance of teammates is one of the examples of the above mentioned Jupiter transition. Saturn is travelling through the fifth house from Moon Rashi, which is also not favourable for him. Challenges in works, sadness etc are the outcome of this placement. But both these planets transit through their own houses which could be a favourable factor. In transit forecast, Vedha position is also important. Both planets are in Vedha positions. So these unfavourable influences may reduce. Daily prediction for
Virat Kohli
seems to be favourable. He may get the right support from his key players.
IPL Today Astrology Predictions – Team MI
We are assuming today Rohit will play the match. Else, Kieron Pollard will be the captain of the team. Last defeat reduced the confidence level of the MI squad. Sharma's Lagna is Cancer and the zodiac sign is that of a crab. Like a crab that does not let go of its powerful grip, Sharma is not going to give up. He may not be an aggressive striker, but once he gets going there would be no stopping him. The double tons of Rohit Sharma are prime examples of that.
Is the time good for Rohit? Check now!
Presently, Rohit is passing through the Rahu Dasa under the sub influence of Ketu. This is not a good time. This is a time when the unexpected happens. But since Rahu is at nine and Ketu is at three, it can be assumed that there won't be too much interference in the form of bad luck. In transit prediction, Guru transits through the ninth house which is favourable. But Saturn transits in the tenth house which is not favourable. Daily predictions say today is not a favourable day for Rohith. If Pollard is captain, the day is not a favourable one.
Key Players of IPL Today's Match
Keyplayers of Team Royal Challengers Bangalore
AB de Villiers, Yuzvendra Chahal and Navdeep Saini are key players in this squad. Here AB de Villiers and Saini will perform well today.
Keyplayers of Team Mumbai Indians
Kieron Pollard, Hardik Pandya and Jasprit Bumrah are the key players in this squad. Jasprit Bumrah may perform to his top talents.
When will you get a job? Find now!
Last ball
There are so many astrological factors influencing a prediction. Analysing every aspect is an impossible task. Here we consider two captains and key players only. From analysing these people, today both captains might struggle for a win. But Kohli seems to have better luck factor than Rohit/Pollard.
Indian astrology predictions
are based on the time, date and place of birth, hence the accuracy of the predictions depends upon the accuracy of these details.