IPL 2020 Today's Match – Mumbai Indians vs Kolkata Knight Riders

Defending champions and leaders of the points table Mumbai Indians meet Kolkata Knight Riders, who are placed fourth on the table, today. Three consecutive wins have MI settled well on top of the table with a team that is performing outstandingly well. MI will be more confident as KKR's last defeat against RCB would have shown them the holes in their strategies. Meanwhile, MI has a balanced team with performing players who are following their leader to victories. After their captaincy change, let us hope KKR has a better chance today.
New captain Eoin Morgan had led England during 2019 ODI World Cup. 
Get your FREE career horoscope now!
Inconsistency of key players is one of the main problems for KKR this season. But we cannot write off this team yet. KKR has good resources in batting and bowling. So we cannot predict the winner based on previous match performances or statistical data. This match will be exciting with big hits.
Today's IPL Match 32 of 56 MI vs KKR
Date –
 16 October, Friday
Time –
 19:30
Venue – 
Sheikh Zayed Stadium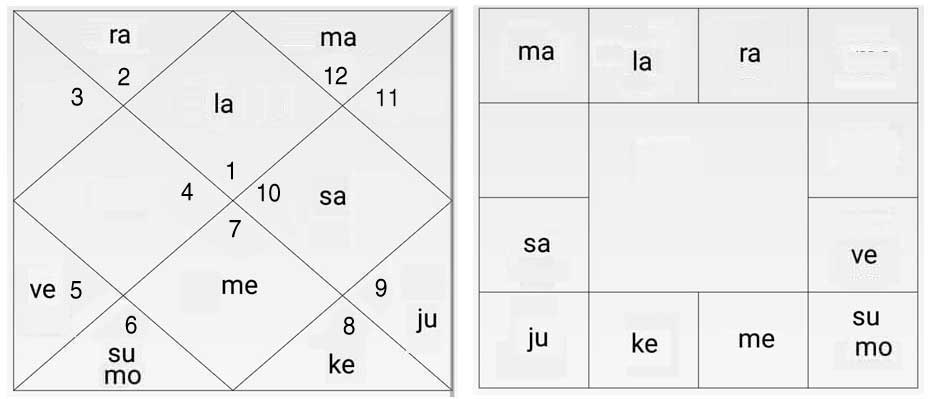 IPL 2020 Astrological Analysis – Team MI
Rohit is happy with his resources as most of them are in form. Other captains can dream of such performance. The tournament is at the halfway mark but it is still too early to predict the final four. Keeping the consistently winning combination will be the challenge in front of Rohit. His Lagna is Cancer whose lord is Moon. Moon is the planet for the mind, emotions, concentration etc. We can see these benefits in people who are born in Cancer Lagna. These qualities help Rohit Sharma change his strategies without much conflict. He is able to get the right support from his teammates. He is currently passing through the Rahu Dasa under the sub influence of Ketu.
Find the impacts of Rahu Ketu transit in your life
This is not a good time. This is a time when the unexpected happens. But since Rahu is at nine and Ketu is at three, it can be assumed that there will not be too much interference in the form of bad luck. In transit prediction, Guru transits through the ninth house which is favourable. In transit forecast, Jupiter is in the ninth house which gives favourable situations in career, benefits from the knowledge, right advice from mentors etc. But Saturn transits in the tenth house which is not favourable. Saturn is in its own house. This position may reduce the negative effects. Today's luck factor is influencing the end result of the match. Daily predictions say today is slightly favourable for Rohit. There will be good support from his resources.
Detailed horoscope analysis of Rohit Sharma
IPL 2020 – Key Players of team Mumbai Indians 
Kieron Pollard, Hardik Pandya and Jasprit Bumrah are the key players in this squad. Key players may perform to their top talents.
IPL 2020 Astrological Analysis – Team KKR
No doubt Eion Morgan is a good fighter and a good captain. He has options to choose players according to his game strategy and plan. His Lagna is Libra. The zodiac sign of Libra is a scale. These people have the ability to check right and wrong in all actions. They are good motivators and can guide his followers. Their leadership is different from other leaders. They are cool and calm in all situations and they guide with their actions.
Get you 60-page personalized horoscope FREE
Currently, he is passing through the Dasa period of Ketu and sub-period of Mercury. Mercury is his ninth bhava lord and it is in the eleventh position. So this dasa is not very bad for him. Transit forecast prediction shows Jupiter transiting through second and Saturn in third. Both are in very favourable positions. These two planets are in its own houses. So the advantages may increase. Let us check the daily prediction which influences the result of today's match. Today is a favourable day for Eion Morgan. He can expect the right support from his resources today.
IPL 2020 – Key Players of team Kolkata Knight Riders
Andre Russel, Sunil Narine and Shubman Gill are some of the key players in KKR. Andre Russel and Sunil Narine may not contribute as their talents and skills.
Last ball
There are so many astrological factors influencing a prediction. Analysing every aspect is an impossible task. But here we consider two captains and key players only. From analysing these people, today Eion Morgan has slightly more blessing from stars than Rohit Sharma. But this match will be a cricket feast for us.
Indian astrology predictions are based on the time, date and place of birth, hence the accuracy of the predictions depends upon the accuracy of these details.