Today's IPL  Match: Kolkata Knight Riders vs Chennai Super Kings
Will we see Chennai Super Kings climb up the points table today? Or will Kolkata Knight Riders stun everyone with their performance? CSK won the last match purely on performance and are approaching the game with confidence. KKR's Dinesh Karthik needs to improve his captaincy skills in coming matches. He is following the same failed combination in batting and bowling. His changes are not effective in stopping the run leak. On the other hand, CSK batting squad is on track and under the wise captaincy of MS Dhoni they are coming forward with better challenges. In this match, we can expect some changes in KKR but CSK will most probably go with the same squad from the last match. Let's analyse today's IPL match astrology predictions.
Get an entire overview of your career absolutely FREE
Today's IPL Match 

Date –
 07 October, Wednesday
Time –
 19:30 IST (14:00 GMT), 18:00 LOCAL
Venue – 
Sheikh Zayed Stadium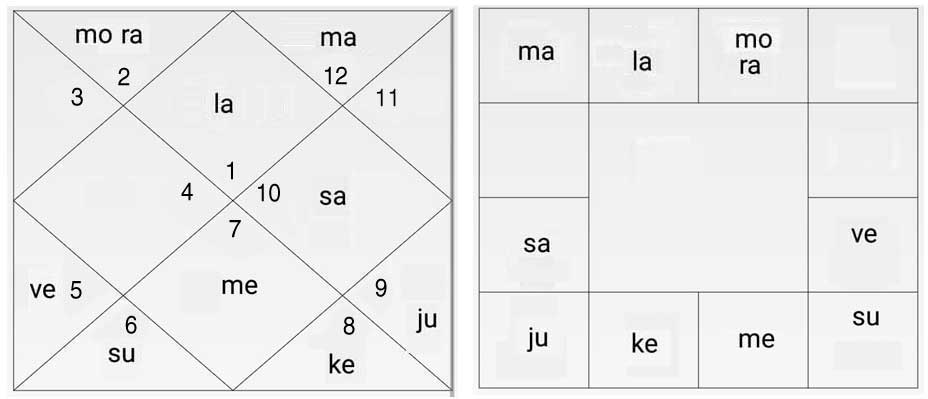 IPL Prediction Analysis of  CSK Captain Mahendra Singh Dhoni
Dhoni is different from other captains as he interferes between the fielders in every ball. Sometimes he arranges interesting fielding positions for analysing the batsman. Most of the time, his intrusions have been successful. Instead of following the winning eleven, he alters the batting and bowling positions as the requirement of the match. Dhoni's Lagna is Virgo, a maid travelling in a boat without a rudder. She guides her boat with her mental strength and calculations. People born in this sign have the ability to guide their team with solid planning and hard work. Once the problems arise, they will be ready to guide from the front.  The house lord of Virgo is Mercury. Mercury stands for communication, skill set, and humour sense.
Check the detailed horoscope analysis of MSD
Dhoni always communicates effectively with his teammates every time. Dhoni is now passing through Rahu Dasa under the influence of Kuja. Though Kujan is positive, the dasa of Rahu is generally not a favourable period. This season he may face matches that are tougher than previous years. Transit planets and their influence on him show that Jupiter is passing through fourth house and Saturn through the fifth house. When Jupiter transits through fourth, it gives a lack of support from companions, misbehaviour from subordinates, lack of confidence etc. Both planets are not favourable. But they are in their own houses which might be beneficial. So this is not a bad period. The planet of war Mars is in the seventh house. This is also not beneficial. The day prediction says today is not a favourable day for him. There will be hurdles on the path. 
Get your 60-page horoscope FREE!
Key Players of today's IPL match Team Chennai Super Kings
Shane Watson, Faf du Plessis, Ambati Rayudu and Sam Curran are the key players in CSK. Shane Watson and du Plessis will continue their form in this match.
IPL Prediction Analysis of  KKR Captain Dinesh Karthik
Kolkata Knight Rider's last match defeat resulted in a lot of criticism against captain Karthik and his captaincy. But we know his squad has good players who can change the game anytime. So from this defeat, we cannot write away from this team. Dinesh Karthik's Lagna is Leo. The zodiac sign of Leo is Lion. These people have the ability to lead a group and their decisions cannot be influenced by others. The planet for this zodiac sign is Sun. Sun denotes authenticity, stubborn behaviour, leadership quality etc. People born in this Lagna are leaders with mental stability being one of the positive factors in their character.
Is Dinesh Karthik having a good time? Check now!
Currently, he is passing through the Dasa period of Mercury and sub-period of Mercury. Mercury is his second and eleventh house lord. So this dasa is beneficial for him though sub-period of the same planet might not be as beneficial. Transit forecast prediction shows Jupiter transiting through third and Saturn in fourth. Both are in unfavourable positions. These two planets are in its own houses. So the negativity may reduce. Let us check the daily prediction which influences the result of today's match. Today is an unfavourable day for Dinesh Karthik. Some of this strategic move may flop.
Key Players of today's IPL match Team  Kolkata Knight Riders
Andre Russel, Sunil Nairne and Shubman Gill are some of the key players in KKR. Russel and Sunil Nairne will give good support in this match. 
Last ball
Here we are considering two captains and key players only as analysing all the astrological factors is unfeasible. From analysing these people, today Dhoni has more blessing from stars than Dinesh Karthik. 
Indian astrology predictions are based on the time, date and place of birth, hence the accuracy of the predictions depends upon the accuracy of these details.