IPL 2020: Chennai Super Kings vs Rajasthan Royals

Match 37 sees two teams at the trailing end of the points table take on each other at Sheikh Zayed Abu Dhabi stadium. Both teams have great captains but are struggling to enter the playoff section. Future matches are very crucial to both. Both captains are being held back by inconsistent key players. Their earlier defeats may force them to change their strategies. RR has tried changing batting order but it is to be seen whether the new strategy will work. Opponent's recent defeats have given hopes to both teams. These matches are a do or die situation and we can witness an exciting match today. Both captains will bring out all their weapons to win this match. We cannot predict the winner by analysing the previous matches and team strength. Here luck is playing an important role than any other factors. Let us see what the stars are saying about this match.
Find the favourable periods in your life
IPL Today's Match 37 of 56 CSK vs RR
Date –
 19 October, Monday
Time –
 19:30
Venue – 
Sheikh Zayed Stadium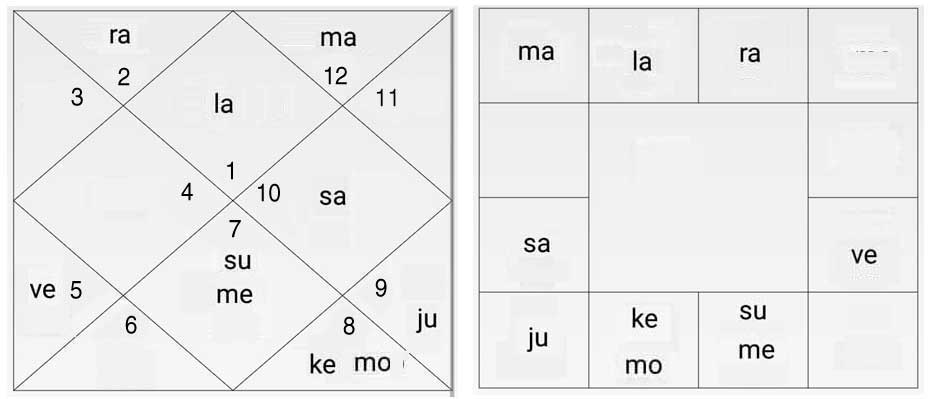 Today's IPL Astrology Predictions
IPL Predictions for team RR
Last two defeats might have reduced Steve Smith's genuine confidence and fighting spirit. He had shuffled the batting order in the last match but the end result was defeat. The match was a close one with the entire game-changing in the 19
th
over. Difference between the winning team and the losing team was the 19
th
over the performance of de Villiers. But as a team RR should prove their team strength in the coming matches. We can expect a comeback from RR's side.
Are you compatible with your partner? Check now!
His Lagna is Pisces. His moon sign is Aries. People born in this moon rasi will be aggressive, full of fighting spirit, adventurous etc. Their decisions are quick. We can see restless nature in these people. If we observe Steve Smith, we can see him constantly moving around and being engrossed in something all the time. Currently, he is passing through the Dasa period of Mars and sub-period of Ketu.
Get personalized Rahu Ketu predictions
Mars is the lord of second and ninth bhava. Mars denotes adventure, fights, energy, stubborn nature etc. This dasa is a favourable period. Transit forecast predictions show Jupiter transiting through ninth house and Saturn in the tenth house. Both are in their own houses which is not unfavourable. Mars is in the first house which is not favourable. But, here again, Mars is in its own house. Day prediction is unfavourable for Steve Smith. His teammates will not support him well and he may not perform well today.
Detailed horoscope analysis of Steve Smith
IPL Predictions for team CSK
The Dhoni we see on the pitch nowadays seem to be his shadow. The real Dhoni may yet emerge in the coming matches. The last match lose may force him to reshuffle the batting order and come up with more effective bowling strategies. He depended on the internationally experienced players than young players. Dhoni's Lagna is Virgo. The house lord of Virgo is Mercury. Mercury stands for communication, skill set, and humour sense. Dhoni always communicates effectively with his teammates every time. Those born in Virgo are good leaders who prefer to talk less, just like their zodiac sign. They have their own plans for success.
Is time good for Dhoni? Find now!
Dhoni is now passing through Rahu Dasa under the influence of Kuja. Though Kujan is positive, the dasa of Rahu is generally not a favourable period. This season he may face matches that are tougher than previous years. Transit planets and their influence on him show that Jupiter is passing through fourth house and Saturn through the fifth house. When Jupiter transits through fourth, it gives a lack of support from companions, misbehaviour from subordinates, lack of confidence etc.  Both planets are not very favourable. But they are in their own houses which might be beneficial. So this is not a bad period. The planet of war Mars is in the seventh house. This is also not beneficial. The day prediction says today is not a favourable day for him. There might be confusions and misunderstandings. 
Key Players of today's IPL match
Team Rajasthan Royals
Sanju Samson, Jofra Archer and Jos Buttler are some of the key players in RR. Steve Smith gets good support from his key players. Sanju Samson will perform well. 
Team Chennai Super Kings
Shane Watson, Faf du Plessis, Ambati Rayudu and Sam Curran are the key players in CSK. Dhoni can expect good support from Faf du Plessis and Sam Curran.
Last ball
There are so many astrological factors influencing a prediction. Analysing every aspect is an impossible task. But here we consider two captains and key players only. From analysing these people, today Dhoni has better luck than Smith. We can expect a thrilling match.
Indian astrology predictions are based on the time, date and place of birth, hence the accuracy of the predictions depends upon the accuracy of these details.