IPL 2020: Sunrisers Hyderabad vs Rajasthan Royals

Two Australians lead today's teams for the 40 match of this season's IPL showdown. Rajasthan Royals have gained confidence after the last win. But Sunrisers Hyderabad lost the last match in super over which would have affected their confidence. The arrival of World Cup hero Ben Stokes has given enormous energy to RR camp. But the inconsistency of key players is a constant issue in team RR. Steve Smith is a good captain but his players are not able to return it as performance. Smith has good resources, probably, better than any other team in this tournament. But the lack of commitment and attitude are the drawbacks of this team. SRH does not have the same resources as RR. SRH started winning only once the key players like Williamson, Bairstow, Rashid Khan, and Warner started playing their best.
Get now your personalized 60-page horoscope absolutely FREE
The absence of Indian international players is a stressful situation for David Warner. In the points table, both are below the playoff qualification level. So this match will be important for both teams. We can expect a great match today. In T20 matches we cannot predict the winner based on team strength and previous match histories. But stars and their blessings might give us a better idea.
Today's IPL Match 40/56 SRH vs RR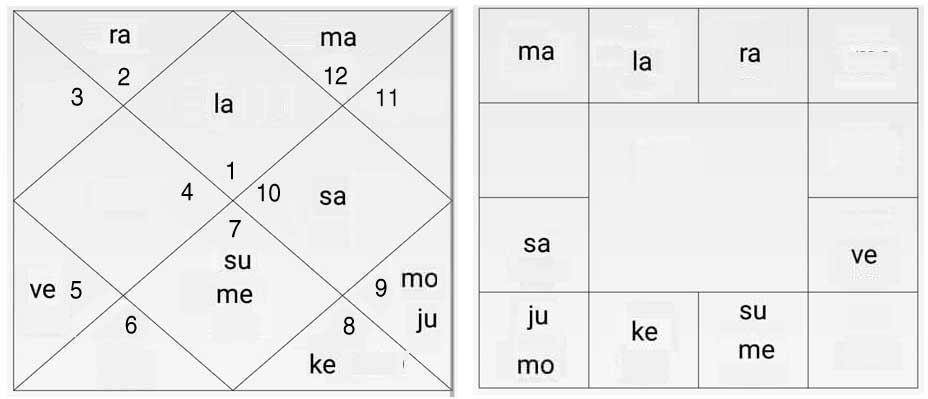 IPL 2020 Match 40 of 56 SRH vs RR
Date –
 22nd October, Thursday
Time –
 19:30
Venue –
Dubai International Stadium
Today's Match IPL Predictions
IPL Predictions – Team SRH
David Warner's captaincy is not consistent this year. Lack of domestic batsmen and genuine all-rounders is a problem in SRH camp
.
Captaincy requires qualities like fighting spirit, ability to motivate teammates, planning good strategies, and good communication with teammates. According to Warner's horoscope, his ascendant is Gemini. The feature of Gemini is their adaptive nature and flexibility to the conditions. Gemini is ruled by Mercury. Mercury stands for communication. We have often seen Warner communicate warmly with his teammates. He is currently passing through the dasa period of Sun and sub-period of Venus. Sun is debilitated in his horoscope and a debilitated planet's dasa period would not be favourable. But Sun also shows neechabanga raja yoga in his horoscope. So this period may not be too unfavourable.
Find the favourable periods in your career
In the transit forecast, Jupiter is travelling at six, and it also shows as a time of Kantaka Shani (Saturn is in the seventh house). When Jupiter transits on the sixth house it results in instability, lack of confidence, lack of support from people who are with him. The positive part is that both planets are in its own houses. So it may reduce the unfavourable effects. Mars moves at ten, which is again unfavourable. But the luck factor on a particular day will give that day's outcome. Today is a good day for Warner according to daily predictions. He will get good support from his resources.
When will you get a job? Find now!
IPL Predictions – Team RR
The last match win has helped Smith's confidence in the batting squad.  He never sticks to conventional methods in cricket. His batting stance is one such example. He often sets unconventional fielding positions which are effective most of the time. His Lagna is Pisces. The astrological symbol of Pisces is two fishes. The fish are usually portrayed swimming in opposite directions; this represents the duality within the Piscean nature. People born in this sign can think in both directions – conventional and unconventional. This sign is ruled by Jupiter. Jupiter is the planet for teaching, guiding, mentorship, etc. These people can guide his team or group as they wish. Currently, he is passing through the dasa period of Mars and the sub-period of Kethu. Mars is the lord of the second and ninth bhava. This dasa is a favourable period.
Find the favourable periods in your career
Transit forecast predictions show Jupiter transiting through the ninth house and Saturn in the tenth house. Both are in their own houses which is not unfavourable. Mars is in the first house which is not favourable. But, here again, Mars is in its own house. Day prediction is very important to analyse that day's achievements. It is not favourable for Steve Smith. Some unlucky incidents may occur in this match.
Find the favourable periods in your career
IPL 2020 today's match Key Players
Key players of Sunrisers Hyderabad
Kane Williamson, Manish Pandey, and Jonny Bairstow are the key players in SRH. Kane Williamson and Jonny Bairstow will perform well today.
Key players of Rajasthan Royals
Sanju Samson, Jofra Archer,  Jos Buttler, and Ben Stokes are three key players in RR. Smith gets good support from Sanju Samson, Jose Buttler, and Archer.
Last ball
We are considering the astrological factors as the two captains and key players only as analysing all players is not feasible. From analysing these people, today Warner has slightly more blessings from stars than Steve Smith. The match will be an exciting finish.
Indian astrology predictions are based on the time, date, and place of birth, hence the accuracy of the predictions depends upon the accuracy of these details.