Valentine's Day predictions for the year 2023
Don't know what your sun sign is? Check it here
Which rasis have favourable love life in 2023
Gemini, Leo, Libra and Sagittarius
signs are set to have a favourable time in the next year. There may be slight problems initially but then they will get to enjoy a better time. They will spend time with their soul mates and attain the energy of love during this time. They may give gifts to their soul mate and get gifts in return.
Sagittarius:
People of Sagittarius rasi get to fulfil their dreams this year. They can spend more time with their soul mates. They may also change their place of living to a more comfortable location.
Gemini:
Geminis may get a favourable transfer near his/her soulmate. They will experience many memorable moments during this period. A lot of favourable situations will occur during this time. Those who are looking for marriage may find it this year.
Cancer:
The love life of Cancerians will progress well during this year. Long journeys with soul mates, visiting tourist places, and participating in auspicious functions may happen this time. They will get special attention from their partner.
Libra:
Libras challenging period is over and now the period is favourable for them. They will have the chance to give an expensive gift to their soul mate. There is also the chance for a transfer near to their soulmate.
Rasis who have a challenging time regarding love life in the year 2023
Now, we can check the rasis who have a challenging time regarding love life in the year ahead – Aries, Aquarius, Scorpio and Virgo. They may still have memories of favourable periods that just went past. So, in the initial stage, they can't accept things going awry. Small quarrels, arguments and miscommunication may happen during this time.
Aries:
Aries people may not get time to spend with their soulmates. They may fail to reach a commitment.
Virgo:
Virgos can't fulfil their promises. Unnecessary arguments may happen. Illness and money matters may affect your relations. Face the situations with confidence.
Aquarius:
They can't fulfil the soulmate's expectations. Sometimes they may feel others are avoiding their presence. Miscommunication may hurt them deeply. Prayers and meditations will help.
Scorpio:
Daily hustle and bustle may affect your meeting with your soulmate. They can't find time to spend with their partner. Unnecessary arguments may also affect the relationship.
Which are the rasis that have mixed fortunes in the year 2023
Now, we can check which are the rasis that have mixed fortunes in the year ahead. Taurus, Capricorn, Pisces and Leo will get mixed responses in this period.
Leo:
After a challenging period, Leos are getting to meet his/her soul mate. They have a lot of secret gifts in their bag. But they may need some more time to patch up the wounds created when times were less favourable.
Pisces:
Pisces may get a chance to reunite with their loved ones after a long period. But it may take longer than expected to break the ice that has been formed. A lot of travel and shopping may happen during this time.
Capricorn:
After a very challenging period Capricorns are getting a favourable period in their love life. They will be settled in life by this time. They can work together on a big task and they can make it successful.
Taurus:
After a favourable period they are entering a challenging time. Expenses may affect you very much. Sometimes transfer may separate you from your loved one for a short time. Generally, this year will be memorable for lovers.
Valentine's Day predictions for the year 2022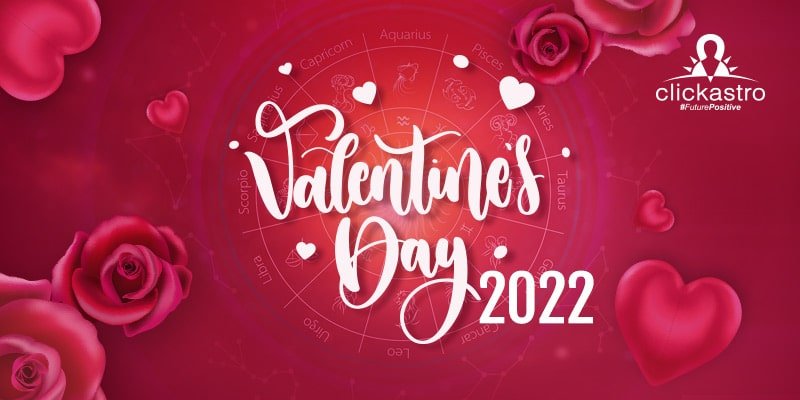 For the last two years, social life has been alien for most of us. Pleasure trips for an evening or longer were deemed next to impossible. Entertainment mediums such as cinema, concerts or other creative pursuits were left unattended for fear of the virus. Like with other areas in life, the past months saw challenges galore in personal relationships. Lovers were separated; married couples had nothing to take their minds off each other. Travel plans were dropped, and homes became offices.
But now, the uncertain period seems to be coming to an end. The problems and uncertainties that have affected the world for the past two years are changing for the better. Favourable periods will start emerging by mid-April, and safer times might finally be here. With restrictions easing up and vaccination reaching everyone, people can get back to living their lives and reclaim their moments of love.
This year's Valentine's Day will be special as it comes during a period when the world is slowly opening up after two years of restrictions and controls. Those in relationships can be free birds and look forward to spending time together without fearing government controls due to the pandemic. So let us see whom all the coming year is going to favour.
Check Your Horoscope Compatibility with Your Partner
Good times are coming for Taurus, Cancer, Virgo, Scorpio and Aquarius
After two months, this time will see Taurus, Cancer, Virgo, Scorpio, and Aquarius signs experiencing peace and happiness.
Taurus
Those under the Taurus sign, who are yet to be married, may get married. There is the possibility of taking part in auspicious events and realizing long-held desires. There is also the possibility of getting a friend or partner compatible with your mind. Though it is difficult for the journeys to bring results, love life will experience bliss.
Check Today's Taurus Horoscope
Cancer
For Cancerians, the coming time will allow you to live happily with your life partner. The long wait will end, and you will unite again. Unmarried people have the perfect opportunity to find the love of their life. Opposing forces will weaken, and time will become favourable. Now is the time to seek new friends. Since luck is on your side, it is advisable to make love propositions.
Take a look at Today's Cancer Horoscope
Virgo
A favourable time is returning after a gap for those under the Virgo sign. For those married, the upcoming time is perfect for enriching the love and trust with life partners. Opportunities to be the leader for auspicious activities and events in the family. Important decisions will be taken together, and you will feel closer to your family. For the unmarried, the coming period will see decisions being taken regarding marriage and the time for marriage being fixed. If there was any separation, it would be removed, and you will get closer. It may help you reach the next level in your relationship. Since the time calls for open communication, short trips and get-togethers will further enrich the relationship.
Scorpio
For Scorpios, problems haunting you for some time will go away, and happy times are on the way. Those married will be able to plan their future together with their partner and start new good habits. Those unable to get together will be able to have get-togethers. Those planning to marry will get the right kind of proposals. The coming time will see you getting into a decision regarding marriage. The time is also favourable to find a new friend.
Check Today's Scorpio Horoscope
Aquarius
Aquarius sign has been having an unfavourable period for some time. The coming time will bring a change to happier times. Like with all other fields, those in romantic relationships too will have happy experiences. Long term plans will be made with your partner. There will be opportunities to present gifts to loved ones and to take the lead in making pleasure trips happen. Unmarried persons will get matching alliances and proposals. Those seeking new friends will get the kind of friends they desire. There will be opportunities to give loved ones a treat and for get-togethers.
Take a look at Today's Aquarius Horoscope Today
What's in store for Aries, Leo, Libra and Capricorn?
Now let us see for which signs the coming year is filled with challenges. After the first two months, Aries, Leo, Libra and Capricorn signs will have to face challenges.
Aries
Aries signs may have to face separation. Married people may have to live separately. Unmarried people may see delays in marriage, so expedite the search. Since there is the possibility of love requests getting denied, think deeply before making decisions. Since there is the possibility of financial burdens coming via your partner, avoid unnecessary treats and dinners. Even so, the possibility for unforgettable moments and unions are seen.
Leo
For Leos, the time changes from a favourable one to one filled with challenges. Like with all fields, the field of romance also requires care. Since there is the possibility of married people encountering arguments and blames, behave in a balanced manner. Move forward, ignoring the faults, blames and gaps in communication. Unmarried people may not receive favourable alliances. There may be inexplicable delays to marriages. Take care to expedite the search and not to lose optimism.
Check Today's Leo Horoscope
Libra
Libras should look forward to a challenge filled time. Like in all other fields, challenges may appear in love relationships. A situation may arise for married people to live separately. Since communication gaps can lead to misunderstanding, ensure proper communication. Avoid unnecessary arguments with relatives. Unmarried people may fail to receive favourable alliances or may experience delays in marriages. Since time is not right for love requests, waiting is recommended. Since there is the possibility of love relations turning to enmity, be moderate during communication and get-togethers. Face challenges head-on till favourable times return.
Have a look at Today's Libra Horoscope
Capricorn
Capricorn sign faces highly challenges time. Face obstacles and problems with confidence. Married people may experience financial burdens, affecting harmony with their partners. Move forward with detailed planning. Handle enemy interferences efficiently. Ensure sanctity of relations by never losing your composure. Unmarried people are studying alliances closely before moving to the next step. Since there is the possibility of betrayal in friendly matters, ensure such situations do not arise. Understand that the time is not correct to move forward with love requests. Treating loved ones and giving them dinners may end you in debt.
Check Today's Capricorn Horoscope
A mix of times for Gemini, Sagittarius and Pisces
For Gemini, Sagittarius and Pisces sign, the coming time will be an equal mix of good and bad effects.
Gemini
Geminis may not find time to enquire about their partner. So, find time for short trips and shopping. Find time for open communication and intimacy.
Sagittarius
For the Sagittarius sign, the coming time will bring slight relief from problems and obstacles that had been lingering around for some time. Time is not yet ripe to say that problems and obstacles are completely in the past. For married people, the time is right to correct past wrongs and pains caused. Unmarried people will start receiving favourable alliances. New love requests may not get fully favourable results. Move forward by handling things carefully.
Take a look at Today's Sagittarius Horoscope
Pisces
Pisces signs may have to experience separation. Married people may have to live separately for a while. Maintain love in the relationship through communication. Unmarried people should take decisions only after closely checking the alliances. It will be difficult for love requests to get full results. Face situations with confidence.
Check Today's Pisces Horoscope
Try our free love compatibility check – the easiest way to check love compatibility level with your partner.
Wishing everyone a Valentine's Day filled with love.
Read about
Akshaya Trititya