IPL 2020 Today's Match Mumbai Indians vs 

Kings XI Punjab

IPL 2020 today's match – Dubai pitch will see the toppers meet the backbenchers today. It is to be seen whether the backbenchers will topple the topper's dreams and take the match. Cricket is such a game, especially T20 matches, where everything can change in the blink of an eye. Point table does not matter as teams in the top are the same as a team in the bottom till the last round. Rohit Sharma and Lokesh Rahul are opening batsmen and both are in form. The only difference between these two teams currently is the performance of key players. KXIP lacks the fighting spirit and consistency when compared to MI. Both teams have talented players who can change the match in one over; in addition, both captains are in good form. In team strength, MI scores higher than KXIP. But in T20 matches team strength may not influence the final result. 
Check now, how compatible you are with your life partner
IPL 2020 Today's Match 36 of 56 
Date –
 18 October, Sunday
Time –
 19:30
Venue – 
Dubai International Stadium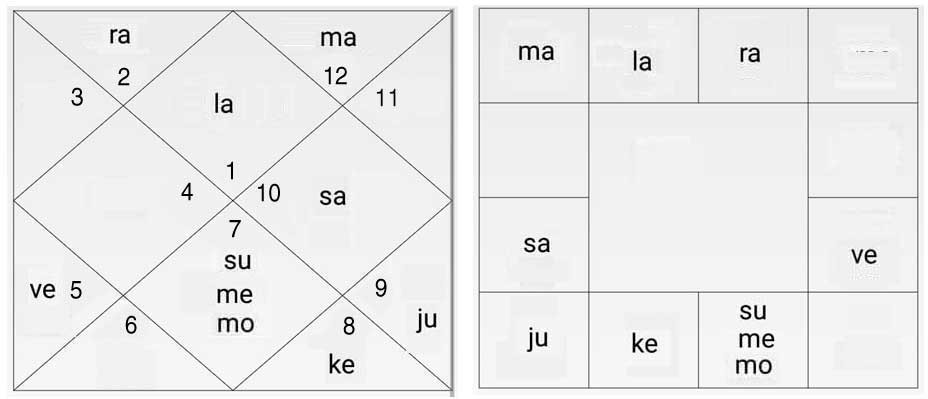 IPL 2020 Today's Match Predictions
Astrology Analysis of Team MI
Rohit Sharma is in great batting form. The main task for Rohit is to maintaining this winning formula until the end of the league stage. He has to find a second layer of resources so that his key players can get some rest. Rohit Sharma's Lagna is Cancer and the house lord of cancer is Moon. His moon Rasi is Aries. People born in Aries are always restless. We can observe this character in Rohit Sharma. The double tons of Rohit Sharma are prime examples of that.
Detailed horoscope analysis of Rohit Sharma
Presently, Rohit is passing through the Rahu Dasa under the sub influence of Ketu. This is not a good time. This is a time when the unexpected happens. But since Rahu is at nine and Ketu is at three, it can be assumed that there won't be too much interference in the form of bad luck. In transit prediction, Guru transits through the ninth house. It is very favourable. But Saturn transiting in the tenth house is not favourable.  Daily prediction is favourable for Rohit. Some of his decisions will be beneficial in this match.
Find the impacts of Rahu Ketu transit in your life
Astrology Analysis of Team KXIP
Lokesh Rahul is leading the orange cap list (top run-scorers). He is showing consistency in batting, but cannot find consistency in the team. When we analyse the team strength of KXIP it does not match with their position on the points table. While watching the match itself we can tell that KXIP lacks fighting spirit and strong game plans. Rahul needs to learn how to face the challenges from the opposition team. His Lagna is Sagittarius. The zodiac symbol of Sagittarius is an archer. People born in this sign may show some of the characteristics of this zodiac sign. His moon rasi is Libra. People born in Libra are always thinking about the balanced system and they can find solutions quickly. Positive and negative aspects confuse them. As the captain, he has a long way to go.
When will you get a job? Check now!
Currently, he is passing through the Dasa period of Saturn and sub-period of Saturn. This is not a bad period. The transit forecast shows Jupiter transiting through the first house and Saturn in the second position. Both are not favourable. So this season could be very tough for him as a captain. The day prediction also seems favourable for him.  He may get good support from his teammates.
IPL 2020 Today's Match Key Players
 Team Mumbai Indians 
Kieron Pollard, Hardik Pandya and Jasprit Bumrah are the key players in this squad. Kieron Pollard and Jasprit Bumrah may perform to their top talents.
Team Kings XI Punjab
Mayank Agarwal, Nicholas Pooran and Glenn Maxwell are the key players in this squad. Mayank Agarwal and Maxwell will perform today.
Find the favourable periods in your career
Last ball
One team will depend on batting and the other team will depend on all-round performance, so this should prove to be an exciting match to watch. Today, both captains have favourable days. So the match will be very close. But Rohit Sharma has more luck than KL Rahul. 
Indian astrology predictions are based on the time, date and place of birth, hence the accuracy of the prediction depends upon the accuracy of these details.