IPL 2020: Kings XI Punjab vs Kolkata Knight Riders

Will Kings XI Punjab climb up from its dismal last position in the IPL points table as it takes on Kolkata Knight Riders at third position at the Sheikh Zayed Stadium at Abu Dhabi? We will find out after today's match between two inexperienced captains. But here KKR is gradually improving the performance and KXIP is yet to get on the track. Cricket is a team game and all-round performance is needed for a win. Also, KXIP captain Lokesh Rahul has to improve his captaincy skill. On the other hand, KKR captain Dinesh Karthik took amazing decisions against Chennai Super Kings in the last match. His bowling changes were effective and won the match with a very low total. Here KKR is likely to have more confidence than KXIP. Punjab's batting squad is great but their bowling is not strong. It will be difficult to win with only batting strength. Let's analyse the winning probability of 2020 IPL today's match.
Know your favourable periods in life. Get 60-page FREE horoscope!
2020 IPL Match

24 of 56

KXIP vs KKR
Date –
 10 October, Saturday
Time –
 15:30 IST (14:00 GMT), 17:00 LOCAL
Venue – Sheikh Zayed Stadium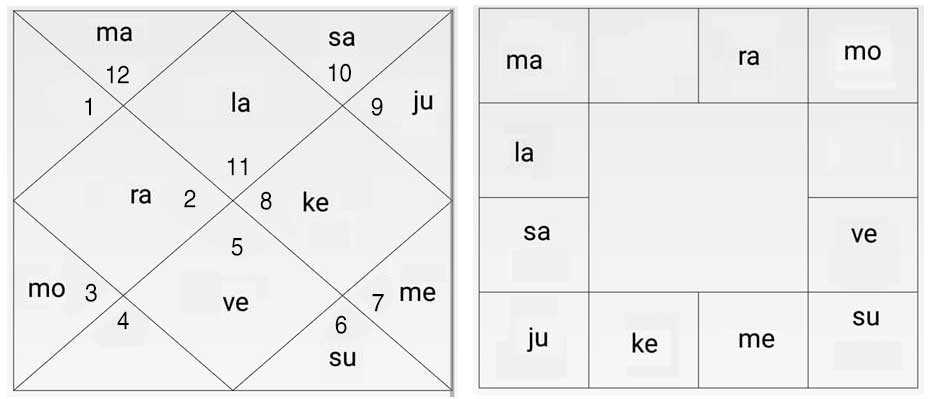 2020 IPL Predictions – Team KXIP
Continuous defeats will definitely affect the confidence of any captain. He will not want to depend on any player and keep trying the trial and error method. Individual performances might not convert to match-winning situations.  We can understand the pressure on Lokesh Rahul. He does not have an enriched resource of players. There are no options for many players either. His Lagna is Sagittarius. The symbol of Sagittarius zodiac sign is an archer. But a soldier may not be a good commander in chief.
Here, Rahul earned the orange cap (top run-getter) but as a captain, he has won only one match.   People born in this sign may show some of the characteristics of this zodiac sign. They have the nature to fight and they are always ready for challenges. Rahul is capable of fighting in front. Currently, he is passing through the Dasa period of Saturn and sub-period of Saturn. This is not a bad period. The transit forecast shows Jupiter transiting through the third house and Saturn in the fourth position. When Jupiter transits through the third house, the returns will be displacement in the current position, lack of support from companions, mental tension etc. Both are not favourable. But these planets are in their own houses. This reduces the negative impacts. This season could be very tough for him as a captain. The day prediction seems to be unfavourable for him.  Some of his decisions may not be successful today.
Keyplayers of today's IPL match – Team KXIP
Mayank Agarwal, Sheldon Cottrell and Glenn Maxwell are the key players in this squad. The performance of key players may not be satisfactory today.
2020 IPL Predictions – Team KKR
The last win against Chennai Super Kings has given Dinesh Karthik more confidence as a captain. He could set challenging field positions and bowling changes in that match. With this match, he can silence his critics. Dinesh Karthik's Lagna is Leo. The Leo zodiac sign symbol is Lion. These people have the ability to lead a group and their decisions cannot be influenced by others. The planet for this zodiac sign is Sun. Sun denotes authenticity, stubborn behaviour, leadership quality etc. People born in this Lagna are leaders with mental stability being one of the positive factors in their character.
Currently, he is passing through the Dasa period of Mercury and sub-period of Mercury. Mercury is his second and eleventh house lord. So this dasa is beneficial for him though sub-period of the same planet might not be as beneficial. Transit forecast prediction shows Jupiter transiting through third and Saturn in fourth. Both are in unfavourable positions but in their own houses. So the negativity may reduce. Let us check the daily prediction which influences the result of today's match. Today is an unfavourable day for Dinesh Karthik. Some of his strategic moves may flop.
2020 IPL match – Key Players Kolkata Knight Riders
Andre Russel, Sunil Narine and Shubman Gill are some of the key players in KKR. They may struggle today. 
Last ball
There are so many astrological factors influencing a prediction. Analysing every aspect is impossible. But here we consider two captains and key players only. From analysing these people, today is not a favourable day for both captains. But Lokesh Rahul has slightly more blessings from stars than Dinesh Karthik. We can expect a thrilling match.
Indian astrology predictions are based on the time, date and place of birth, hence the accuracy of the predictions depends upon the accuracy of these details.