IPL 2020 Today's Match: Kings XI Punjab vs Delhi Capitals

Points table leaders Delhi Capitals are meeting sixth-placed Kings XI Punjab at Dubai for IPL today's match 38. KXIP's last two match wins to give them more confidence. We can see that the defeats of KXIP are for very narrow margins and Captain KL Rahul and Mayank Agarwal is in first and second positions in the list of a most run-getter (orange cap). Their strike bowler Mohammed Shami is in the third position in purple cap list (most wickets were taken). If the entire team performs to the best of their talent they can enter the playoff section. On the other hand, DC is consistently winning matches with batsmen and bowlers performing their best. It is a balanced team with both foreign and Indian players. This match is very crucial for KXIP and DC should they want to maintain their No.1 position. The match will be very exciting.
Get your free 60-page personalized horoscope
IPL 2020 today's match 38 of 56 KXIP vs DC
Date –
 20 October, Tuesday
Time –
 19:30
Venue – 
Dubai International Stadium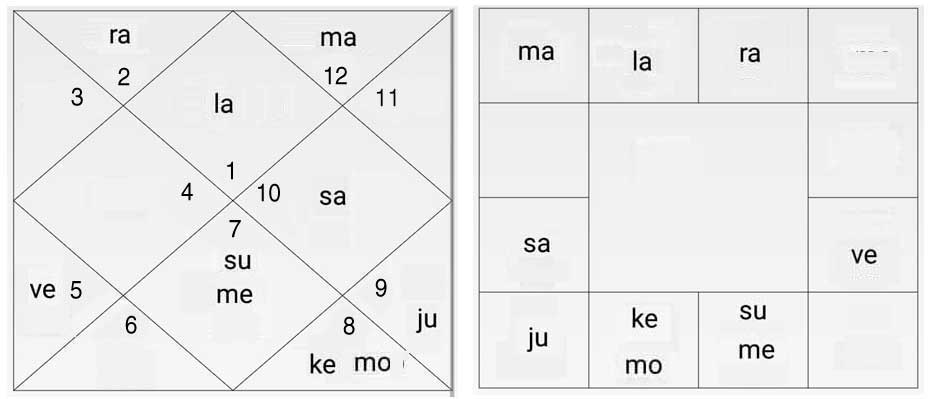 IPL Today's Match Prediction Analysis
Astrological Analysis of IPL Team DC
Initial stages of the tournament, we saw Shreyas Iyer as an inexperienced captain without many big stars in his team. But now, we see a successful captain who can lead a balanced team with a winning formula. Now, DC is a dream squad for anyone. All matches are going to be crucial for all teams. So Shreyas should find and rectify his weak areas. A good captain can use his squad more effectively with the help of strategies. He understands his opponents and plans on how to tackle the key players in that team. Rohit Sharma's Lagna is Leo, who is a lion. Leadership comes to them without any effort, and people follow naturally. We can quickly identify the Leos in a group from their attitude and behaviour. Lagna lord is Sun, it denotes leadership, authenticity, utilising resources etc.
Find the impacts of Rahu Ketu transit
Now, he is passing through the Dasa period of Rahu and sub-period of Guru. This is a favourable period for him. In this period, he can achieve or learn many things related to his career. Transit forecasts see Jupiter transiting through twelfth house and Shani in Lagna. Both are not favourable, but both are in their own house. So he cannot face significant challenges. According to daily predictions, the day is a good one for him. He will get the right support from his expected resources.
Astrological Analysis of IPL Team KXIP
Last match win over Mumbai Indians makes Rahul and team more confident. He is an orange cap and a silent captain in this tournament. Coming matches are crucial for KXIP, so he needs to exhibit aggression and fighting spirit to motivate his team. Most of the defeated matches were lost in a very narrow margin. So Lokesh Rahul should try to be a better captain. He should have good knowledge of his resources and use them at the right time in the right manner. His Lagna is Sagittarius. The zodiac symbol of Sagittarius is an archer. People born in this sign may show some of the characteristics of this zodiac sign. They have the nature to fight and they are always ready for challenges. Rahul is capable of fighting from the front. The Lagna lord is Jupiter and the nature of Jupiter is mentorship. They are good at guiding their followers.
Now he is passing through the Dasa period of Saturn and sub-period of Saturn. This is not a bad period. The transit forecast shows Jupiter transiting through the third house and Saturn in the fourth position. When Jupiter transits through the third house, the returns will be displacement in the current position, lack of support from companions, mental tension etc. Both are not favourable. But these planets are in their own house. It reduces the negative impacts. This season could be very tough for him as a captain. The day prediction seems to be unfavourable for him. Challenges and hurdles are waiting in his path.
IPL 2020 Today's Match Key Players
Keyplayers of Team Delhi Capitals
Prithvi Sha, Rishab Panth and Ravichandran Aswin are some the key players in this squad. Prithvi Sha and Rishab Panth may struggle to find their rhythm.
Find the favourable periods in your career
Keyplayers of Team 

Kings XI Punjab
Mayank Agarwal, Nicholas Pooran and Glenn Maxwell are the key players in this squad. Mayank Agarwal and Glenn Maxwell may perform well today.
Last ball
There are so many astrological factors influencing a prediction. Analysing every aspects impossible task. But here we consider two captains and key players only. From analysing these people, today Shreyas Iyer has more blessing from stars than Lokesh Rahul. But this match will be a cricket feast for us.
Indian astrology predictions are based on the time, date and place of birth, hence the accuracy of the predictions depends upon the accuracy of these details.