IPL 2020 Today's Match:
Chennai Super Kings

vs Mumbai Indians

Defending champions Mumbai Indians take on three-time IPL winners Chennai Super Kings for match 41 at Sharjah today. Of course, Mumbai Indians have won the title a great four times and even in this season, the team is performing very well. But MS Dhoni's CSK is just not what it used to be. CSK is a shadow of previous years. MI is better placed confidence-wise as well as a team strength. But, it is to be noted that CSK won the last match when they played against MI in this tournament. Now, MI is a changed team and they are one of the best-balanced teams in this tournament. Most of the players of MI are in form and their last defeat against KXIP in super over has not affected the team confidence. But knowing Dhoni, he can come back any moment. So this match will be exciting with a close finish. Let us check how the stars favour the captains.
Get now your personalized 60-page horoscope absolutely FREE
Today's IPL Match 41/56 CSK vs MI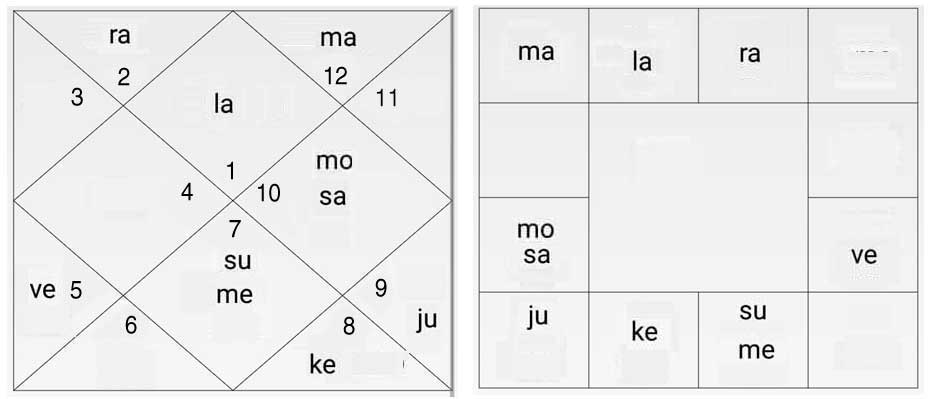 2020 IPL Match 41 of 56 CSK vs MI
Date –
 23rd October, Friday
Time –
 19:30
Venue –
Sharjah Cricket Stadium
2020 IPL Predictions Today's Match
2020 IPL Predictions – Team CSK
Continuous defeats and struggles to find batting rhythm are being celebrated by Dhoni's critics. But we understand that the captain has limitations in influencing a player's performance. Dhoni tried his best in captaincy, but he cannot do anything for the poor performance of teammates. He tried changes in the batting order and bowling options, but it did not click. After this match, CSK's opponents are only those who are positioned below them in the points table. So unless a miracle takes place, CSK may not qualify for playoffs. The Dhoni we see on the pitch nowadays seem to be an alone man. The real Dhoni may yet emerge in the coming matches. Dhoni's Lagna is Virgo. The house lord of Virgo is Mercury. Mercury stands for communication, skill set, and humour sense. Dhoni always communicates effectively with his teammates every time. Those born in Virgo are good leaders who prefer to talk less, just like their zodiac sign. They have their own plans for success. Dhoni is now passing through Rahu dasa under the influence of Kuja. Though Kujan is positive, the dasa of Rahu is generally not a favourable period. This season he may face matches that are tougher than previous years.
Find the favourable periods in your career
Transit planets and their influence on him show that Jupiter is passing through the fourth house and Saturn through the fifth house. When Jupiter transits through fourth, it results in a lack of support from companions, misbehaviour from subordinates, lack of confidence, etc. Both planets are not very favourable. But they are in their own houses which might be beneficial. So this is not a bad period. The planet of war Mars is in the seventh house. This is also not beneficial. The day prediction says today is unfavourable day for him. But there is a planet in the Vedha position. So sometimes he may get some blessings from stars. There might be confusion in batting and bowling orders.
When will you get a job? Find now!
2020 IPL Predictions – Team MI
Rohit Sharma is leading a well-balanced team this year. Most of the players are in form and are constantly aiming at wins. The main task of Rohit is to maintain this winning formula till the end of the league. MI has many talented players on the reserve bench also. Rohit may give a chance to reserve players during the playoff round. Rohit's Lagna is Cancer and the house lord of cancer is Moon. His moon Rashi is Aries. People born in Aries are always restless. We can observe this character in Rohit. The double tons of Rohit are prime examples of that. Presently, Rohit is passing through the Rahu dasa under the sub influence of Kethu. This is not a good time.
Find the favourable periods in your career
This is a time when the unexpected happens. But since Rahu is at nine and Ketu is at three, it can be assumed that there will not be too much interference in the form of bad luck. In transit prediction, Guru transits through the ninth house. It is very favourable. But Saturn transiting in the tenth house is not favourable.  Daily prediction is favourable for Rohit. Some of his decisions will be beneficial in this match.
Find the favourable periods in your career
IPL 2020 today's match Key Players
Key players of Chennai Super Kings
Shane Watson, Faf du Plessis, Ambati Rayudu, and Sam Curran are the key players in CSK. Dhoni can expect good support from Faf du Plessis and Sam Curran.
Key players of Mumbai Indians
Kieron Pollard, Hardik Pandya and Jasprit Bumrah are the key players in this squad. Kieron Pollard and Jasprit Bumrah may perform to their top talents.
Last ball
There are so many astrological factors influencing 2020 IPL predictions. Analysing every aspect is an impossible task. But here we consider two captains and key players only. From analysing these people, today Rohith Sharma has slightly more blessings from the stars than Dhoni. We can expect a thrilling match.
Indian astrology predictions are based on the time, date, and place of birth, hence the accuracy of the 2020 IPL predictions depends upon the accuracy of these details.