IPL 2020: Delhi Capitals Vs Royal Challengers Bangalore

IPL 2020 Match 55 has Delhi Capitals meeting Royal Challengers Bangalore at Abu Dhabi's Sheikh Zayed Stadium today for a crucial. The winning team can ensure the playoff entry without run rates. Delhi Capitals has lost last four matches and Royal Challengers lost last three matches. Inconsistency is a common factor for both teams. Both have talented players, and the consecutive defeats have no justifications. In their last matches, both teams failed to score big. Today we can expect a do or die performance from both sides.
Get your personalized FREE horoscope
IPL 2020 Match 55 of 60 DC vs RCB Venue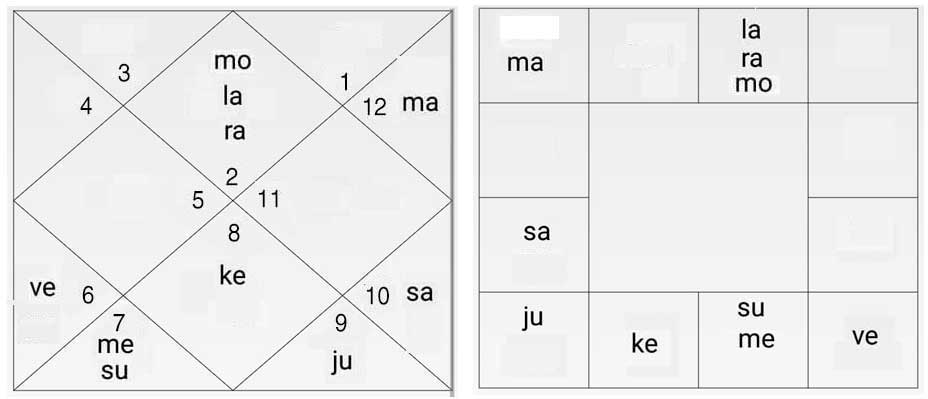 Date –
 02 November, Monday
Time –
 19:30
Venue – 
Sheikh Zayed Stadium
IPL 2020 Match 55 Astrology Predictions
IPL 2020 Predictions – Team RCB
Virat Kohli
always likes challenges. His body language changes and he displays a very aggressive approach on the field when faced with a challenge. Energetic Kohli is in form, but he is not getting the right support at crucial times from his team. He is facing inconsistency of key players. Last three defeats, laid bare the drawbacks in the RCB squad. There is a better expectation from a championship seeking team. Kohli's Lagna is Sagittarius. An archer with a bow and arrow is the sign of
Sagittarius
. They are warriors who are ready for a fight. People born in this Lagna are very energetic and ready to fight at any time. Defeats never make them lose hope. They always come back with full energy and win over anyone. This is the Sagittarius man's power. He is always ready to face challenges. Currently, he is passing through the Dasa period of Rahu and sub-period of Ketu. During this period unexpected events can occur. This might be the reason for his inconsistency in the matches till now. Transit forecast sees Jupiter travelling in the fourth house from his Chandra Lagna.
60-page FREE Kundli. Get Now!
When
Jupiter transits
through the fourth house, the person is likely to face problems from people who are assisting him. There might be sadness and lack of help from relatives, too. We can see these aspects in his last matches. Inconsistent performance of teammates is one of the examples of the above mentioned Jupiter transition. Saturn is travelling through the fifth house from moon Rasi, which is also not favourable for him. Challenges at work, sadness etc are the outcome of this placement. But both these planets transit through their own houses which could be a favourable factor. In transit forecast, Vedha position is also important. Both planets are in Vedha positions. So these unfavourable influences may reduce. Daily prediction for Kohli seems to be unfavourable. But he may not get the right support from his key players.
IPL 2020 Predictions – Team DC
Today's match is very crucial for DC. Last four defeats have affected the team's confidence. Shreyas Iyer is repeating the same faults again and again. Lack of experience in captaincy has resulted in continuous defeats. Let us check how Shreyas is facing this situation. Shreyas should improve his leadership qualities. There are talented and proven players in his squad. His Lagna is
Leo
, who is a lion. Leos possess qualities like bravery, leadership, charisma, generosity etc. Their weaknesses are egoistic, controlling, demanding, dominating etc. We can see some of the characteristics in Shreyas also.
When will you get a job? Check now!
Lagna lord is Sun, it denotes leadership, authenticity, utilising the resources etc. Currently, he is passing through the Dasa period of Rahu and sub-period of Guru. This is a favourable period for him. In this period he can achieve or learn many things related to his career. Transit forecasts see Jupiter transiting through the twelfth house and Shani in Lagna. Both are not favourable, but both are in their own house. So he cannot face significant challenges. According to daily predictions, the day is not a good one for him. He will not get the right support from expected resources.
IPL 2020 Key Players of today's match DC vs RCB
Keyplayers of team Royal Challengers Bangalore
AB de Villiers, Yuzvendra Chahal and NavdeepSaini are key players in this squad. Here AB de Villiers and Saini will perform well today.
Keyplayers of team Delhi Capitals
Prithvi Sha, Rishab Panth and Ravichandran Ashwin are some the key players in this squad. Prithvi Sha and Rishab Panth may perform well today.
Last ball
We can see different kind of approaches and strategies in this match. Both of them have less blessing from planets but Kohli has better favour with the stars than Shreyas. The match will be very close.
Indian astrology predictions
are based on the time, date and place of birth, hence the accuracy of the predictions depend upon the accuracy of these details.