Everybody wishes to start their day with confidence. When life is a mix of ups and downs, it is the hope that keeps you moving with confidence. Astrology is an ancient science that is a study of the probability of life events. The knowledge of the daily probable events would raise hope and help to end the day on a positive note.
Daily predictions and guidelines based on personalized Vedic Astrology, personalized numerology tips for the day, daily Panchanga and much more are now available with a tap on your mobile. Install Clickastro Horoscope and Astrology app, an online free horoscope application for your personalized astrology solutions! What more does it offer? It's the mobile version of clickastro.com, offering A to Z astrology solutions, including online astrology consultancy. 


The online portal clickastro.com offers free horoscope reports, and a variety of free astrology solutions. It is the portal visited by almost all people per day for generating horoscopes and for other personalized astrology solutions. Besides generating detailed horoscope reports, it offers a variety of reports such as career horoscope, marriage horoscope, wealth horoscope, marriage compatibility report, couple horoscope, gem-recommendation report, numerology report, etc. By installing the Clickastro Horoscope and Astrology app, you can generate all these reports and consult India's best Vedic Astrologers through your mobile. It even gives you access to Clickastro offers and lets you read our astrology blogs. So, Clickastro Astrology and Horoscope app is a one-stop point for all your astrology requirements. It's not just a simple horoscope app; it is your complete personalized astrology solutions app. 
Clickastro Horoscope and Astrology App for You & Your Dear ones
Clickastro Horoscope and Astrology app facilitate multiple profiles. The app gives your free horoscope reports and daily predictions based on the birth details you provide during installation. After this, you can use the 'add new profile' option to provide the birth details of your loved ones. Thus, you can use this free horoscope app to get personalized horoscope predictions and guidelines for you and your dear ones. 
The Clickastro Horoscope and Astrology app Highlights
-Your Today: Daily Predictions
-Free Horoscope Reports
–Couple's Report
-Premium Clickastro Reports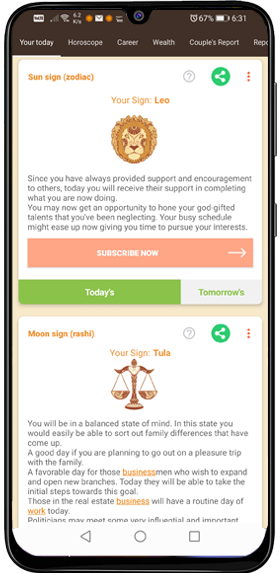 -Clickastro Offers
-Astrology Consultancy
-Astrology Blogs
Get it on Google Play
Download on the App Store
Your Today: Daily Predictions
It helps you know 'Your Today', your horoscope-based daily predictions, and other astrology information that help you plan your activities! These predictions and guidelines let you decide matters viz. what to do, what not to do, the right time to act, etc. The daily predictions and guidelines include the following.
Predictions based on Sookshma and Prana dasas
: It's a unique feature of this app, analyzing the Sookshma and Prana dasas of your horoscope and providing its predictions with the starting and ending timings. A Sookshma/Prana dasa would last for a few hours. This feature lets you know the general nature of the ongoing or upcoming Sookshma/Prana dasa period and plan your activities accordingly.
Sun Sign & Moon Sign Predictions:
 Sun Sign is the Western system. It gives your zodiac-based daily predictions. In the Vedic system, your nakshatra or rasi is determined by the positions of the Moon. Moon Sign prediction is your rasi-based daily predictions. You can check both to get an insight into how fortunate your day would be.
Daily Numerology:
Your numerology-based daily predictions, plus the guidelines viz. Lucky Number, Lucky Colour and Luck Direction for the day. 
The mantra of the day:
You can know your deity of the day, and the mantra to get the deity's blessings.
Muhurtha and Panchanga:
Let's you know the Muhurthas of the day, and the Panchanga information viz. sunrise and sunset timings, Rahukal, Gulikakal, Abhijith timings, etc.
Love Match & Horoscope Compatibility:
Love Match feature is the zodiac-based love compatibility between you and the person you like. Horoscope Compatibility is the Vedic Astrology-based marriage compatibility check between you and your prospective partner.
Free Horoscope Reports
The free astrology features of this app include horoscope generation. The app asks you to enter your birth details at the time of installation. Once you provide it, your free horoscope will be generated, which you can check at any time. The free horoscope report will include various predictions, charts, tables, and calculations. This Clickastro app also offers other free reports viz. free career horoscope and free wealth horoscope.
Couple's Report 
The Couple's horoscope is a newly added Clickastro report which is also available with this free astrology app. It's a study of the horoscopes of both the man and the woman, (or husband and wife) to provide guidelines for a better and happier married life. It analyses both parties' character traits, attitudes, and various horoscope features to know the possible ups and downs in their marriage.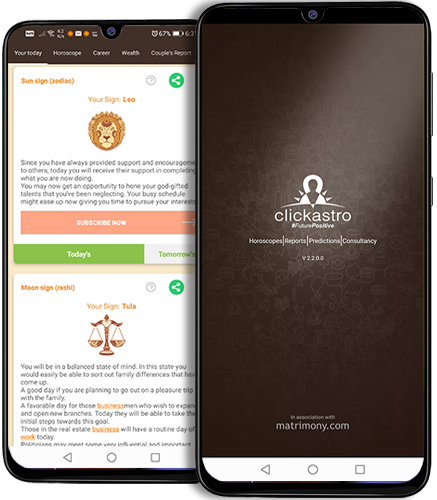 Premium Reports
The premium horoscope reports of clickastro.com can be generated from this app. These reports are very detailed analyses of your horoscope, studying all or specific aspects of your life.  The premium reports include In-depth Horoscope, Career & Business Horoscope, Wealth & Fortune Horoscope, Marriage Horoscope, Numerology Report, Gem-Recommendation Report, Yearly Horoscope, Saturn Transit Report, Jupiter Transit Report, etc. You can generate these reports using your mobile and get them in the mail, in pdf format. You can even order a printed copy of your In-depth Horoscope report.
Offers
Another advantage you get by using this free astrology application is the availability of offers! Yes, Clickastro frequently provides offers to the various horoscope reports and combo packs (two or three reports as a single product). The app updates you about these offers and lets you avail them.
Astrology Consultancy
When what you seek is a very specific remedy or advice to a particular problem or difficulty you are facing, then the best thing is to consult a good astrologer. Clickastro has a consultancy panel of renowned Indian astrologers. You can go through their profiles and book a consultation using this free astrology app.
Astrology Blogs
Clcikastro posts various blog articles on astrologically important days, festivals, and various astrology topics. These blogs can give you important astrology inputs. They also provide an insight into Vedic traditions, rituals, vrats, their values, and importance. You can read these useful blog articles from your phone using this free horoscope app.
Everything about Astrology is here!
Daily astrology inputs, Horoscopes, Variety of Astrology Reports, Online Astrology Solutions, Online Astrology Consultation, Astrology Readings, and more. Why wait to install this app? It is available in English and other Indian languages. Install Clickastro Astrology and Horoscope app now.