An app for a positive mind!
Touch to reach the complete astrology solutions portal
A positive mind cannot be pulled back! Whatever be the challenges the life puts before you, they can be tackled with a positive mind. Clickastro.com, the portal with more than a million followers across the globe advocates positivity through personalised astrology guidelines. Accessing this portal and exploring its horoscope solutions is now easier with the web app "Clickastro – Horoscope: Rashifal: Astrology". Accurate future forecasts and positive horoscope solutions to the various concerns on your life can be now known from your mobile. Clickastro is a one-stop-site for all astrology solutions. One touch on your mobile screen will take you to this unique astrology portal!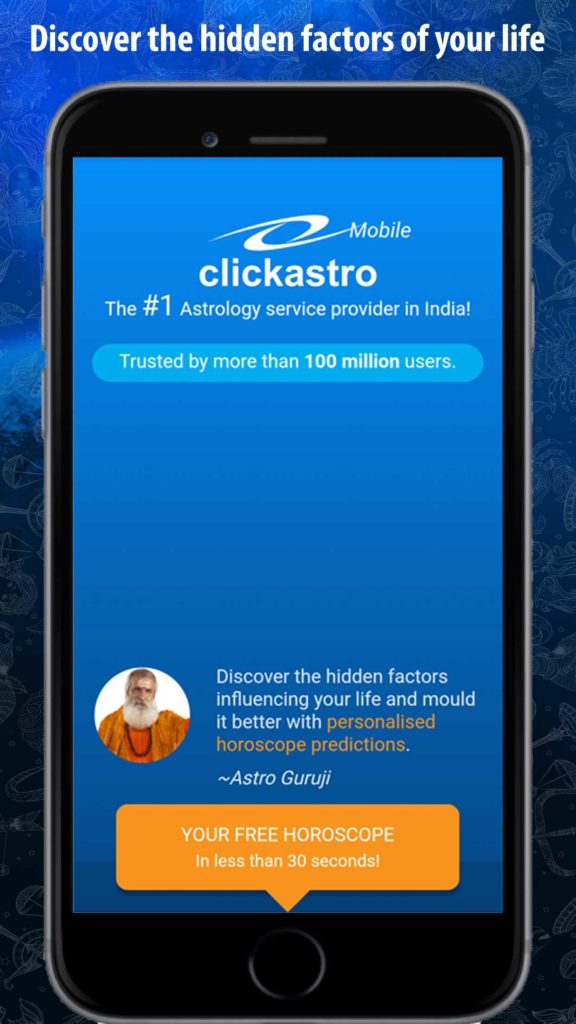 What is 'Clickastro – Horoscope: Rashifal: Astrology'? It's simply an app that helps you open the portal clickastro.com with one touch on your mobile screen. Your varieties of horoscope predictions, detailed horoscope report, the daily & weekly predictions etc. can be accessed from your mobile phone. The portal can offer from its menu, positive horoscope solutions concerning the various aspects of your life – your career, marriage, family life, wealth, health, education etc. This app is just a 'one-touch window' to your inclusive horoscope solutions. Download it now https://goo.gl/cKyHta
 How significant is this app for you? The importance of the app 'Clickastro – Horoscope: Rashifal: Astrology' is that it lets you avail all horoscope services of the clickastro.com. This includes Sun Sign (Western Astrology) and Moon Sign (Vedic Astrology) predictions which you can check on a daily basis to acquire a positive mindset for your daily activities. The app also lets you read your detailed horoscope (of more than 60 pages) on your mobile screen. By submitting your birth details (the date, time & place of your birth), clickastro.com generates your comprehensive horoscope report in pdf format and sends it to your email. In addition to these, the app gives you access to clickastro's wide menu of special horoscope reports focusing predictions and guidelines to specific aspects of your life.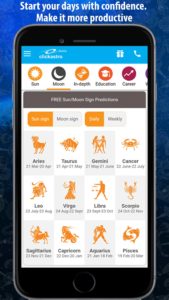 A unique benefit you get from this app is it helps you consult India's most famous astrologers. Using your mobile, you can choose the astrologer whom you want to consult and get effective personal advice to tackle specific concerns or problems in your life.
 The Free Astrology Reports of clickastro.com include daily rashifal and weekly rashifal. The various free horoscope reports provide the basic data of your personality & life and preview the general trend in various aspects of your life; as in Free Marriage, Free Career, Free Wealth etc. Whatever be the matter troubling you or you are curious to know, this app lets you feel positive by generating your free horoscope in a matter of a few seconds. Download https://goo.gl/cKyHta
The In-depth Horoscope Report is the most detailed horoscope you can have. So far, clickastro has generated more than a million of this detailed horoscope for astrology followers across the world. Clickastro – Horoscope: Rashifal: Astrology app helps you generate your in-depth horoscope using your mobile. You can also choose from your mobile the chart styles you prefer and the language of the report as it is available in English and various Indian regional languages. This holistic horoscope report covers panchanga predictions, bhava predictions, dasa/apahara predictions, favourable in your life, yogas, transit predictions etc. It also includes all those necessary horoscope charts & tables. You can order, if you wish, a hard copy of this detailed horoscope through this free astrology app. By maintaining a hard copy, you may flip open it at any point in your life for positive horoscope solutions and guidelines. Generate your in-depth horoscope now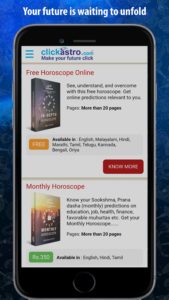 Special Horoscope Reports of clickastro.com analyses the various horoscope features that influence the specific areas of your life in one way or other. The portal offers you reports such as Career horoscope, Marriage horoscope, Wealth horoscope, Education horoscope, Kundli Matching report etc. They help you know about the various astrological factors particular to your kundli or horoscope that influence your career, marriage, wealth or education. These reports let you take a positive drift in specific aspects of your life by suggesting valuable guidelines and remedies to the doshas in the horoscope. The Kundli matching or marriage matching reports lets you check for free, the marriage compatibility between two individuals. The array of clickastro special reports also include Numerology report, Gem-Recommendation report, Transit predictions etc. Download the app now to get predictions on various aspects of your life.
'Clickastro – Horoscope: Rashifal: Astrology' App lets you use your mobile phone to consult India's renowned astrologers too! The Astrology Consultancy Service of clickastro can be accessed from this app! This enables you to have a very effective horoscope solution to the obstacles you face in your life. You can fix a consultation with one of the best astrologers and get the best horoscope advice to tackle the problems or obstacles in your life. Clickastro.com maintains a consultancy panel of 16 renowned astrologers in India. You can fix the consultation now by downloading this app
The power positivity is that it helps you win against all odds. Clickastro is a team dedicated to inducing that positivity or inner strength in everybody's mind, making use of the essence of Vedic Astrology. The level of accuracy and the range of solutions make Clickastro one of the most visited astrology portals on the net. Now, you can access this portal at any time and from anywhere you go through 'Clickastro – Horoscope: Rashifal: Astrology' App. Just one touch and you will reach the world of comprehensive astrology solutions. Download this app and keep your mind positive