Generating Horoscopes and reading it has become as simple as it can be.  Clickastro – the leading digital astrology portal in India is revolutionising the 'astrology service through smartphones' with its Free Horoscope App Series. It's a series of free Android apps providing horoscope generation and other astrology services. It includes apps in English and other Indian languages that generate horoscope reports which are authentic and accurate. Install your preferred Clickastro Free Horoscope apps from the PlayStore to read horoscopes in your mobiles, in your language. The apps are available in English, Hindi, Tamil, Telugu, Kannada, Marathi, Bengali, Malayalam & Oriya.
 What do the Clickastro Free Horoscope Apps provide?
Download FREE Horoscope app Now!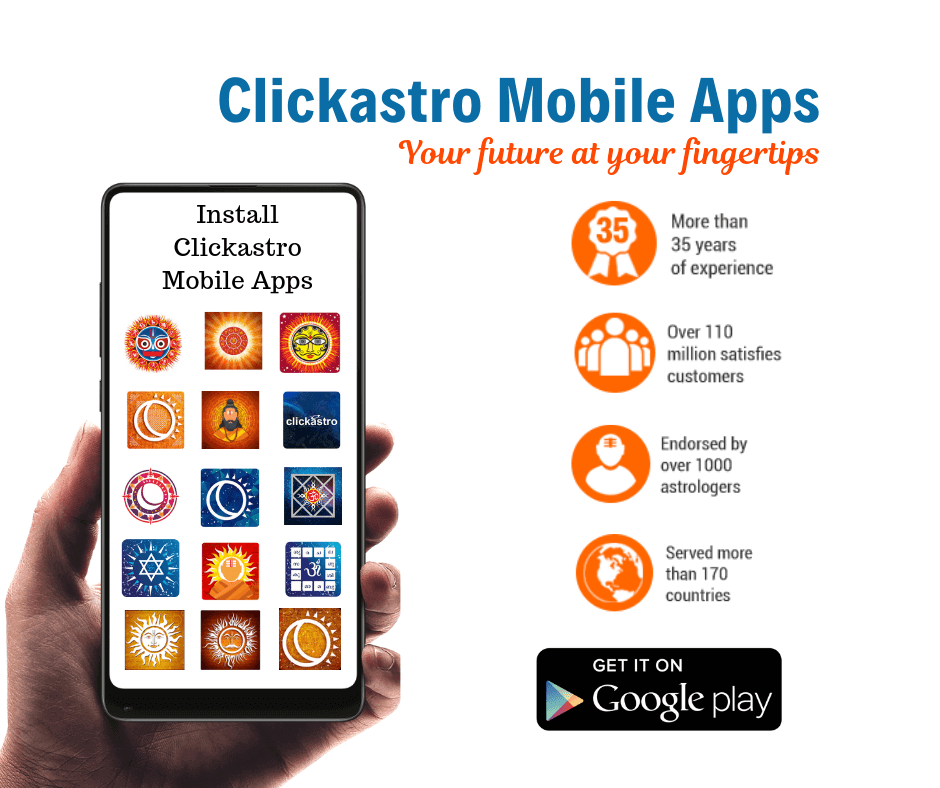 Your Vedic Horoscope – Your Personal Astrology Guide
Generating the detailed Vedic horoscope with this Clickastro app is a simple process lasting just a few minutes. To generate the horoscope, you just have to enter the exact birth details –  the date, time and place of your birth. The app makes the precise astrology calculations and captures the exact positioning of stars and planets at the time of your birth. The horoscope report thus generated covers all aspects of your life with full details and precision. You can read from the report the course of your life and its ups & downs. It lets you see through your future, plan your activities and find solutions to the obstacles in your path. Thus, this Vedic horoscope report can help you as your personal astrology guide – telling you everything regarding your life and helping you in all contexts of life. The various predictions and remedies covered by the free horoscope report include Panchanga predictions, Bhava predictions, Dasa/Apahara predictions, Transit predictions or predictions on near-future, Yogas & its features, the favourable periods (for marriage, business, house building etc.) in life, various doshas including Kuja dosha and remedies to the doshas.
Your most friendly horoscope app!
Clickastro Free Horoscope apps series is meant to serve you in the most friendly and most effective way. We have made it a pan-Indian product available in various regional Indian languages so that you can choose the one which you feel is best for you. The comprehensive horoscope report can be used to refer, study and make resolutions. It helps you understand your life, know what's good and what's wrong for you and plan your activities accordingly. Finding the right match is the key to the most anticipated event in life 'Marriage' and your Clickastro Free Horoscope apps will aid you in that too. You can use the marriage matching feature of this app to find the right bride/groom for you or your dear ones. The app makes an authentic horoscope compatibility check, considering the Vedic Astrology parameters of birth star matching, Kuja dosha check, papa Samya and dasa sandhi check.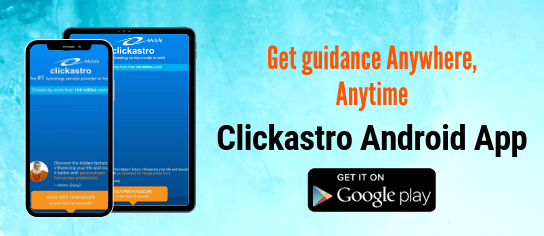 If you are a person fond of knowing the astrologically significant timings (Auspicious & inauspicious moments) of the day, then the Daily Panchanga feature can help you. It lets you know various parameters viz. Nakshathra, Tithi, Karana, Nithya yoga, Sunrise & Sunset timings, Rahu & Gulika Kal, Yama ghanta, Abhijith muhurtha etc. Clickastro Free Horoscope apps are not just an Astro-guide for you; it lets you help your dear ones too. You can use this app for generating horoscopes for your family members and friends. The app doesn't set any limit in the number of horoscope reports you can generate.  If you have the net access, your Clickastro Free Horoscope apps let you generate and check horoscopes from anywhere and at any time.
 Choose your Clickastro Free Horoscope app
Following are the various Clickastro Free Horoscope apps and their PlayStore links. You can choose the one in your preferred language.
Free Horoscope and Vedic Astrology
Kundli in Hindi
Horoscope in Tamil
Horoscope in Telugu
Horoscope in Kannada
Horoscope in Malayalam
Horoscope in Oriya
Astrology in Bengali
Why wait? Download the Clickastro Horoscope app in your preferred language. Have in your mobile an authentic personal astrology guide.