Start your day with confidence! Planning your day is easy now. Here we are presenting
Daily Horoscope App
– An app for your personalised daily predictions & guidelines. This Clickastro product can empower your daily life with the essence of Vedic Astrology. The
Daily Horoscope
app gives you valuable predictions and guidelines that help you start your days with confidence. Install Daily Horoscope app on your mobile to get your sookshma/prana dasa based predictions relevant to your day-to-day life. This can let you feel free from bothering thoughts on your daily personal and professional lives. Just make a few taps on your mobile screen and get the daily forecasts that help you keep aside tensions, anxieties & dilemmas.
Install Daily Horoscope App Now
'How would be my life today?' is a common concern for all. The stress at work, financial dealings or family matters can frequently tamper your mindset. Also, every day, at some point of time, you would feel worried about your career, marriage or the thoughts on the status of your wealth or health. Having the Daily Horoscope app in your mobile is a one-stop solution for all these. Let's see how this app can help you. Clickastro is a leading astrology portal in India dedicated to empowering lives through Vedic Astrology knowledge. We offer a variety of online reports and products which are all popular for their accuracy and authenticity. The Daily Horoscope app is one such innovation meant to empower you, providing a prior knowledge of your day-to-day life. It's the one-of-a-kind app that can precisely analyse your sookshma/prana dasas to provide time specified predictions on your immediate future. This will help you get valuable inputs relevant to your day. You will get an idea of the course of events of the day and can plan & prepare your activities accordingly. In addition to the daily guidelines, this app offers to you Daily Panchanga information, your complete Vedic Horoscope and the Marriage Matching feature.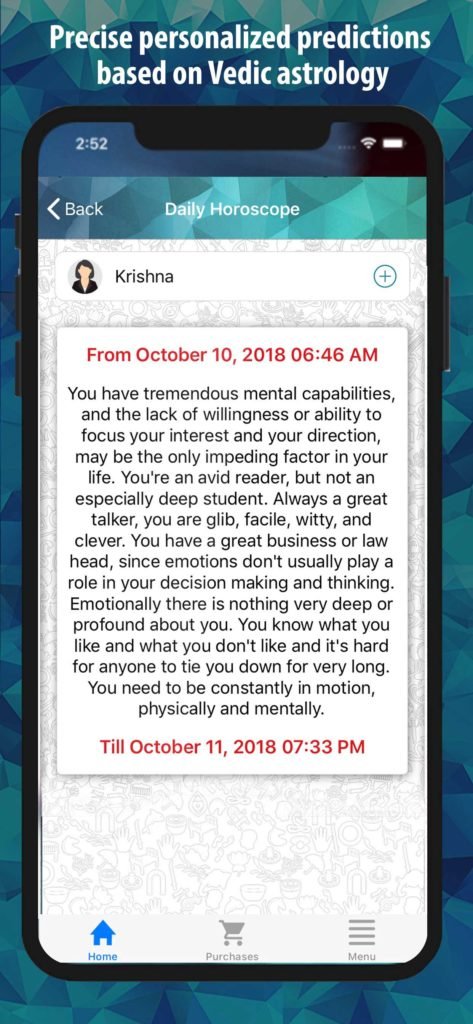 Install Daily Horoscope App Now
The Daily Horoscope app helps you make some key decisions relevant to your day-to-day life. It helps you improve your efficiency, make the best use of your daily opportunities and prevent unfortunate situations or incidents. Thus, by installing this app on your mobile, you can say 'bye' to the bothering thoughts regarding the day and start thinking about 'how to improve my daily life'. The Vedic Horoscope feature of the app lets you generate and read your detailed horoscope in your phone. This horoscope report gives you predictions and remedies, covering every aspect of your life – career, marriage, wealth, health, personality, education etc. Thus, it lets you study your life and secure your future. To add to the daily horoscope guidelines, this app gives daily panchanga information too. This feature helps you know the astrologically auspicious & inauspicious timings of the day. Thus, you can choose the right time to initiate or do something important such as making an investment. The marriage matching feature lets you check horoscope compatibilities with ease. You can use this feature for you or your dear one's marriage matching requirements. On entering the birth details of the prospective bride & groom, it analyses all Vedic Astrology parameters of matchmaking and gives you an authentic marriage compatibility report.
Daily Horoscope app is your remedy for a variety of concerns in day-to-day life. Let it be about having a successful day, securing the future, finding the right match or finding the right time for investment, this app can give authentic astrology guidance. Why wait? Install the Daily Horoscope app and get prepared for a better day