Lord Hanuman was an incarnation of Lord Vishnu and Lord Shiva. He was the greatest devotee of Lord Rama and played a
major role in the war against Ravana (the king of Lanka)
by leading the monkey army as a Chief.
He is the son of Vayu (the god of the wind) and Anjani
and hence is also called Anjaneya (son of Anjana). Some of his other names are
Bajrangbali, Vayu Putra, Maruti, Pawan-Suta,
Mahabali,
and more. 
The incarnation of Lord Vishnu and Lord Shiva, Lord Hanuman stands for
bravery, honesty, pure devotion, loyalty, and valor of the highest order.
He symbolizes strength, self-confidence and protects his worshippers from evil, health-related issues, and other problems related to the ill-effects of Saturn.
Get your Free Online Horoscope Now!
Ideal Times and How to Worship Lord Hanuman?
Hanuman was the greatest devotee of Lord Sri Rama. He was a Ramadoot in Ramayana, where he assisted Rama in the fight against the Ravana. It was a Mangalvar (Tuesday), when he visited Mother Sita in Lanka and hence the day of Tuesday became auspicious. Mother Sita, an incarnation of Goddess Lakshmi, blessed Hanuman stating that those who worship him on Tuesdays will receive her blessing as well. Therefore chanting Hanuman mantra on Tuesdays is believes to be very fruitful and the devotee will secure the blessings of goddess Lakshmi too.
It is believed that Lord Hanuman still exists among us and in order to invoke his presence, it is important to worship him. You can chant the following
Hanuman Mantras for success
and Karya Siddhi, which are extremely powerful.
You are free to chant
Hanuman Ji ka mantra
anytime, anywhere, but there are some special days, time, and ways you must keep into consideration to ensure you get the best outputs:
Ideal days:  Tuesday and Saturday

What to Offer: Jaggery, Ghee, Wheat Flour chapati or fruits like Mango, Apple

Use Lal Chandan ki Mala or Lal munga ki Mala as a rosary while chanting

Offer Sindoor and Jasmine oil while chanting Sunderkand

Mix saffron and red sandalwood while putting a Tilak on Lord Hanuman's forehead

Use Mole oil and Kumkum powder for Shringaar

Frequency: Recite

Hanuman powerful mantra

for at least 11, or 21, or 31 times
Keep chanting the mantra "
Om Shree Hanumate Namah
" or "
Om Hanumate Namah
" during worship. You can chant it 11, 21, 51, or 108 times.

Benefits of Lord Hanuman Chanting Mantra
Reciting

Hanuman mantras

regularly has many benefits. The lord who signifies strength, resilience, and lack of ego, bestows the same courage on you when you recite

Hanuman Beej Mantra, Hanuman Gayatri Mantra, Karya Siddhi Hanuman Mantra, Yantrodharaka Hanuman Stotra, Hanuman Shabar Mantra

and many more. Regular Jaap (chanting) of

Mahabali mantra

radiates positivity and strength to overcome your day-to-day troubles. 

You

can get rid of marital problems.

Eliminates Graha/planetary doshas from a person's life.

It helps to overcome career-related problems.

Recovery from health disorders and psychological problems like depression, anxiety etc.

Worshipping Lord Hanuman at the time of Shani Dasa is beneficial. Shani Dasa's effects or malefic effect of Sade Sani get reduced by worshipping Lord Hanuman.

Negative spirits will not affect us if we chant Lord Hanuman mantras regularly.

By chanting Hanuman mantras one becomes active and energetic in life and infuses confidence in those people who chant these mantras daily.

Get Your Free Career Report Online Now!
Different Types of Hanuman Mantras: Seeking Lord Hanuman's Blessings
Praying to Lord Hanuman by reciting Karya Siddhi Hanuman Mantra
allows you to seek blessings of Hanuman Ji for achieving success in life. Similarly, there are different mantras for different occasions; each serving a different purpose. 
Let's check out some of the best Hanuman Mantras and their benefits on your life:
 Hanuman Mantra #1  – Anjaneya Mantra
"Om Shree Vajradehaya Ramabhakthaya Vayuputhraya Namosthuthe"
This is one of the most powerful Hanuman mantras beneficial to all devotees.
It brings them success in life who chant this
Hanuman Mantras for Success
.
If you're experiencing
problems in your career or professional life
, this Hanuman mantra for a job can be the answer to all your problems.
If you are a student and wish to be more attentive, and achieve success in your academic career, here is the
Hanuman mantras for success
you can try reciting every day.
Chant this mantra regularly for the best results.
Ideally, you must chant this
Hanuman Anjaneya Mantra 11 times on Thursday mornings
to get rid of all obstacles in your life. 
Get your free career Horoscope Report
Hanuman Mantra #2 – Hanuman Moola Mantra
"Om Hanumate Namah"
You can recite this Hanuman Moola Mantra to overcome your life issues.
It means – "I bow to the son of the Vayu and the beloved devotee of Shri Rama." Hanuman Moola Mantra is the most effective among all
Hanuman Mantras
.
It's a powerful
Karya Siddhi Anjaneya Mantra
often suggested to devotees who face multiple and constant obstacles in their life. Reciting this mantra gives them physical strength, power, and stamina.
Mantra #3 – Hanuman Beej Mantra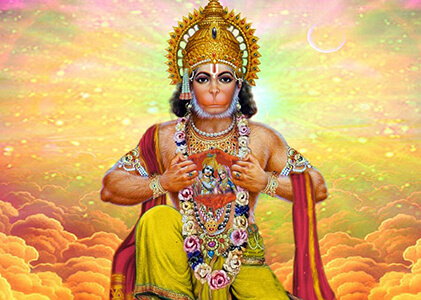 Aum Aeem Bhreem Hanumate
Shree Ram Dootaaya Namaha
This mantra means 'I plea to the Lord Hanuman, who is the greatest server and messenger of the Lord Sri Rama.'
Hanuman Mantra #4 – Panchmukhi Hanuman Mantra
Panchasyachutamaneka vichitra veeryam
Sri shanka chakra ramaniya bhujagra desam|
Peethambaram makara kundala noopurangam
Dhyayethitam kapivaram hruthi bhvayami"
Each face of Shri Panchmukhi Hanuman has a different significance in a person's life:
East facing Hanuman Ji grants purity of mind and success

The Narasimha face in South grant's victory and Fearlessness

West facing Garuda removes black magic and poisons

North facing Varaha showers prosperity and wealth

Hayagriva face in Sky is often tilted and gives knowledge
Mantra #5 – Secret Mantra of Hanuman
"Om Namo Bhagvate Aanjaneyaay Mahaabalaay Swaahaa"
You must recite this Bajrang Bali mantra at least 21000 times to get rid of evil spirits, health-related issues, and other disturbances and obstacles in your life
Hanuman Mantra #6
Hanuman Chanting Mantra to attain the desired goals in life
Manojavam Maarutatulyavegam
Jitendriyam Buddhimataam Varistham
Vaataatmajam Vaanarayoothmukhyam
Sriramdootam Sharanam Prapadhye
Hanuman Mantra # 7
Chanting Mantra for self-confidence
Yathra Yathra Raghunatha Keerthanam
Thathra Thathra Kruthamastha Kanjalem
Pashpavari Paripurna Lochanam
Maruthim Namatha Rakshasanthagam
Meaning of this Hanuman Mantra –
One who is so fast like that of the mind and the god of air
One who has conquered the senses and one who has a superior intellect
One who is the son of Lord Vayu (god of air) and the one who is the most important head of the Vanaras (Monkey clan)
One who is the ambassador of Lord Sri Rama; I bow down to him and take refuge in him.
When Sri Rama asked Hanuman whether he wished to enter Vaikunta at the end of the Ramayana story, Hanuman wished to stay back on Earth listening to the glories of Sri Rama sung by his devotees. Lord Hanuman takes great delight in listening to Sri Rama's name chants. Therefore chanting Sri Rama's name, along with Hanuman mantra, bestows added blessings on the devotees.
Hanuman Mantra #8
Chanting Mantra for self-confidence
Yathra Yathra Raghunatha Keerthanam
Thathra Thathra Kruthamastha Kanjalem
Pashpavari Paripurna Lochanam
Maruthim Namatha Rakshasanthagam
Chanting Hanuman Mantra is a way to quench the thirst of the soul, feed it with peace, and live a content life. It is beneficial in fulfilling wishes, making dreams come true, and achieving favorable results.
Hanuman Mantra #9 – Mantra for Karya Siddhi
Tvamasmin Karyaniryoge Pramanam Harisattama!
Hanuman Yatnamasthaya duhkhaksaya karo bhava
Hanuman is a highly benevolent God by nature. He is easily pleased and mercifully grants all that the devotees seek from him. This powerful Karya Siddhi Hanuman Mantra can help in the success of any venture you undertake.
Hanuman Mantras: How To Chant Effectively
Use correct pronunciation while chanting a mantra.

Wrong pronunciation can do more harm than good, so seek the elder's help if you're confused about how to pronounce a particular word

.



Each

Hanuman prayer

/mantra needs to be chanted several times before it starts showing its positive effect on your body. So, be consistent with reciting and don't break the chain under the thought that it isn't working.



Use a Bead or a Rudraksha mala while chanting

Lord Hanuman mantras.

It

improves

your

concentration and helps you remember the number of rounds you have completed while chanting

Shree hanuman mantra

.



Keep your eyes closed for better focus and feel the vibrations of the particular mantra throughout your body.

Chanting with closed eyes also helps you relax faster and brings your body in a trance state

.



Visualize Bajrang Bali's face while you are reciting the mantras.

Doing so will instantly connect with him and you will start feeling his presence around you.  This works best when you're not in a temple, but are praying right from your humble abode

.



Designate a separate place in your home for chanting the mantras. Ideally, it should face the sun and should be open. Don't change your chanting place regularly as keeping a dedicated space will help spark clarity, focus, and positivity as soon as you enter the space.