Lord Hanuman is one of the most popular deities, the greatest devotees of Lord Rama, the chief of the armies of Sri Rama, and played a major role in the war against Ravana (the king of Lanka). He is the son of Vayu (the god of the wind) and Anjani and is known by different names in the Hindu mythology like Bajrangbali, Anjaneya, Vayu Putra, Maruti, Pawan-Suta and more. The incarnation of Lord Vishnu and Lord Shiva, Lord Hanuman stands for pure devotion, complete surrender, and absence of ego. He symbolizes strength, self-confidence and protects his worshippers from evil, health-related issues, and other problems related to the ill-effects of Saturn. By reciting hanuman mantras regularly, one can find solutions to all their problems and overcome other difficulties easily.
Get FREE Kundli
Ideal Times and How to Worship Lord Hanuman?

You are free to chant Hanuman Ji ka mantra anytime, anywhere, but there are some special days, time and ways you must keep into consideration to ensure you get the best outputs:
Ideal days:  Tuesday and Saturday



What to Offer: Jaggery, Ghee, Wheat Flour chapati or fruits like Mango, Apple



Use Lal Chandan ki Mala or Lal munga ki Mala as a rosary while chanting



Offer Sindoor and Jasmine oil while chanting Sunderkand



Mix saffron and red sandalwood while putting a Tilak on Lord Hanuman's forehead



Use Mole oil and Kumkum powder for Shringaar



Frequency: Recite

Hanuman Ji ke mantra

at least 11, 0000 or 21,000, or




31, 000 times




Keep chanting the mantra "Om Shree Hanumate Namah" during worship. You can chant it 11, 21, 51 or 108 times.

Benefits of Lord Hanuman Chanting Mantra
We can get rid of marital problems.

Eliminates Graha/planetary doshas from a persons life.

It helps to overcome career-related problems.

Recovery from health disorders and psychological problems like depression, anxiety etc.

Worshipping Lord Hanuman at the time of Shani Dasa is beneficial. Shani Dasa's effects or malefic effect of Sade Sani get reduced by worshipping Lord Hanuman.

Negative spirits will not affect us if we chant Lord Hanuman mantras regularly.

By chanting Hanuman mantras one becomes active and energetic in life and infuses confidence in those people who chant these mantras daily.
Get your 60 Page Free Horoscope 
Different Types of Hanuman Mantras: Seeking Lord Hanuman's Blessings

Praying to Lord Hanuman by reciting Karya Siddhi Hanuman Mantra allows you to seek blessings of Hanuman Ji for achieving success in life. Similarly, there are different mantras for different occasions; each serving a different purpose. Let's check out some of the best Hanuman Mantras and their benefits on your life:
Anjaneya Mantra – Hanuman Mantra #1
"Om Shree Vajradehaya Ramabhakthaya Vayuputhraya Namosthuthe"
This is one of the most powerful Hanuman mantras beneficial to all devotees and brings them success in life. If you're experiencing problems in your work-life and are applying for jobs, this Hanuman mantra for a job can be the answer to all your problems. If you're a student and are looking for Hanuman mantra for success in the exam, chant this mantra regularly for best results.
Ideally, you must chant this Anjaneya mantra on Thursdays and 11 times in the morning hours to get rid of all obstacles in your life. 
"Om Hanumate Namah"

You can recite this Hanuman Moola Mantra to overcome your life issues. It's a powerful Karya siddhi Hanuman mantra often suggested to devotees who face multiple and constant obstacles in their life. Reciting this mantra gives them physical strength, power, and stamina.
Panchmukhi Hanuman Mantra – Mantra #3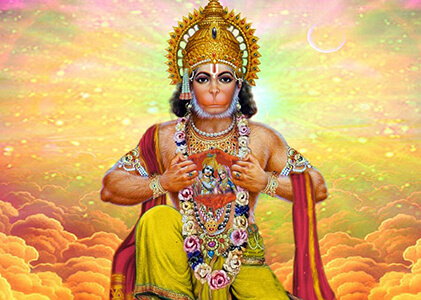 "Panchasyachutamaneka vichitra veeryam
Sri shanka chakra ramaniya bhujagra desam|
Peethambaram makara kundala noopurangam
Dhyayethitam kapivaram hruthi bhvayami"
Each face of Shri Panchmukhi Hanuman has a different significance in a person's life:
East facing Hanuman Ji grants purity of mind and success

The Narasimha face in South grant's victory and Fearlessness

West facing Garuda removes black magic and poisons

North facing Varaha showers prosperity and wealth

Hayagriva face in Sky is often tilted and gives knowledge

 

 
Secret Mantra of Hanuman – Mantra #4
"Hang Hanumate Rudraatmakaay Hung Phatt"
 This Hanuman Mantra is one with unlimited powers imbibed into it and is known to bring instant results. Reciting this mantra regularly makes one exceptionally powerful.
"Om Namo Bhagvate Aanjaneyaay Mahaabalaay Swaahaa"
You must recite this Bajrang Bali mantra at least 21000 times to get rid of evil spirits, health-related issues, and other disturbances and obstacles in your life
Hanuman Mantra – 6
Hanuman Chanting Mantra to attain the desired goals in life
Manojavam Maarutatulyavegam
Jitendriyam Buddhimataam Varistham
Vaataatmajam Vaanarayoothmukhyam
Sriramdootam Sharanam Prapadhye
Hanuman Mantra – 7
Chanting Mantra for self-confidence
Yathra Yathra Raghunatha Keerthanam
Thathra Thathra Kruthamastha Kanjalem
Pashpavari Paripurna Lochanam
Maruthim Namatha Rakshasanthagam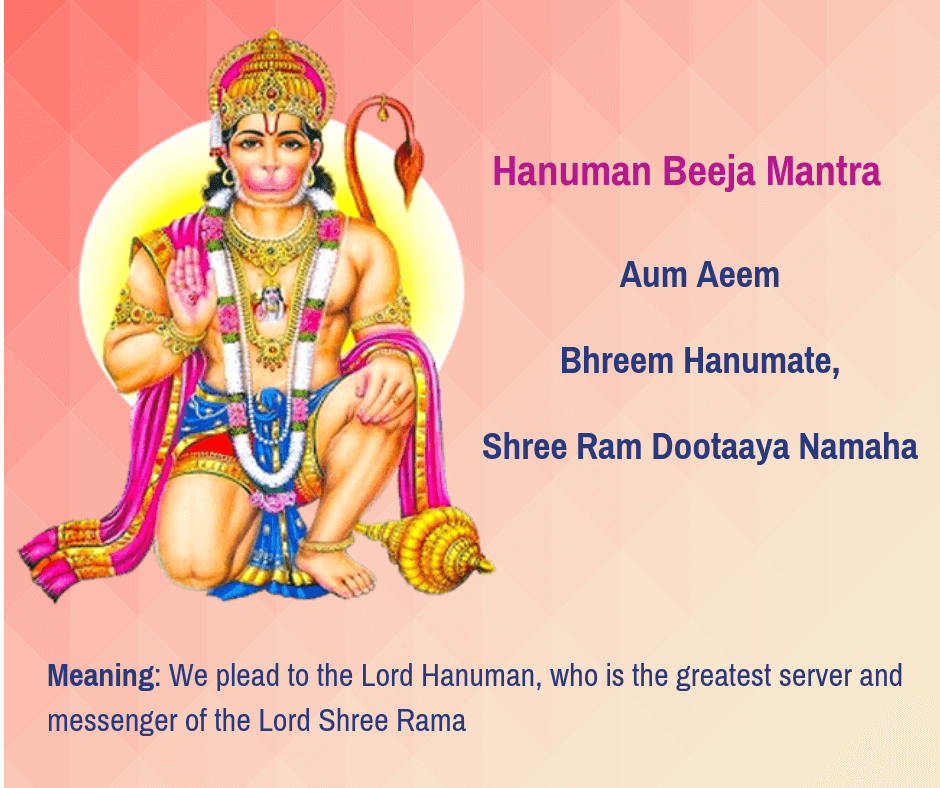 Basic Prerequisites to Undertake Before Chanting Hanuman Mantras
Use correct pronunciation while chanting a mantra.

Wrong pronunciation can do more harm than good, so seek the elder's help if you're confused about how to pronounce a particular word

.



Each

Hanuman prayer

/mantra needs to be chanted several times before it starts showing its positive effect on your body. So, be consistent with reciting and don't break the chain under the thought that it isn't working.



Use a Bead or a Rudraksha mala while chanting

Lord Hanuman mantras.

It

improves

your

concentration and helps you remember the number of rounds you have completed while chanting

Shree hanuman mantra

.



Keep your eyes closed for better focus and feel the vibrations of the particular mantra throughout your body.

Chanting with closed eyes also helps you relax faster and brings your body in a trance state

.



Visualize Bajrang Bali's face while you are reciting the mantras.

Doing so will instantly connect with him and you will start feeling his presence around you.  This works best when you're not in a temple, but are praying right from your humble abode

.



Designate a separate place in your home for chanting the mantras. Ideally, it should face the sun and should be open. Don't change your chanting place regularly as keeping a dedicated space will help spark clarity, focus, and positivity as soon as you enter the space.