In Hinduism, Lord Hanuman is considered as the greatest devotee of Lord Rama. He is also called as Bajrangbali, Anjaneya, Vayu Putra, Maruti, Mahaveer, Pavanaputra and is considered as  Naistika Brahmachari. Hanuman is the son of Anjani and the wind-god Vayu. Lord Hanuman is God of Strength, Knowledge, Divinity, Courage, Victory, destroyer of evil. Lord Hanuman is the incarnation of Lord Vishnu and Lord Shiva.  Lord Hanuman is considered to be very merciful to his devotees. Lord Hanuman is known for his unyielding devotion to Lord Rama and chanting Lord Hanuman Mantra helps us to get rid of all kinds of problems in life.
Get FREE Kundli
Ideal days for worshipping Lord Hanuman

Tuesday and Saturday

Best Time or Muhurta for Chanting Hanuman Mantra

Amrit sidhhi yog sidh muhurt

Rosary to be used for Chanting Hanuman Mantra

Red Sandalwood Beads, Red Coral Beads

Number of Recitation/Japa of Hanuman Mantra

The frequency of  Hanuman Mantra japa  is 11,000 or 21,0000r 31,000 times

Flowers to be used for Hanuman Mantra

Any red colour fruits and red colour flowers (Lal vastra , Lal aasan , Lal phal , Lal phul)
Benefits of Lord Hanuman Chanting Mantra
We can get rid of marital problems.

Eliminates graha/planetary doshas from a persons life.

Helps to overcome career related problems.

Recovery from health disorders and psychological problems like depression, anxiety etc.

Worshipping Lord Hanuman at the time of Shani Dasa is beneficial. Shani dasa effects or malefic effect of Sade Sani get reduced by worshipping Lord Hanuman.

Negative spirits will not affect us if we chant Lord Hanuman mantras regularly.

By chanting Hanuman mantras one becomes active and energetic in life and infuse confidence in those people who chant these mantras daily.
Hanuman Mantra – 1
Hanuman Mantra for getting physical strength and activeness
Om Hanumate Namah 
Hanuman Mantra – 2
Hanuman Mantra for Success
Om Vayuputraaya Vidmahe Raama Daasaaya Dheemahi
Tanno Hanumaan Prachodayaat
 Hanuman Mantra – 3
Hanuman Mantra for Job
Vayuputraa Kripa Sindho Pahimaam Karunaakaraa
Raama Bhaktaa Raama Dhuutaa Raksha Raksha Maha Prabho
Shatru Bhaya Vinaashamcha Sarva Mangala Prasaadinam
Buddhirbhalam Mano dhairyam Nirbhayatvam Dehi Maam
Chant the above mantra 108 times a day for 48 days to get the desired results.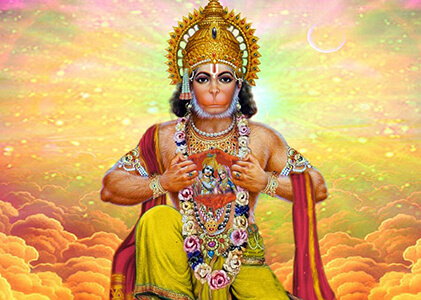 Hanuman Mantra – 4
Hanuman Mantra  to eradicate diseases and other disturbances in life
Om Namo Bhagvate Aanjaneyaay Mahaabalaay Swaahaa
Hanuman Mantra – 5
Hanuman Mantra for Marriage
Anjaneyam Ati Paatalaananam Kaanchanaadri Kamaneeya Vigraham
Parijaata Taru Moola Vaasinam Bhaavayaami Pavamaana Nandanam
Chant the above mantra 21 times a day for 48 days to get the desired results.
Hanuman Gayathri Mantra
Chant this Mantra for protection
Om Anjaneyaya Vidmahe
Vayuputraya Dheemahi
Tanno Hanuman Prachodayat
Hanuman Mantra – 6
Hanuman Chanting Mantra to attain the desired goals in life
Manojavam Maarutatulyavegam
Jitendriyam Buddhimataam Varistham
Vaataatmajam Vaanarayoothmukhyam
Sriramdootam Sharanam Prapadhye
Hanuman Mantra – 7
Chanting Mantra for self confidence
Yathra Yathra Raghunatha Keerthanam
Thathra Thathra Kruthamastha Kanjalem
Pashpavari Paripurna Lochanam
Maruthim Namatha Rakshasanthagam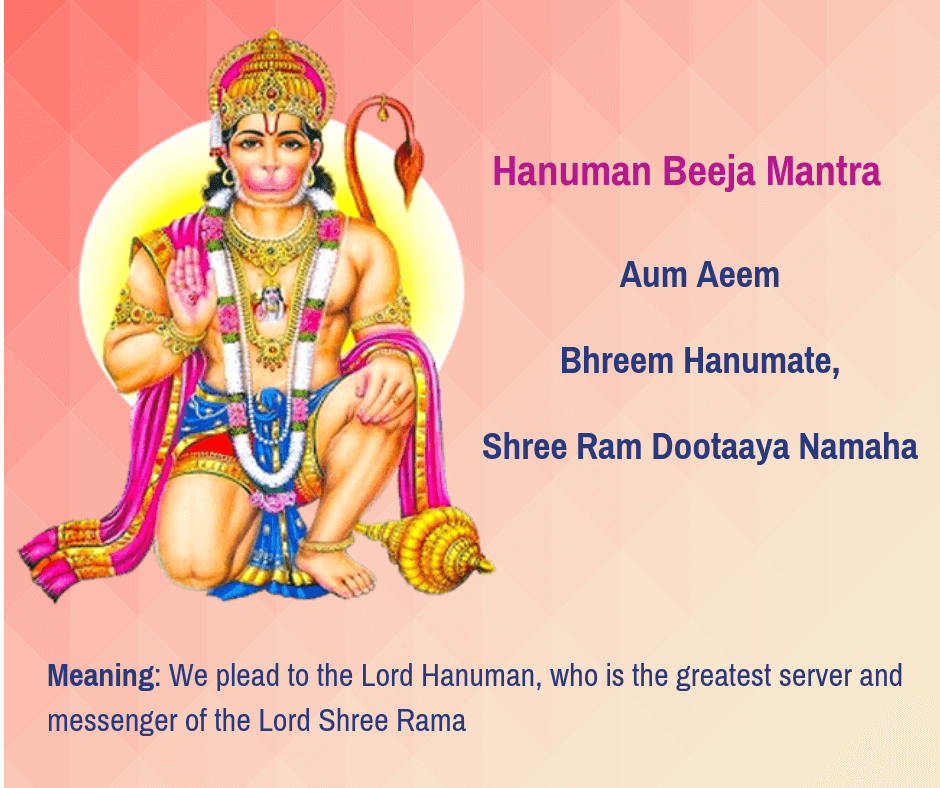 Before chanting the mantras please keep these things in mind
First, you develop the mindset for chanting mantras. ie, You have to prepare yourself for the same.
Find a proper place for chanting mantras. If possible find a place which is partially open and facing the sun. Also, be in a comfortable position. Don't take an uncomfortable pose. It will distract you while chanting the mantras.
Be regular in chanting mantras. Do not stop in the midway as it seems to be not working for you.
Visualize the diety – Before chanting the mantras, you have to visualize the diety you are chanting it for.
Determine the purpose or think about the reason for chanting the mantra and focus on that in mind. Clear your mind and relax.
While chanting the mantras, proper breathing is important because it helps to control our voice and helps to maintain the rhythm.
Work on your pronunciation. Proper pronunciation while chanting the mantras is very important. Wrong pronunciation may impact you negatively.
You can use bead or "japa mala" while chanting the mantras.  It can help you to add closure for each completed mantra.
Closing the eyes while chanting the mantra is recommended and don't be too loud. It's not the correct way to chant the mantra.
Choose the mantra and learn it correctly. Always use the mantra which is meaningful to you.
Meditate a few minutes. Then you can start chanting your mantra.
Keep the faith. It is very important. You will feel the desired results if you have the complete faith in the mantra which you are chanting.