IPL 2020: Kolkata Knight Riders vs Royal Challengers Banglore

IPL 2020 Match 39 will be a star-studded event as Kolkata Knight Riders meet Royal Challengers Banglore at the Sheikh Zayed Stadium in Abu Dhabi. The teams are led by two formidable captains who have proved their mettle in previous tournaments. KKR has registered five wins out of nine matches and is at the fourth position on the points table. RCB meanwhile is just a step ahead at third position with six wins out of nine games. 
Get now your personalized 60-page horoscope absolutely FREE
The match will be close and exciting with some stellar performances on display. Eoin Morgan will be trying different batting orders and strategic bowling line up. But it should be noted that in the last game some luck factors were also involved for KKR. On the other hand, RCB is performing thanks to the support of key players in that team smoothly. De Villiers is in great form, and he can change any match in one over. Virat Kohli has found his rhythm, and he is fighting from the front. Kohli is dangerous once he gets the touch. Strategically Morgan is better than Kohli as captain. But Kohli is a great fighter than Morgan. The body language of Kohli will give energy to his teammates and fans. Today's match will be two captains with different styles.
IPL 2020 Match 39 of 56 KKR vs RCB
Date –
 21 October, Wednesday
Time –
 19:30
Venue – 
Sheikh Zayed Stadium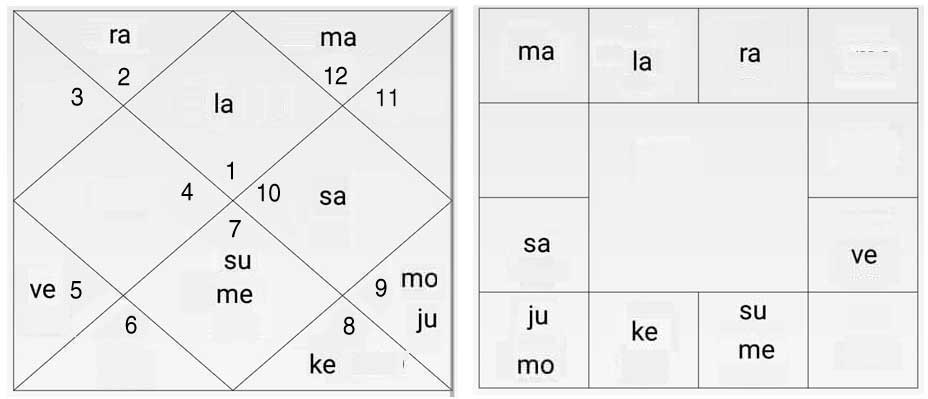 IPL 2020 Today's Match Predictions
IPL Predictions – Team RCB
Virat Kohli is in good batting form, and he is getting dream-like support from his teammates. Coming matches are crucial to all teams. So Kohli should apply the right strategies for every player of the opponent team. Kohli'slagna is Sagittarius—an archer with a bow and arrow is the sign of Sagittarius. They are warriors who are ready for a fight. People born in this Lagna are very energetic and ready to fight at any time. Defeats do not affect them; instead, they are always back with better energy and win over everyone. Kohli is always ready to face challenges. Currently, he is passing through the Dasa period of Rahu and sub-period of Ketu. During this period, unexpected events can occur. This might be the reason for his inconsistency in the matches till now.
When will you get a job? Find now!
Transit forecast sees Jupiter travelling in the fourth house from his Chandra Lagna. When Jupiter transits through the fourth house, the person is likely to face problems from people who are assisting him. There might be sadness and lack of help from relatives, too. We can see these aspects in his last matches. Inconsistent performance of teammates is one of the examples of the above mentioned Jupiter transition. Saturn is travelling through the fifth house from moon Rasi, which is also not favourable for him. Challenges in works, sadness are some of the outcomes of this placement. But both these planets transit through their own houses which could be a favourable factor. In transit forecast, Vedha position is also essential. Both planets are in Vedha positions. So these unfavourable influences may reduce. Daily prediction for Kohli does not seem to be very favourable. But he will get support from his teammates.
IPL Predictions – Team KKR
Morgan is a cool-looking captain and best fielder in current cricket. Last match win may have increased his confidence. Taking over the captaincy halfway through the tournament is not an easy task. His Lagna is Libra. The zodiac sign of Libra is a beam scale. These people can check right and wrong in all actions. They are good motivators and can guide his followers. Their leadership is different from other leaders' ways. Morgan's moon sign is Scorpion. Scorpions are mysterious in their actions. They wait for the best time to attack. Some times they create problems for themselves. We can expect unpredictable moves from Scorpios.  Currently, he is passing through the Dasa period of Kethu and sub-period of Mercury. Mercury is his ninth Bava lord, and it is in the eleventh position. So this dasa is not very bad for him.
Find the favourable periods in your career
Transit forecast prediction shows Jupiter transiting through second and Saturn in third. Both are in very favourable positions. These two planets are in its own houses. So the advantages may increase.  Today is an unfavourable day for Eion Morgan according to daily predictions. He may not get the right support from his resources today.
IPL 2020 today's match Key Players
Key players of Royal Challengers Bangalore
AB de Villiers, Yuzvendra Chahal and Navdeep Saini are key players in this squad. Kohli is likely to get good support from his key players in today's match.
Key players of Kolkata Knight Riders
Andre Russel, Sunil Narine and Shubman Gill are some of the key players in KKR. Andre Russel and Sunil Narine may not contribute as per their talents and skills.
Last ball
We are considering the astrological factors of the two captains and key players only as analysing all players is not feasible. From studying these people, today is not favourable for both captains. But Kohli has slightly more blessing from the stars than Morgan. The match will be a very close one with an exciting finish. Not wonders if the game goes for Super overs.