Navratri or Vasant Navami as many refer to it is a nine-day festival primarily celebrated to mark the victory of good over evil. Dedicated to Goddess Durga, it's one of the most prominent festivals of the Hindu religion and is celebrated with full joy and fervor.
The word Navratri is a combination of two words: "Nava" meaning nine and "Ratri" meaning Night. Thus, the devotees worship Goddess Durga and her nine divine forms during this period and also observe fasts and abstinence.
As per legends, Goddess Durga (also called as Goddess Kali) is the epitome of strength (Shakti) and it is believed that she killed Mahishasura (the buffalo demon) after a long fight that continued for 9 days and nights and on the 10th day, the asura was killed.
According to the Hindu calendar, Navratri comes 4 times a year – Magha Navratri (January – February), Chaitra Navratri (March – April), Ashad Navratri (June-July) and Sharad Navratri (September-October). Out of these, only Chaitra Navratri and Sharad Navratri are celebrated with enthusiasm and fervor.
As per the Gregorian calendar, Chaitra is the first month of the Hindu lunar calendar and thus the Navratri celebrated is termed as Chaitra Navratri. Similarly, Sharad Navratri typically falls in September and October (as per Gregorian calendar), is a post-monsoon autumn festival and is observed in the honour of feminine Devi Durga celebrated in the month of Ashwin. Despite having different names, the rituals of both Chaitra Navratri and Sharad Navratri are the same.
Get your In-Depth Horoscope and Find your future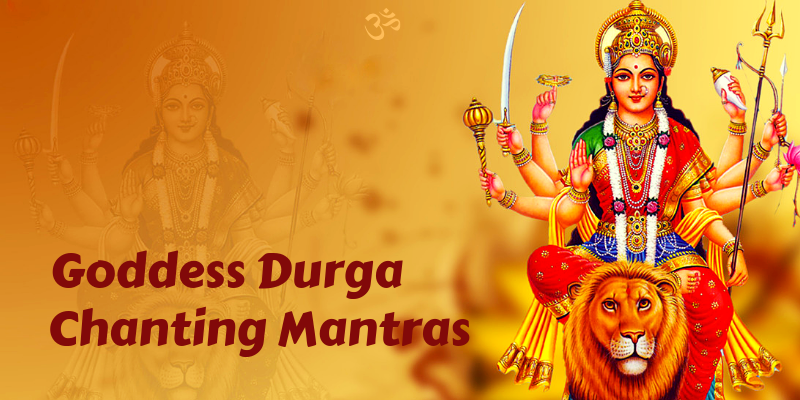 Auspicious Dates & Colors of Navratri 2020
Chaitra Navratri 2020 had already been celebrated this year from March 25, 2020, to April 2, 2020, while Sharad Navratri dates are as follows:

October 17, 2020 (Saturday)

To

October 25, 2020 (Sunday)
Each day in Navratri signifies a different meaning and so is true for the colors. If you're someone who loves wearing auspicious colors, this checklist might help you:
Day 1: Orange

(signifies energy and happiness)

Day 2: White

(symbol of purity, peace, and meditation)

Day 3: Red

(signifies beauty and fearlessness)

Day 4: Royal Blue

(good for health and wealth)

Day 5: Yellow

(stands for happiness and brightness)

Day 6: Green

(signifies new beginnings and growth)

Day 7: Grey

(stands for the strength of transformation in an individual)

Day 8: Purple

(it signifies the power of intellect and peace)

Day 9: Peacock Green

(it's believed to fulfill the desires of all devotees)
Wear these Navratri colors as per the day and seek the blessings of Maa Durga to keep your family and loved ones safe and secure.cope
9 Avatars of Maa Durga & Significance of Each Day 
Goddess Durga is worshipped in 9 different forms (avatars) during the Navratri celebration. Each day represents a different incarnation of Maa Durga and worships her nine avatars (Navdurga).
Goddess Shailputri is the first manifestation of Maa Durga and the daughter of mountains. She's an incarnation of Goddess Parvati or as an incarnation of Mahakali and is shown riding a bull (Nandi) with a Trishul in her right hand and a lotus in her left hand.
This day marks the beginning of Navratri celebrations and the devotees offer pure ghee to Mata Shailputri. It's believed that if the devotees offer pure ghee, they are blessed with a healthy life, free of diseases and illnesses.
Day 2: Devi Brahmacharini 
On the second day of Navratri (Dwitiya), devotees worship Goddess Brahmacharini. She walks barefoot with a Japa Mala (Rudraksha) in one hand with a sacred kamandalu (a water utensil) in the other hand. She's the goddess of asceticism and penance and symbolizes Goddess Parvati (in her meditative form) when she was engaged in deep meditation to please Lord Shiva.
To ensure the longevity of their loved ones, devotees offer sugar to Devi Brahmacharini as she's the symbol of bliss and calm.
 Day 3: Devi Chandraghanta
Navratri day 3 (or Tritiya) marks the worship of Devi Chandraghanta who is believed to be a 10-armed goddess that represents the married form of Maa Durga. It is believed that Maa Parvati adorned her forehead with Ardha Chandra (half-moon) thus the name "Chandraghanta".
Devi Chandraghanta is an embodiment of beauty and also encourages an individual to be brave. She's one who's always ready to fight against the demons and can be both malevolent and serene for her devotees. She wears the moon on her forehead and carries Trishul, Gada, Sword, and Kamandalu in her 4 left hands, while her 5th hand (left) is in Varadamudra. Similarly, she carries a lotus, arrow, Dhanush, and Japa Mala in her 4 right hands, while the 5th right hand is in Abhaya Mudra. 
The 4th day of Navratri (Chaturthi) represents Devi Kushmanda. The amalgamation of 3 different words – "Ku" meaning Little, "Ushma" meaning warmth (energy) and "Amnda" meaning egg, the word Kushmanda indicates the creator of the universe. She's depicted as having eight arms and sits on a tiger and is associated with the endowment of vegetation on earth.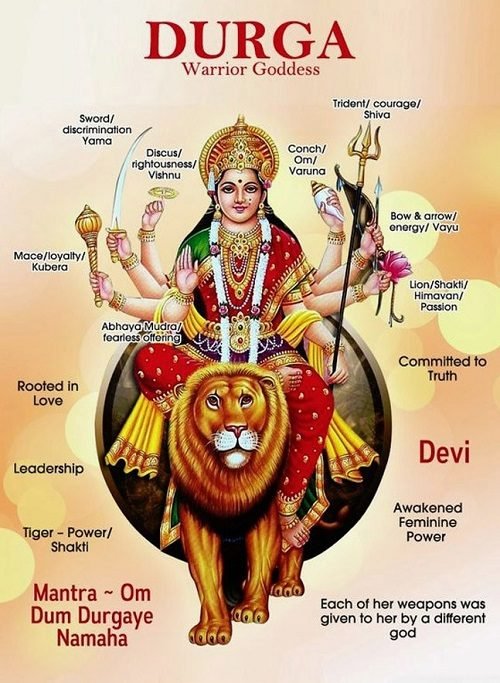 Devi Skandamata is worshipped on the 5th day of Navratri who's known as the mother of Lord Kartikeya. Depicted as riding a lion she's the symbol of transformation, and as she sits on a lotus flower, many call her Goddess Padmasana too.  
The Navratri day 6 marks the worship of Devi Katyayani, who's a form of Shakti. She's one of the most violent forms of Goddess Parvati and thus is also known as a warrior goddess. The daughter of sage Katyayana, she's an incarnation of Maa Durga, with four hands and one who carries a sword and rides a lion. 
On Saptami or Navratri day 7, the devotees worship Devi Kaalratri. She rides on a donkey, carries a sword, a Trishul, and an iron hook in her hands. She's also believed to have a third eye on her forehead that contains the entire universe. As per legends, it's said that Maa Parvati shed her skin color to kill Shumbha and Nishumbha (demons). She's depicted as riding a donkey. 
Devi Mahagauri is known as the goddess of purity and cleanliness. She's worshipped on the Durga-Ashtami aka the 8th day of Navratri festival. She's a 4-armed deity who carries a damru and a Trishul in her hands and rides a bull. She symbolizes intelligence and peace.
The 9th day of Navratri (also known as Navami) marks the worship of Devi Siddhidatri who bestows her devotees with Siddhi (supernatural powers). Human beings, Asuras, devas all worship Devi Siddhidatri with equal devotion. As legends foretell, Lord Rudra worshipped the unmanifested form of Maa Durga, Adi Parashakti for creation. Since Adi Parashakti was the purest form of Devi Durga, she appeared in the form of Siddhidatri from the left hand of Lord Shiva.
Devi Siddhidatri is often shown as a 4-armed deity who sits on a lotus or rides on a tiger/lion. She carries a Gada in one right hand, a chakram in the other right hand, a lotus in her left hand, and a shankha in her other left hand. In this form, she signifies perfection.
This day marks the end of the Navratri celebration and marks the victory of Lord Rama over the demon king Ravana and the triumph of good over evil. North Indians celebrate this day in the form of Dussehra, while in the West, the Durga Puja celebration marks the end of this 9-day festival.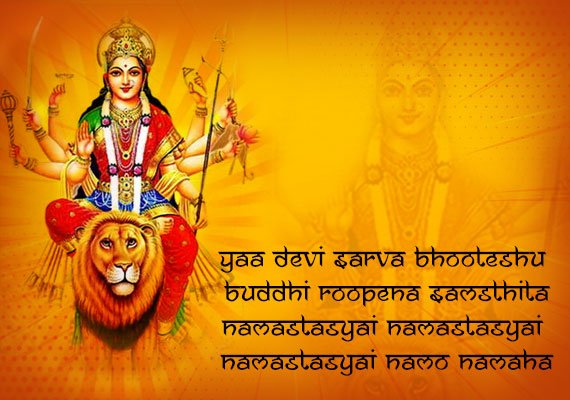 Navratri Celebration: Different Forms United by One Goal
 Different parts of India celebrate Navratri as per their customs and traditions. A quick peek into some of the major forms:
West Bengal celebrates Navaratri in form of Durga Puja which happens to be their biggest festival Thousands of pandals (temporary stages) are set up across the zone and the celebration marks the battle of Goddess Durga with Mahishasura and her emerging victorious.

North Indians celebrate the festival by worshipping Lord Rama and his victory over Ravana. Different Ram-Leela acts are performed across the states enacting phases of Ramayana and is commonly observed in Vrindavan, Varanasi, Ayodhya, and other cities. On the 10

th

Day (Vijayadashami), statues of Ravana, Kumbhkarna, and Meghanada are lit to celebrate the victory of good over evil.

Gujarat is another state where the Navratri festival is celebrated with great enthusiasm. Gujarati's fast for 9-days and perform

Navratri puja

followed by a cultural program aka Garba (a form of

Dandiya

dance) at night with their loved ones.

In the Southern regions, Karnataka state celebrates Navratri by lighting up the Hindu temples and other cultural sites. Locally, the festival is called "Dasara" and is known to be the state festival (Nadahabba) of Karnataka. Mysuru Dasara is one popular form among the many festivities.