Since long horoscope matching and compatibility check has been the norm for Hindu marriages. It is considered mandatory to check for
horoscope compatibility
before proceeding with a prospective alliance. The custom of having horoscope matched or
Kundali Milan
was done with the intent of not just checking the compatibility of the prospective bride and groom, but also analyzing their marital life and marital longevity as well as chances of progeny, and prosperity, etc. But the question arises, is it necessary to have a horoscope compatibility check done before getting married? There have been many instances where marriages have survived without horoscope compatibility or marriages breaking off and ending in divorces despite horoscope compatibility checks being done and proved to be favourable for proceeding with the marriage. Let's understand the reasons and the rationale behind a horoscope compatibility check before marriage, why it is necessary and does this guarantee a successful marriage.
The Need for Horoscope Compatibility
horoscope
is an astrological chart that depicts
planetary positions
and astrological aspects at the moment of birth. In Vedic Astrology, marriage compatibility is determined by comparing the horoscopes of the prospective groom and bride. The birth charts of the prospective bride and the groom are compared, and their personalities, likes, dislikes, and life views are examined. Horoscope matching for marriage is considered crucial since it considers different aspects of both individuals' life as well as the important factors for marriage compatibility such as love, sex, progeny, and willingness to adjust, financial compatibility, and so on. An accurate horoscope compatibility analysis will assist the individuals involved in having a happy and content married life. Checking horoscope compatibility is regarded crucial in
Vedic Astrology
for all marriages.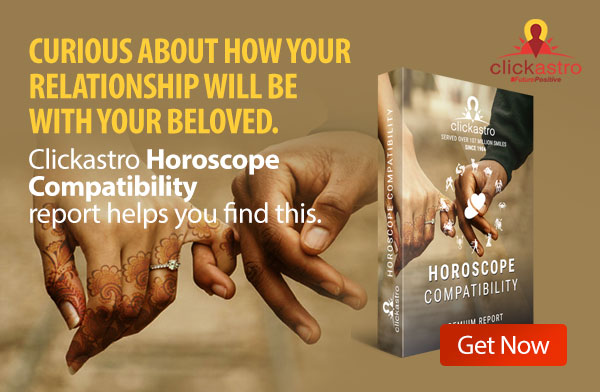 Marriage compatibility and horoscope compatibility (
Jataka Matching
), on the other hand, might be thought of as mutually exclusive notions. Individuals must be accepting, affectionate, and compassionate towards one another in order for their marriage to be harmonious. Horoscope compatibility isn't just the sole technique to guarantee this. According to Vedic astrology, the individual who awakens love without lust in you would make the ideal spouse for you. In other words, if the people involved determine that they are right for each other and are confident in their ability to support each other through life's ups and downs, horoscope matching isn't a factor in determining marriage compatibility. That being said, it is important to realise that marriage compatibility (
Jathaka Porutham
) isn't simply about love or desire. It's a complicated process with many variables that may grow less accommodating as time goes on. We should not overestimate ourselves as people, especially when it comes to marriage compatibility and more specifically while we are young. While falling in love and keeping your promises are admirable qualities, horoscope compatibility should be checked to ensure a fruitful and peaceful life.
Check Your Love Compatibility Free
What aspects are checked for horoscope compatibility?
Checking the marriage compatibility(
Jathaga Porutham
) means matching the birth stars of the individuals contemplating marriage. The
Gunas (character)
and the
Doshas (misfortune)
are matched. The Guna Milan or character matching determines the stability and longevity of the marriage. The Dosha is specifically meant for Kuja or the planet Mars which has a huge role in determining the passion involved in married life. Apart from
Kuja Dosha
, the balancing of Doshas is also tested during Marriage Matching to see if a Dosha in one chart may be balanced by a Dosha in the other. The Dasha Sandhi is another factor to consider while determining horoscope compatibility. A person's Dasha has an impact on his or her fortunes, and a change in the Dasha might bring about turbulence. So, horoscope matching before marriage simply determines whether or not it is a good idea to proceed, as well as the magnitude of the hazards involved if you do. Get
Kundli Matching in Marathi
What makes Horoscope Compatibility important?
Vedic Astrology is not a legally enforceable system. It's more of a piece of advice, caution, or instruction that spells out in detail what to expect in the days and years ahead. So, rather than considering a poor horoscope compatibility assessment as a final decision, it should be viewed as a report outlining what might happen if the marriage takes place. And, as with everything in Astrology, there is a remedy for everything, even marriage matching. Individuals participating have the opportunity to learn about the risks and consequences that may arise by continuing with the alliance and how those risks can be mitigated. If the ultimate goal of the individuals involved is to ensure a happy married life, horoscope matching is a highly useful and effective tool before tying the knot.
The True Essence of Marriage
Relationships of all kind are based on love, understanding and mutual faith and trust among partners. Marriages can never be happy if they are forced upon individuals, rather what binds two individuals together is the emotional connection that they share. While horoscope compatibility checks may help predict the chances of divorce or misfortunes in marital life, it may not really guarantee in getting a good match. Some of these reasons could be false or inaccurate details provided at the time of matching horoscope or horoscope compatibility checks. That being said, there are many marriages that have succeeded against all odds despite horoscope incompatibility. This is mainly due to the fact that the partners have decided to fully commit and do their best in loving, trusting and understanding and supporting each other through every aspect of their marital life. Horoscope compatibility checks helps in identifying the plausible sources of marital discord and the ways to overcome such circumstances through astrological guidance and prudent remedial measures.