Lord Ganesha (also known as Ganesha/Ganapati/Ekadanta) is one of the most important Gods as per the Hindu mythology and is also worshipped in both Jainism and Buddhism. He's known to be the patron of writers, students, travelers, and is widely called as The Lord of New Beginnings and is thus honored at the start of every ceremony and ritual.
The son of Lord Shiva and Goddess Parvathi, Lord Ganesha is the brother of Lord Kartikeya (the God of War), Goddess Lakshmi (step-mother of Ganesha), and Saraswati. He's known as the Deity of Good Fortune, the Lord of success and is worshipped as the god of education, knowledge, wisdom, and wealth.
He's known to have a total of 108 names in the Hindu scriptures out of which Ganapati is the most popular one.  Also known as the "Remover of Obstacles" in one's life, he is known to grant success, prosperity, and protection to all his devotees saving them from adverse conditions.
To invoke the deity, and eliminate the problems out of your life, you must chant Ganpati mantras with devotion and ensure a positive flow of energy is maintained around you. 

Get  Free preview of your 60-page Horoscope
Different Ganapati Mantras: Their Meaning & Benefits
Chant these Ganesh mantras regularly to keep yourself away from unwanted troubles and bring more prosperity, wealth, and harmony into your life.
Vakratunda Ganesha Mantra
Vakratunda Maha-Kaaya Surya-Kotti Samaprabha
Nirvighnam Kuru Me Deva Sarva-Kaaryeshu Sarvadaa ||
This is one of the most common Ganapati mantras and is dedicated to Lord Ganesha, Goddess Riddhi, and Goddess Siddhi. Chanting this Vakratunda Mahakaya mantra removes every obstacle from your life and helps you gain more wisdom, good luck, wealth, and success in all the endeavors.
Ganesh Gayatri Mantra
Aum Ekadantaya Viddhamahe, Vakratundaya Dhimahi,
Tanno Danti Prachodayat॥
The devotees who chant this mantra regularly experience upper-level wisdom in their character, become modest, and understand the value of being right.
Basic Ganesha Mantra
Om Gam Ganapataye Namaha
This Om Gan Ganpataye Namah mantra wards off all the problems and negative vibes from your life and thus must be chanted before initiating any work. Recital of this mantra regularly ensures success that's especially beneficial when you're undertaking a new venture.
Ganesh Stotra
Sankatnashan Shree Ganesh Stotra
Pranamya ShirsaDevam GauriPutra Vinayakam
Bhaktavasam SmareNityam AyuhuKamartha Siddhaye..1
Prathamam Vakratundamcha Ekdantam Dwitiyakam
Tritiyam KrishnaPingaksham GajaVakram Chaturthakam..2
Lambodarm Panchamam cha Shashtham Vikatmeva cha
Saptam VighnaRajendram Dhumravarnam Tathashtakam..3
Navam Bhalachandram cha Dashmamtu Vinayakam
Ekadasham Ganapatim Dwadasham tu Gajananam..4
Dwadashaitani Namani TriSandhyai Yah Pathennarh
Na cha Vigna Bhayam Tasya sarva Siddhi Karam Prabho..5
Vidyarthi Labhate Vidyam, Dhanarthi Labhate Dhanam
Putrarthi Labhate Putram, Moksharthi Labhate Gatim..6
Japed Ganapati Stotram Shadbhir Masaihi Falam Labhet
Samvastarena Siddhim cha Labhate natra Sanshayh..7
Ashtobhyo BhahmaneBhyascha Likhitva Yah Samarpayet
Tasya Vidya Bhavet Sarva Ganeshsya Prasadatah. ..8
This Ganesha Stotra is derived from the Narada Purana and is powerful enough to remove all the obstacles from the devotees' life. Chanting this Ganpati Stotra every day makes you strong to face the hurdles of your life and seek favorable blessings from Lord Ganesha. 
Ganesha Mool Mantra
Om Shreem Hreem Kleem Glaum Gam Ganapataye
Vara Varad Sarvajan janmay Vashamanaye Swaha
Tatpurushaye Vidmahe Vakratundaye Dhimahi
Tanno Danti Prachodyat
Om Shantih Shantih Shantihi 
This Ganesha mantra is known to be one of the most powerful mantras as it creates a positive aura around your body. Its musical tone creates unique cosmic energy around you and lifts your mind from the state of trance. Pandits recite this mantra mostly during pujas and yagnas to please Lord Ganesha. The right chanting of this mantra brings peace and harmony in your life and drives out all the difficulties from your life.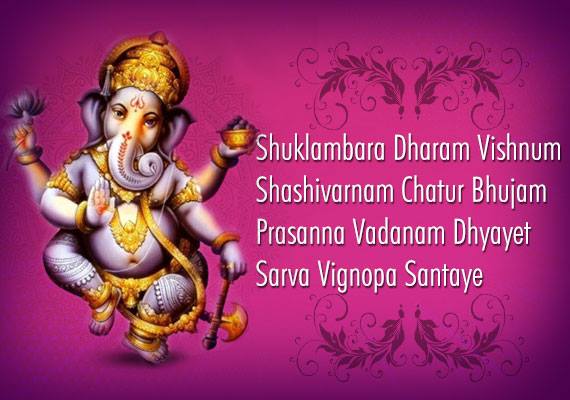 Other Popular Renditions of Ganesha Mantras
Ganesha Ji is known for his power of knowledge, success, and fulfillment. Chanting these Siddhi mantras benefit you in multiple ways. Considering the benefits, even the Bollywood industry came out with multiple renditions of these mantras.
Some of the most popular renditions include the names of:
Anuradha Paudwal Om Gan Ganpataye Namo Namah Ganesh Mantra
Amitabh Bachchan Siddhivinayak Mantra and Aarti
Hemant Chauhan Om Gan Ganpataye Namo Namah 

etc.
Ganesha Mantra: 5 Major Benefits You Must Learn
Chanting Ganapathi mantra regularly offers you the following benefits:
Ganesha with Goddess Lakshmi (her step-mother) gives you prosperity, happiness, and makes you rich and the proud owner of all material successes.

With Maa Saraswati (the Goddess of Knowledge in Hindu religion), Ganpati ensures you gain knowledge and the right educational success. You also become more focused in life with increased mind power and an inclination towards spirituality.

Chanting the mantras brings more clarity in your thoughts, and makes you fearless and rid of all phobias.

Hindus worship Lord Ganesha before initiating any new venture as his blessings are considered lucky for the sustainability of the business. So, recite the mantras properly and let your business flourish with the divine blessings of the Lord.

These mantras accelerate your growth across all domains and fields and help you live a better and successful lifestyle.