Lord Ganesha – Son of Lord Shiva and Maa Parvathi is widely believed as the "Remover of Obstacles" in life. He is also called as The Lord of Beginnings, The Deity of Good Fortune and Lord of success. He is also worshipped as the god of education, knowledge, wisdom and wealth. Ganesha is also referred to as  'Ekdant' meaning 'one-toothed'. He is also popularly known as Ganapati. There are several Ganesh mantras – also known as Siddhi Mantra. These Ganesh Mantras are full of energy. Recite Ganesh mantra with full devotion, it will give you positive results.

Ganesh Bija Mantra
Om Gam Ganapataye Namo Namaha
Shree Siddhi Vinayak Namo Namaha
Ashta Vinayak Namo Namaha
Benefit:-It wards off all negativities from our life.
Shree Ganesh Mantra 
Shree Vakratunda Mahakaya
Suryakoti Samaprabha
Nirvighnam Kuru Me Deva
Sarva-Kaaryeshu Sarvada
Benefit:- Chant this Ganesh mantra for attaining wealth.
Ganesh Gayatri Mantra
Aum Ekadantaya Viddhamahe
Vakratundaya Dhimahi
Tanno Danti Prachodayat
Benefit:- This Ganesh Mantra encourages high-end wisdom for those who chant it.
Siddhi Vinayakaya Mantra
Om Namo Siddhi Vinayakaya Sarva kaarya kartrey
Sarva vighna prashamnay
Sarvarjaya Vashyakarnaya
Sarvajan Sarvastree
Purush Aakarshanaya Shreeng Om Swaha
Benefit:- Recite this Ganesh Mantra in a proper way to achieve peace, prosperity and Siddhi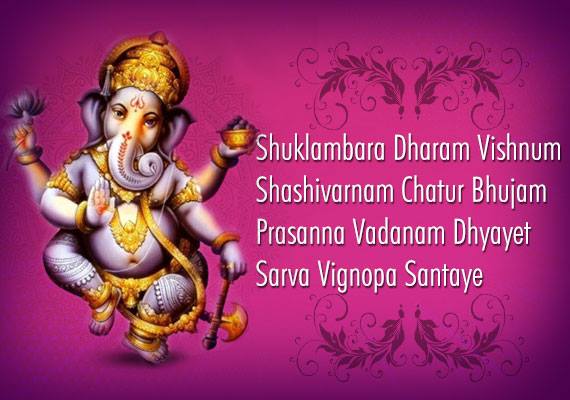 The Shaktivinayak Mantra
Om Hreeng Greeng Hreeng
Benefit:-Ganesh Mantra for financial success and prosperity
Ganesh Mool Mantra
Om Shreem Hreem Kleem Glaum Gam Ganapataye
Vara Varad Sarvajan janmay Vashamanaye Swaha
Tatpurushaye Vidmahe Vakratundaye Dhimahi
Tanno Danti Prachodyat
Om Shantih Shantih Shantihi
Benefit:-It brings peace, good luck, success and removes all obstacles from one's life
Get your Free Kundli in 30 seconds
Ganesh Mantra
Om Gajaananam Bhoota Ganaadi Sevitam
Kapittha Jambuu phalasaara bhakshitam
Umaasutam Shoka Vinaasha kaaranam
Namaami Vighneshwara paada pankajam
Ganesh Namavali Mantras
1. Om Ganadhyakhsaya Namah
Benefit: Chant this Ganesh Mantra to improve one's personal leadership characteristics.
2. Om Gajananaya Namah
Benefit: Chanting this GaneshMantra helps us to attain inner peace and consciousness.
3. Om Vighnanashaya Namah
Benefit: If one is facing problems with his social life, at work, it can be made easier by chanting this mantra.
4. Om Lambodaraya Namah
Benefit: Attaining peace and love in life.
5. Om Sumukhaya Namah
Benefit: Chanting this Ganesh Mantra helps us to improve inner beauty.
6. Om Gajkarnakaya Namah
Benefit:  Chanting this Ganesh mantra shields us from external negativity and helps us overcome the stress.
7. Om Vikataya Namah
Benefit: This Ganpati Sloka will motivate us towards salvation.
8. Om Vinayakaya Namah
Benefit: For attaining prosperity and happiness.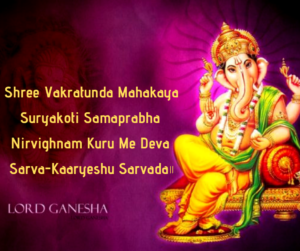 Before chanting the mantras please keep these things in mind
First, you develop the mindset for chanting mantras. ie, You have to prepare yourself for the same.
Find a proper place for chanting mantras. If possible find a place which is partially open and facing the sun. Also, be in a comfortable position. Don't take an uncomfortable pose. It will distract you while chanting the mantras.
Be regular in chanting mantras. Do not stop in the midway as it seems to be not working for you.
Visualize the diety – Before chanting the mantras, you have to visualize the diety you are chanting it for.
Determine the purpose or think about the reason for chanting the mantra and focus on that in mind. Clear your mind and relax.
While chanting the mantras, proper breathing is important because it helps to control our voice and helps to maintain the rhythm.
Work on your pronunciation. Proper pronunciation while chanting the mantras is very important. Wrong pronunciation may impact you negatively.
You can use bead or "japa mala" while chanting the mantras.  It can help you to add closure for each completed mantra.
Closing the eyes while chanting the mantra is recommended and don't be too loud. It's not the correct way to chant the mantra.
Choose the mantra and learn it correctly. Always use the mantra which is meaningful to you.
Meditate a few minutes. Then you can start chanting your mantra.
Keep the faith. It is very important. You will feel the desired results if you have the complete faith in the mantra which you are chanting.