New Year is always considered the time for celebration. One of the things that makes this day special is the spirit of giving gifts to our loved ones. People look forward to opening such gifts which they see as a token of love and affection. But how can we ensure that the gifts you give someone special do manage to satisfy their curiosity? Here is a suggestion – why not turn to zodiac signs the next time you have to buy a present? Handle the pressure to show up with a present he or she will love by taking a cue from their birth sign. In astrology, each sign has certain proclivities and favorite activities. Purchasing gifts based on someone's zodiac sign helps in catering to their specific preferences and getting them something they truly love. There's no denying the thrill of finding a present that makes one truly happy. It fills the day celebrated as a new beginning with hopes and optimism. To add that extra charm to the feeling of choosing the perfect gift for your beloved, we here present you with some astrological suggestions to get you started and help you narrow down your gifting options based on your beloved's sun sign.
Aries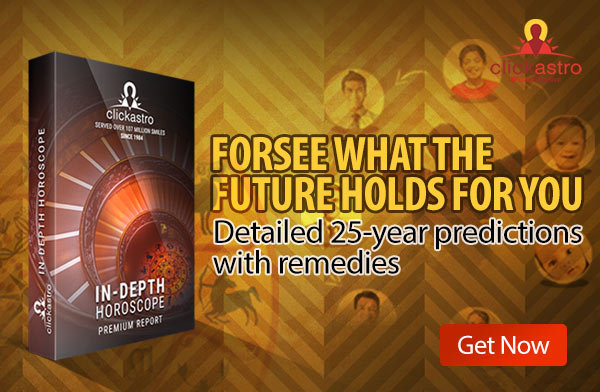 Get 2024 yearly prediction for Aries
Taurus
Taurus individuals are diligent workers and homebodies who value relaxation. Elevate their self-care with thoughtful gifts such as flared leggings or yoga pants perfect for both couch lounging and brunch outings. As a master of self-treats, a gift set featuring a makeup kit for a luxurious skincare routine will make Taurus very happy. For their relaxation ritual gift them a soft robe with cozy slippers that Taurus won't want to part with.
Get 2024 yearly prediction for Taurus
Gemini
For Geminis, the perfect gift celebrates their extensive knowledge and communication skills, acknowledging the duality represented by the twins. Opt for versatile items with multiple uses, like a monthly book subscription, ensuring Geminis never exhaust their thirst for diverse stories. A monogrammed journal is a thoughtful gift, providing a personal touch for them to capture their myriad ideas. A perfume sampler and a set of vibrant gel pens go perfectly with their youthful and creative spirit.
Get 2024 yearly prediction for Gemini
Cancer
Caring and nurturing, Cancers appreciate gifts that enhance their hosting abilities and create a cozy home atmosphere. Given their emotional and intuitive nature, equip Cancers with a beautiful set of plates that adds a touch of elegance to their dinner table. During winter, a plush blanket becomes the perfect companion for a cozy night in, aligning with Cancer's desire for comfort. Considering Cancer's lunar connection, a diary tracking moon cycles becomes a thoughtful gift, aiding them in setting goals and manifesting intentions.
Get 2024 yearly prediction for Cancer
Leo
For Leos who crave the spotlight, choose gifts that align with their desire for attention – think vibrant patterns, bold colors, and sparkles. A trendy headband, adorned with jewels, ensures Leos can keep their flowing locks in check while making a bold fashion statement. As bejeweled enthusiasts, Leos will appreciate a jewelry organizer to keep their necklaces and bracelets sorted for every occasion. To amplify their main character energy, gift Leos a Barbie-inspired candle, adding a touch of Barbie's Dreamhouse vibe to their home.
Get 2024 yearly prediction for Leo
Virgo
Gifts for smart, practical, and organized Virgos should be both functional and purposeful, such as books and organizers. Enhance Virgo's organizational skills with a weekly and monthly planner, ensuring they stay on top of their schedules. For the ever-prepared Virgos, a set of hand and body butter serves as a practical gift, allowing them to stay moisturized on the go. Considering Virgos' habit of carrying their computers everywhere, a stylish and personalized laptop case is a fitting choice, whether they're headed to work, class, or a coffee shop.
Get 2024 yearly prediction for Virgo
Libra
For the artistic and romantic Libras who appreciate aesthetic beauty in fashion, decor, and makeup, choose gifts that align with their taste. A novel narrating a woman's discovery of a love story spanning lives, years, and continents is a perfect fit for Libras. Coloring books featuring famous works by artists like Picasso and Monet, offer a creative and visually pleasing experience. To help Libras always look their best, consider a blush and highlighter duo, completing their makeup look with a touch of elegance.
Get 2024 yearly prediction for Libra
Scorpio
For the mysterious and ultra-private Scorpios who value personal space and cherish alone time, opt for items that cater to their need for solitude. Versatile headphones are perfect for Scorpios who prefer avoiding small talk. Enhance their air of mystery with a pair of oversized sunglasses that are sure to make any Scorpio a captivating enigma. Support Scorpios in exploring and healing their emotions with a dark and introspective journal, or by gifting them a book of classic horror tales, which tests the limits of their intrigue and fascination.
Get 2024 yearly prediction for Scorpio
Sagittarius
Sagittarians, known for their love of travel and social nature, appreciate gifts tailored for adventures and socializing, with a touch of educational value. A portable charger is a practical gift, ensuring their phone is always ready for their dynamic lifestyle. Enhance their travel experience with a large water bottle featuring a convenient handle, helping Sagittarians stay hydrated wherever they go. Cater to their love of learning by gifting Sagittarians a book that allows them to delve into a wide variety of subjects, adding to their ever-expanding knowledge.
Get 2024 yearly prediction for Sagittarius
Capricorn
For the ambitious and hardworking Capricorns who focus on their careers, choose practical items suited for work while leaning towards tradition. Support their workaholic tendencies with desk organizers, helping Capricorns maintain a tidy workspace. Acknowledge their need for caffeine to keep up with busy schedules by gifting them a coffee maker. Ease their tension from long hours of work with a massage gun. Opt for a classic watch for Capricorns, a timeless piece they can wear for years, reflecting their more traditional taste.
Get 2024 yearly prediction for Capricorn
Aquarius
For the independent, intellectual, and unique Aquarians, choose gifts that reflect their individuality and stimulate their minds. Opt for a brightly-hued bracelet that stands out. Tech-savvy Aquarians can keep their gadgets organized with a pouch designed to hold all their tech accessories in one convenient place. Appeal to their overactive minds with a cozy yet challenging puzzle, providing a calming and engaging activity. Celebrate Aquarians' uniqueness by gifting them a candle that highlights the significance of the day they were born.
Get 2024 yearly prediction for Aquarius
Pisces
For the creative, sensitive, and practically psychic Pisces, ideal gifts lean towards the "woo-woo" side, embracing their mystical inclinations. A set of crystals is a must-have for every Pisces seeking spiritual connection. Offer them a dream journal to record their nighttime adventures. Indulge their creativity with a paint-by-numbers canvas, providing a captivating project that results in new artwork for their walls. Appeal to their interest in mystical subjects like astrology with a mother-of-pearl pendant, a perfect addition to a Pisces accessory collection.
Get 2024 yearly prediction for Pisces