Karwa Chauth –Blessings for an eternal married life
India is a melting pot of various customs, traditions, cultures, and festivals. Each festival has its own vibrancy and significance. While some festivals are celebrated to welcome prosperity and good wishes, some for divine blessings, and some to commemorate national spirit, seasons, and beliefs, Indians need a reason to celebrate life. The Hindu customs are aplenty with various festivals of religious importance as well as to ensure the protection of marital prosperity and wellbeing of offsprings. Most Hindus observe a vrat for each festival to gain divine blessings. Karwa Chauth is a significant festival celebrated by married Hindu women. This is a one-day festival where married women observe a strict fast from sunrise to moonrise, praying for the safety, wellbeing, and long life of their husbands. Karwa Chauth signifies the eternal bond shared between a husband and wife and is one of the most loved and popular festivals in India. Karwa Chauth has been commemorated in most Bollywood films raising its popularity not just among North Indians but among South Indians too. Karwa Chauth is majorly celebrated in North Indian states, while it is observed in a few South Indian states. While this fast is mainly observed by married women, in recent times, husbands too have shown their solidarity and love for their wives and have kept strict fasts for the wellbeing and long life of their wives or better half. Karwa Chauth Vrat is observed on Chaturthi Tithi, the fourth day of Krishna Paksha during the Hindu month of Karthik as per the Purnimanta calendar, coinciding in the month of October-November according to the Gregorian calendar. In the states of Maharashtra, Gujarat, and southern India, it is observed as per the Amanta calendar and is observed during the Hindu month of Ashwin. Karwa Chauth fast coincides with Sankashti Chaturthi, which is observed for Lord Ganesha. Married women observe the fasting and rituals of Karwa Chauth for the long life of their husbands. They worship Lord Shiva and his family, including Lord Ganesha, and conclude the fast only after sighting the mooning and making arghya or offerings to the moon. Karwa Chauth fast is a strict fast observed without taking food or even a drop of water until the sighting of the moon. Hence this fast is also called a Nirjala fast.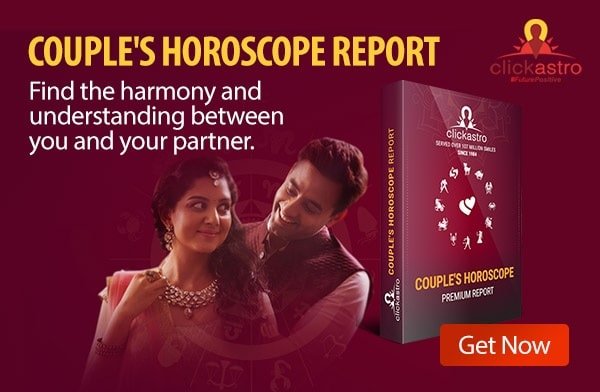 Couples can also invest in their marriage by getting a
Couple's Horoscope
. A couple's horoscope will help the husband and wife understand each other better and help them be in tune with each other's likes and dislikes.
When is Karwa Chauth 2021?
In 2021, Karwa Chauth will be observed on Sunday, October 24, 2021.
Sunrise Timing
:                   06:31 AM on 24 October 2021
Upavasa Timing
:                 06:31 AM – 08:25 PM on October 24, 2021
Sunset Timing
:                    05:50 PMon 24 October 2021.
Moonrise Timing
:               08:25 PMon 24 October 2021.
Puja Muhurat Timing
:       05:50 PM – 07:06 PM on October 24, 2021
Chaturthi Tithi Begins
       03:02 AM on October 24, 2021.
Chaturthi Tithi Ends
          05:43 AM on October 25, 2021.
Karwa Chauth must-knows
The true essence of Karwa Chauth is this one-day Nirjala fast observed by married women, newly married or betrothed girls who pray for the long lives of their husbands or their fiancés. However, it is vital that one should perform the Karwa Chauth rituals in the correct manner to get the blessings. Read on to understand ten interesting must-know traditions of Karwa Chauth.
Sargi -Love from Mother-in-law to Daughter-in Law
Karwa Chauth begins by consuming the sargi gifted by the mother-in-law to her daughter-in-law. The sargi consists of a plate containing earthen pots, sweets made from vermicelli, fruits, matthri, and dry fruits. This food should be eaten before sunrise to begin the Nirjala fast so that it gives the energy to observe the fast.
Puja items for Karwa Chauth
The puja items that are mandatorily required for the puja are small Karwa lamps, earthen pots, matthri, Mehendi, and the puja thali. Women apply beautiful Mehendi designs on their hands as this signifies prosperity, luck, and eternal marital bliss
Dressing for Karwa Chauth
Women like to look beautiful like a bride on Karwa Chauth. Traditionally, red is the colour chosen for their attire as red dresses are worn as bridals; however, there is no hard and fast rule to stick to this colour code. One can wear the clothing of their choice and which makes them look good and stand out from the crowd.
Karwa Chauth Fast
Women consume sargi after a bath before sunrise, and once sunrises, the upavasa begins. Women do not consume any food or even water throughout the entire day. This is to appease Karwa matha and gain her blessings for their husbands' long lives and marital happiness.
Baya –Love from Daughter-in-law to Mother-in-law
Similar to the sargi, Baya is a gift from the daughter-in-law to her mother-in-law. The Bays is prepared in a large thali (plate) containing a blend of gifts, savories like matthri, sweets like halwa and puri.
Reciting the vrat Katha
The women observing the Karwa Chauth vrat recite and listen to the Karwa Chauth Vrat Katha, which is read by the elderly women folk, mainly the mother-in-law or elder sister-in-law. Women sit around in a circle, and an earthen pot is kept in the center of the ring. Puja thali is then prepared with all the puja items and karwa, and is then exchanged in a pattern among the women gathered in a circle for the puja.
Karwa Chauth Puja Preparation
Women light diyas or small lamps, and water is poured into a karwa which is a small earthen pot. The diyas are placed on a sieve which is covered by a transparent cloth or dupatta. Upon moonrise, women carry these items to the designated spot or terraces where the moon is clearly visible.
Arghya to the Moon
Upon moonrise, once the moon becomes clearly visible, the lady initiates the puja ritual of offering water to the moon. This offering is known as "
Arghya
." This is done so to seek blessing from the lunar deity – Chandra. According to Hindu mythology, observing a strict fast and prayer would help the woman defeat the Lord of Death,
Yamaraj
, and deter him from taking her husband away from her. The women then observe the reflection of the moon in the pot of water through the sieve
Breaking the fast
Upon sighting the reflection of the moon through the sieve, the women then turn towards their husbands and fiancés and look at them through the sieve, at the same time praying for the long life of their husbands. When a woman performs the Karwa Chauth puja and sees her husband through the sieve, it is believed that all negative emotions are filtered and thrown away through the sieve. The husband then helps his wife break the fast by offering her a sip of water and a sweet, thus concluding the fast. The women then partake in the scrumptious feast prepared for the occasion.
Karwa Chauth Vrat Katha
To fulfill the Karwa Chauth vrat, it is imperative that women must recite to each other and listen to the Karwa Chauth vrat Katha. Generally, there are different versions of Karwa Chauth Vrat Katha, which is read out in different regions. The main vrat Katha that is read out is given below.
The tale of Veeravati: 
There once lived a beautiful girl named Veeravati. She was the only daughter of a wealthy merchant who had seven sons. The seven brothers doted on their sister and loved her very much. Veeravati was later married to a young Brahman who was traveling for work. On one Karwa Chauth, she visited her parents' house and observed the Karwa Chauth strictly without consuming a drop of water. She waited eagerly for the moonrise as she started becoming weak and exhausted from the fast but refused to break her fast without sighting the moon. The brothers were pained to see their sister suffering, and they hung a mirror on a Peepal tree, making it look like the moon in the sky. They then called out to Veeravati, who, believing her brothers, broke her fast after offering prayers to the fake moon. The moment she broke her fast, she received the news of her husband's death. Veeravati was inconsolable. Her sister-in-law informed her of the trick by her brothers, which led to the unfortunate events. Veeravati then kept a strict Nirjala fast on all Chaturthi throughout the year with complete devotion and dedication praying to Lord Ganesha. The following year during Karwa Chauth, she observed the fast with true devotion and completed the ritual by offering arghya to the moon and saw her husband's reflection through the sieve. Seeing her dedication, Yamaraj restored the life of her husband, and she lived happily ever after.
From the Tales of Mahabharata:
It is mentioned that Draupadi also observed the Karwa Chauth fast for her husbands. Once Arjuna, whom Draupadi loved the most, went to Nilgiri Mountains for offering penance. In his absence, the rest of the brothers faced a lot of challenges. Seeing all her husbands in distress, Draupadi sought the advice of Lord Krishna for overcoming the challenges. Lord Krishna narrated the story of Goddess Parvathi, who observed the Karwa Chauth fast rituals during a similar situation. Draupadi, too observed the strict fast of Karwa Chauth and followed all traditions religiously. This helped the Pandavas to overcome all their challenges and gain victory.
Satyavan and Savitri
:  When Yama, the god of death, took away Satyavan, Savitri begged Yama to grant back her husband's life. However, Yama was adamant and took her husband away. Seeing this, Savitri stopped eating and drinking and followed Yama. Seeing Savitri's persistence, Yama said to Savitri that she could ask for any other boon except for the life of her husband. Savitri being a clever woman, asked Yama that she wished to be blessed with motherhood. Savitri was a devoted and loyal wife and would not commit adultery. Yama had no other option than to restore Satyavan's life so that Savitri could fulfill her wish of bearing children.
The Story of Karwa
: Similar to Savitri, there once lived a woman named Karwa who loved her husband deeply and intensely. Her deep devotion and love for her husband gave her spiritual powers. Once while bathing in a river, her husband was attacked by a crocodile. Seeing her husband being attacked, the courageous Karwa bound the crocodile with cotton yarn and summoned Yama. Yama was afraid of being cursed by such a devoted wife, and so he sent the crocodile to hell and restored her husband's life.
Significance of Karwa Chauth Vrat
The Karwa Chauth vrat is of immense significance for married Hindu women. Observing this fast ensures the long life, wellbeing, and prosperity of their husbands. With rising commercialization, the popularity of this fast has become more prominent and grandiose in the country. This fast is of great prominence in North and Northwestern regions of India, where a considerable male population from these regions are engaged in the Indian Army and other defense services. Hence women from these regions observe this fast for the safety and wellbeing of their husbands who are employed in the armed forces. The fast also coincides with the initiation of the Rabi crop season when wheat is sown in the fields. The women from the agricultural families fill the earthen pots or Karwa with wheat grains and offer prayers to the god for a bountiful Rabi season. It is also believed that during ancient times, girls were married at the ages of 10-13 years. Hence they could never enjoy their childhood or early teenage years. The men used to stay away from their homes for months at a stretch for their travel, trade, or wars. The girls were therefore lonely at home and had to take full responsibility for the new household single-handedly. Visiting their parents' homes was also not considered to be a good practice. So to overcome their loneliness, the women started celebrating the Karwa Chauth fast where married women from the entire village and nearby villages would congregate in one place and spend a full day in laughter and joy and celebrations while at the same time fasting for the safety, wellbeing, and prosperity of their husbands. The women befriended each other and called each other 'God-friends' or 'God-sisters.' The Karwa Chauth festival served as a means to enjoy and forget their loneliness in their in-laws' place. The women celebrated the union among themselves by gifting each other bangles, make-up items, sindoor, etc., to remind themselves that they always had a friend somewhere. In recent times, married women have received beautiful and expensive gifts from their husbands and in-laws on Karwa Chauth. This could include bangles, jewelry, Mehendi, lehenga choli, sarees, and other traditional offerings. This custom of gifting is a means to express their love for the women and strengthens the eternal bond of love between the husband and wife. Women feel pampered and loved while receiving gifts from their loved ones. Karwa Chauth also marks the beginning of feasting and festivity of Diwali, which is a major Hindu festival and is celebrated nine days after Karwa Chauth. The Karwa Chauth fast has thus become a festival for fun, frolic, and extravaganza while enduring the travails of observing a strict fast.
Karwa Chauth festival dates from 2021 to 2025
| | |
| --- | --- |
| 2021 | Sunday, October 24, 2021 |
| 2022 | Thursday, October 13, 2022 |
| 2023 | Wednesday, November 1, 2023 |
| 2024 | Sunday, October 20, 2024 |
| 2025 | Friday, October 10, 2025 |