IPL 2020: Royal Challengers Bangalore vs Kings XI Punjab

IPL today's match is between RCB and KXIP.Lokesh Rahul's Kings XI Punjab are stuck at the bottom of the points table with a dismal 2 points to their credits. A lot is at stake as the team takes on Virat Kohli's Royal Challengers Bangalore at Sharjah Stadium today evening. Kohli is glowing from the last two thumping wins against CSK and KKR. His confidence will be off the charts and things will not be easy for Lokesh Rahul. AB de Villiers was a treat to watch in the last matched as he destroyed each bowlers strategy one by one. Villiers's performance will influence the entire team leading all of them towards a better time in the fields. 
When will you get your dream job? Find now!
On the other hand, Rahul is facing continuous defeats. Even the last match was lost by just two runs. Maxwell's hit pitched just 2 inches from the boundary line. Rahul has to identify whether it is a lack of luck or poor captaincy that is resulting in his losses. What is contradicting the whole situation is that Lokesh Rahul is an orange cap holder (player who gets most runs) with Mayank Agarwal in the second position. In Purple cap list, Mohammed Shami is in the eighth position and Ravi Bishnoi is in the 12
th
position. This means that the individual performances of KXIP players are not making any difference to the whole team. 
Get your 60-page horoscope and know about different aspects of life.
The tournament has reached the half-way mark. From now on every match is important for all teams. This is the time to change strategies, implement new game plans and utilize the resources effectively. Both sides have great performers, so let us hope today's match will be an exciting batting feast.
2020 IPL match 31 of 56 RCB vs KXIP
Date –
 15 October, Thursday
Time –
 19:30
Venue – 
Sharjah Cricket Stadium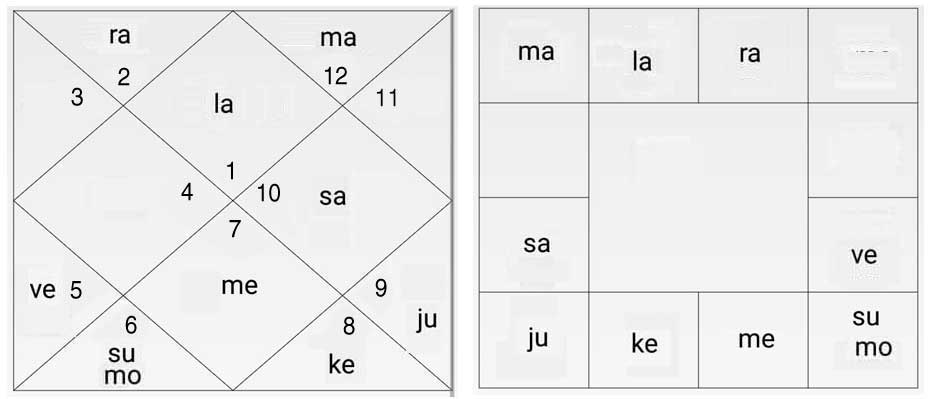 IPL Astrology Analysis of Team RCB
Virat Kohli
is in form and he is aptly supported by his key players. But the coming matches would be crucial. So, Kohli might adopt a new game plan for every opponent player and make intelligent moves in every ball. Virat Kohli's Lagna is
Sagittarius
—an archer with a bow and arrow is the sign of Sagittarius. They are warriors who are ready for a fight. People born in this Lagna are very energetic and ready to fight at any time. Defeats never make them lose hope. They always come back with full energy and win over everyone. He is always ready to face challenges. Currently, he is passing through the Dasa period of Rahu and sub-period of Kethu. During this period unexpected events can occur. This might be the reason for his inconsistency in the matches till now. Transit forecast sees
Jupiter
travelling in the fourth house from his Chandra Lagna. When Jupiter transits through the fourth house, the person is likely to face problems from people who are assisting him. There might be sadness and lack of help from relatives, too. We can see these aspects in his last matches. Inconsistent performance of teammates is one of the examples of the above mentioned Jupiter transition. Saturn is travelling through the fifth house from moon Rashi, which is also not favourable for him. Challenges in works, sadness are some of the outcomes of this placement. But both these planets transit through their own houses which could be a favourable factor. In transit forecast, Vedha position is also important. Both planets are in Vedha positions. So these unfavourable influences may reduce. Daily prediction for Kohli does not seem to be very favourable. But he will get support from his teammates.
Detailed horoscope analysis of Virat Kohli
Key Players of IPL 2020 Team Royal Challengers Bangalore
AB de Villiers, Yuzvendra Chahal and Navdeep Saini are key players in this squad. Here Yuzvendra Chahal is in good form and Kohli is likely to get good support from him in today's match.
IPL Astrology Analysis of Team KXIP
Lokesh Rahul has a long way to go to become a good captain. As a player, he is very talented and is the biggest contributor in the team. But some unlucky factors plus poor captaincy has resulted in continuous losses for his team in this tournament. As the tournament is at its half-way mark, it is the right time to perform. The title 'player with most runs' should result in supporting his team instead of just being an individual achievement. He should learn how to convert half-chances in the match to victories.  Rahul tends to get tensed when other teams start performing well. A captain should be multi-skilled. He should have a good idea about his resources and use them at the right time in the right manner. His Lagna is Sagittarius.
Which is your zodiac sign? Check now!
The zodiac symbol of Sagittarius is an archer. People born in this sign may show some of the characteristics of the Sagittarius zodiac sign. They have the nature to fight and they are always ready for challenges. Rahul is capable of fighting in the front. The Lagna lord is Jupiter and the nature of Jupiter is mentorship. They are good at guiding their followers. Now, he is passing through the Dasa period of Saturn and sub-period of Saturn. This is not a bad period. The transit forecast shows Jupiter transit through the third house and Saturn in the fourth position. When Jupiter transits through the third house, the returns will be displacement in the current position, lack of support from companions, mental tension etc. Both are not favourable. But these planets are in their own house. It reduces the negative impacts. This season could be very tough for him as a captain. The day prediction seems to be unfavourable for him.  Some of his decisions might flop today.
Key Players of IPL 2020 Team Kings XI Punjab
Mayank Agarwal, Nicholas Pooran and Glenn Maxwell are the key players in this squad. Mayank Agarwal and Maxwell will perform today.
Last ball
There are so many astrological factors influencing a prediction. Analysing every aspect is an impossible task. But here we consider two captains and key players only. From analysing these people, today Virat Kohli has slightly more blessings from stars than Lokesh Rahul. We can expect a thrilling match.
Indian astrology predictions are based on the time, date and place of birth, hence the accuracy of the predictions depends upon the accuracy of these details.