IPL 2020: Mumbai Indians vs Delhi Capitals

The leaders of the points table Delhi Capitals and Mumbai Indians meet today at Abu Dhabi. Captains of both teams are in form and the rest of the team is also doing well. Both captains are openers who give a good start to their middle order and all-rounders continue the tempo till the last ball of the match. Bowling squad of both teams is also superb. Inexperienced Shreyas Iyer's captaincy strategies worked in the last matches and he was well supported from bowlers and fielders. In the fielding department, DC has an upper hand than MI. Mumbai comes to the field after a longer break than Delhi. And, they have a better performing top order as most of them have scored a fifty by now. Both are balanced teams and key players are in form. MI and DC have the same strategy for scoring well and they challenge the opposing batsmen with disciplined bowling. It is difficult to predict who will win the match with team strength and players form. IPL 2020 today's match will be an exciting and close finish.
Check your 60-page FREE horoscope
IPL 2020 Today's Match 27 of 56 MI vs DC
Date –
 11 October, Sunday
Time –
 19:30
Venue – 
Sheikh Zayed Stadium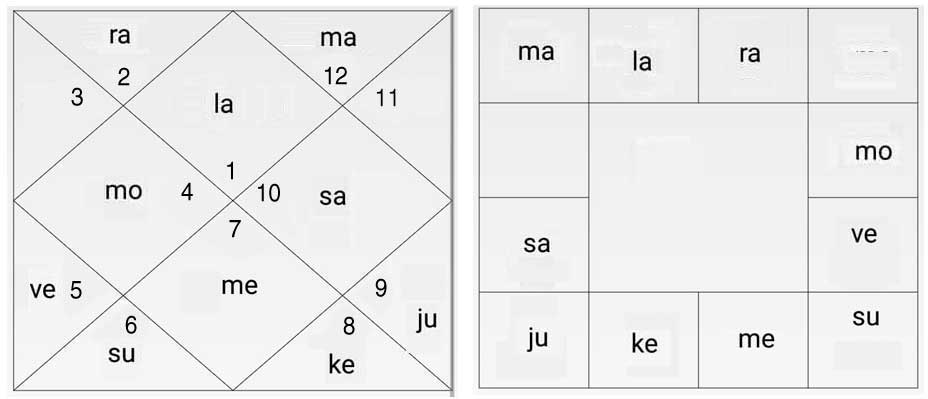 IPL 2020 today's match Predictions – Team MI
Rohit Sharma, the hitman of India, is in batting form and his teammates are doing well. His squad will be meeting the other best team in the tournament. So Rohit should be prepared with the correct strategy to handle DC's batting squad. His Lagna is Cancer whose lord is Moon. Moon is the planet for the mind, emotions, concentration etc. We can see these benefits in people who are born in Cancer Lagna. These qualities help Rohit change his strategies without much conflict. He is able to get the right support from his teammates. He is currently passing through the Rahu Dasa under the sub influence of Ketu. This is not a good time.
Find the impacts of Rahu Ketu transit
This is a time when the unexpected happens. But since Rahu is at nine and Ketu is at three, it can be assumed that there won't be much interference in the form of bad luck. In transit forecast, Jupiter is in the ninth house which gives favourable situations in career, benefits from the knowledge, right advice from mentors etc. But Saturn transits in the tenth house which is not favourable. Saturn is in its own house. This position may reduce the negative effects. The today luck factor is influencing the end result of the match. Daily predictions say today is not favourable for Rohit. He may not get much support from his resources.
Detailed horoscope analysis of Rohit Sharma
Key Players of IPL 2020 today's match – Mumbai Indians 
Kieron Pollard, Hardik Pandya and Jasprit Bumrah are the key players in this squad. Jasprit Bumrah and Hardik Pandya may perform to their top talents.
 IPL 2020 today's match Predictions – Team DC
Delhi Capitals team captain Shreyas Iyer is in form and his captaincy strategies are successful. But today's match is against last year's champion team and a well-balanced team. He will have to be careful with his strategies against MI's key players. His Lagna is Leo, who is a lion. Leadership comes to them without any effort, and people follow naturally. We can quickly identify the Leos in a group from their attitude and behaviour. Lagna lord is Sun, it denotes leadership, authenticity, utilising the resources etc.
Find your luck in sports
Now, he is passing through the Dasa period of Rahu and sub-period of Guru. This is a favourable period for him. In this period he can achieve or learn many things related to his career. Transit forecasts see Jupiter transiting through 12th house and Shani in Lagna. Both are not favourable, but both are in their own house. So he may not face significant challenges. According to daily predictions, the day is not a good one for him. He will face a lack of support from his expected resources.
Key Players of IPL 2020 today's match – Delhi Capitals
PrithviSha, Rishab Panth and Rabada are some the key players in this squad. Rabada may perform well but Prithvi Sha and Rishab Panth may struggle to maintain their form.
Last ball
There are so many astrological factors influencing a prediction. Analysing every aspect is an impossible task. But here we consider two captains and key players only. From analysing these people, today Shreyas Iyer has slightly more blessing from stars than Rohit Sharma. The match will be a very close one with an exciting finish.
Indian astrology predictions are based on the time, date and place of birth, hence the accuracy of the predictions depends upon the accuracy of these details.