IPL 2020: Chennai Super Kings vs Kolkata Knight Riders

IPL 2020 Match 49 will see Kolkata Knight Riders take on Chennai Super Kings. KKR's defeat against Kings XI Punjab may have affected the confidence of the entire team. But KKR is a team who can come back at any moment. Eoin Morgan is a cool captain but in the last match, he could not do much against batsmen who were in form. Both CSK and KKR are struggling with team balance. As CSK is already out of the playoff, it may try out its benched players and the team could be weaker than usual. KKR has to try its best for a spot in the IPL playoff. 
Get your personalized 60-page horoscope FREE
IPL 2020 Today's match CSK vs KKR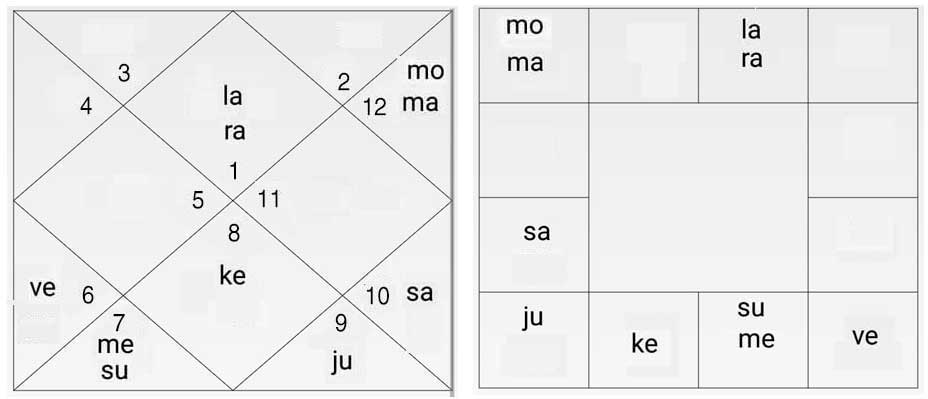 IPL 2020 Today's Match Analysis
Today's Match Astrology Predictions – Team CSK
Dhoni seems to be different, with a nothing to lose attitude. He is trying out his younger players who are utilising their chances very well. Dhoni's Lagna is Virgo. The house lord of Virgo is Mercury. Mercury stands for communication, skill set, and humour sense. Dhoni always communicates effectively with his teammates. Those born in Virgo are good leaders who prefer to talk less, just like their zodiac sign. They have their own plans for success. Dhoni is now passing through Rahu Dasa under the influence of Kuja. Though Kujan is positive, the dasa of Rahu is generally not a favourable period. This season he may face matches that are tougher than previous years.
Transit planets and their influence on him show that Jupiter is passing through fourth house and Saturn through the fifth house. When Jupiter transits through fourth, it gives a lack of support from companions, misbehaviour from subordinates, lack of confidence etc.  Both planets are not very favourable. But they are in their own houses which might be beneficial. So this is not a bad period. The planet of war Mars is in the seventh house. This is also not beneficial. The day prediction says today is a favourable day for him. He may get good support from his teammates.
Get your personalized 60-page horoscope FREE
Today's Match Astrology Predictions – Team KKR
His Lagna is Libra. The zodiac sign of Libra is a beam scale. These people have the ability to check right and wrong in all actions. They are good motivators and can guide their followers. Their leadership is different from other leaders. Morgan's moon sign is Scorpion. Scorpions are mysterious in their actions. They wait for the best time to attack. Sometimes they create problems for themselves. We can expect unpredictable moves from Scorpios.  Currently, he is passing through the Dasa period of Kethu and sub-period of Mercury. Mercury is his ninth bhava lord and it is in the eleventh position. So this dasa is not very bad for him. Transit forecast prediction shows Jupiter transiting through second and Saturn in third. Both are in very favourable positions. These two planets are in its own houses. So the advantages may increase.  Let us check the daily prediction which influences the result of today's match. Today is not an unfavourable day for Eion Morgan. He may get the right support from his resources today.
Key Players of IPL 2020 today's match
Key players of IPL 2020 Team Chennai Super Kings
Shane Watson, Faf du Plessis, Ambati Rayudu and Sam Curran are the key players in CSK. Dhoni can expect a performance that matches their skill in today's game.
Key players of IPL 2020 team Kolkata Knight Riders
Andre Russel, Sunil Narine and Shubman Gill are some of the key players in KKR. Andre Russel and Sunil Narine may contribute as per their talents and skills.
Get your personalized 60-page horoscope FREE
Last ball
There are so many astrological factors influencing a prediction. Analysing every aspect is an impossible task. But here we consider two captains and key players only. From analysing these people, today Mahendra Singh Dhoni has slightly more blessings from stars than Morgan. We can expect a thrilling match.
Indian astrology predictions are based on the time, date and place of birth, hence the accuracy of the prediction depends upon the accuracy of these details.