Choose your Gemstone and find your luck
From early occasions, gemstones have been utilized to turn away the negative impacts of planets and to expand the impact of positive ones. The hues and vibrations of explicit gemstones straightforwardly relate to the hues and vibrations of different planets in our nearby planetary group. The pearls make their impact by both retention and impression of the vibratory beams. They are very touchy and contain radioactive gems, which can expand the astronomical beams got by the planets. At the point when worn as rings or pendants they really make an electromagnetic field around the individual, yet these beams work distinctively in various substantial constitutions. Wearing the appropriate gemstone cam increase the positive effect in us. The gemstone recommendation based on time and place of birth will help you find the exact gemstone which helps you to reduce the negative effects of planets. Not only the Indians but Chinese and Egyptians believed in the mystical qualities of gemstones to eradicate the negative effects. According to Vedic Astrology, Garuda Purana gives information about the utilization of gemstones. Clickastro.com provides you with complete gemstone recommendation suggestions. Our Gem Recommendation Report analyses your birth chart and suggests which gemstone you need to use to overcome obstacles in life.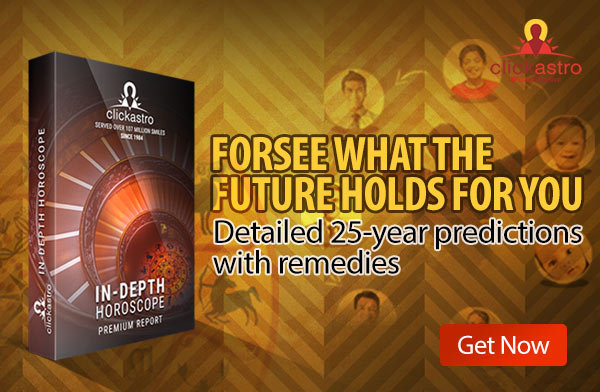 Get Gemstone Recommendation Report
The below chart gives you the insights concerning the gemstones to be worn dependent on your birth star ('Nakshatra' according to the Vedic astrology).
No.

Birth Star
Gem
Instructions for use
Quantity
Metal to use
Finger to wear
Day to start wearing
1
Aswini
Cats eye
3 Cts
Silver
Left hand ring finger
Tuesday
2
Bharani
Diamond
15 Cents
Gold
Right hand small finger
Friday
3
Krittika
Ruby
4 Cts
Gold
Right hand ring finger
Sunday
4
Rohini
Pearl
4 Cts
Silver
Right hand ring finger
Monday
5
Mrigasira
Red Coral
4 Cts
Gold
Left hand ring finger
Tuesday
6
Ardra
Hessonite
4 Cts
Silver
Left hand middle finger
Saturday
7
Punarvasu
Yellow Sapphire
3 Cts
Gold
Right hand index finger
Tuesday
8
Pushya
Blue Sapphire
3 Cts
Silver
Left hand middle finger
Saturday
9
Ashlesha
Emerald
4 Cts
Gold
Right hand small finger
Wednesday
10
Makha
Cats eye
3 Cts
Silver
Left hand ring finger
Tuesday
11
Purvaphalguni
Diamond
15 Cents
Gold
Right hand small finger
Friday
12
Uttaraphalguni
Ruby
4 Cts
Gold
Right hand ring finger
Sunday
13
Hasta
Pearl
4 Cts
Silver
Right hand ring finger
Monday
14
Chitra
Red Coral
4 Cts
Gold
Left hand ring finger
Tuesday
15
Swati
Hessonite
4 Cts
Silver
Left hand middle finger
Saturday
16
Vishakha
Yellow Sapphire
3 Cts
Gold
Right hand index finger
Tuesday
17
Anuradha
Blue Sapphire
3 Cts
Silver
Left hand middle finger
Saturday
18
Jyeshta
Emerald
4 Cts
Gold
Right hand small finger
Wednesday
19
Moola
Cats eye
3 Cts
Silver
Left hand ring finger
Tuesday
20
Poorvashada
Diamond
15 Cents
Gold
Right hand small finger
Friday
21
Uttarashada
Ruby
4 Cts
Gold
Right hand ring finger
Sunday
22
Shravana
Pearl
4 Cts
Silver
Right hand ring finger
Monday
23
Dhanishta
Red Coral
4 Cts
Gold
Left hand ring finger
Tuesday
24
Satabhisha
Hessonite
4 Cts
Silver
Left hand middle finger
Saturday
25
Poorvabhadra
Yellow Sapphire
3 Cts
Gold
Right hand index finger
Tuesday
26
Uttarabhadra
Blue Sapphire
3 Cts
Silver
Left hand middle finger
Saturday
27
Revati
Emerald
4 Cts
Gold
Right hand small finger
Wednesday