Name: Steve Smith
Gender: Male
Date of Birth: 2 June, 1989 Friday
Time of Birth (Hr.Min.Sec): 12:00:00 AM Standard Time
Time Zone (Hrs.Mins): 10:00 East of Greenwich
Place of Birth: : Sydney
Longitude&Latitude (Deg.Mins): 151.11 East, 33.54 South
Ayanamsa: Chitra Paksha = 23 Deg. 42 Min. 41 Sec
Birth Star – Star Pada (Quarter): Bharani
Birth Rasi – Rasi Lord: Mesha – Kuja
Steve Smith's Horoscope and Success: Explained from an Astrological perspective
Placements of planets, specific planetary combinations, its aspects and influences in the Horoscope indicate various events in a person's life. Here's a brief outlook on the success story of Steve Smith from an astrological viewpoint.
According to the birth chart of Steve Smith, he may be reserved, generous, highly sympathetic, and always interested in the welfare of others. He will be intelligent and possess a clear, analytical mind. He will probably be tall and have a pleasant appearance. Even in youth, he believes in living his life by his own rules. He has a very deep appreciation of many subjects. He enjoys the company of all types of people. He will be financially secure. If he has an older brother, he may be partly responsible for his business prosperity and career growth. He will be a spendthrift. There will be a touch of music, art, and discipline in everything he does.
The birth chart Steve Smith indicates he will be a very good communicator. He will be a self-made man. He will not hesitate to utilize his knowledge and wealth for the benefit of the people around him. He will be respected in his community. Sometimes, his generous nature, willing to help others become a worrisome tendency and may be irritating to those around you.
Specific placement of a planet in Steve Smith's Kundali indicates a free spirit, outspoken personality which may make him more prone to marital infidelity. There could be delays, difficulties, or even separation or divorce in his married life. However, his married life will be happy, and his spouse will usually forgive and forget everything. He will have a charming wife. His relationship with his spouse will be strong, loveable, and affectionate. He will be able to provide beautiful homes and luxurious surroundings for his family. His children will prove to be very fortunate. They will also enjoy success and recognition. Such positive indications are seen in Steve Smith's horoscope…Read More
Steve Smith's Horoscope and birth chart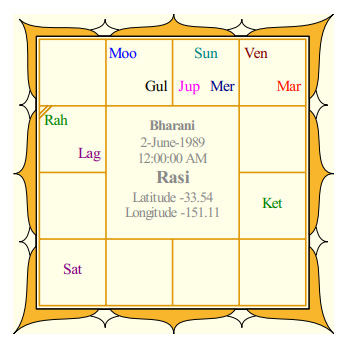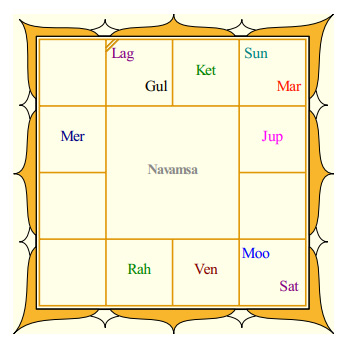 Steve Smith: 2020 Astrological Predictions
The year 2020 has a significant influence on many positive events that unfold during the year. Planetary positions and combinations indicate a lot of happiness, wealth accumulation, and travel. The year indicates multiple points to success in disputes, general happiness, earning money through trading, winning against rivals, and the chance of getting a new vehicle.
He may get multiple opportunities where he would progress well and achieve big in the new ventures he takes up. He will be very successful in sports and games of his choice. He will get favors from seniors and those in power. However, there could be specific periods where he may have to encounter certain health problems like eye strains and emotional or anxiety moments that take a toll on health…Read More