Name: Sachin Tendulkar
Gender: Male
Date of Birth: 24 April, 1973 Tuesday
Time of Birth (Hr.Min.Sec) : 02:25:00 PM Standard Time
Time Zone (Hrs.Mins):05:30 East of Greenwich
Place of Birth: Mumbai, India
Longitude&Latitude (Deg.Mins):72.51 East, 19.03 North
Ayanamsa: Chitra Paksha = 23 Deg. 29Min. 19 Sec.
Birth Star – Star Pada (Quarter):Purvashada – 4
Birth Rasi – Rasi Lord: Dhanu – Guru
Sachin Tendulkar's Horoscope and Success: Explained from an Astrological perspective
Sachin Tendulkar was born on 24 April 1973 in Mumbai India. According to Sachin Tendulkar zodiac sign and Sachin Tendulkar date of birth, the planetary position in a horoscope, the day a person was born, and all other aspects indicate crucial aspects of a person's life.
Sachin Tendulkar's horoscope gives a clear view of his personality, career, health, wealth etc
His birthday was a Tuesday, and birth on Tuesdays indicates that the person is precise in taking decisions, good at making it right. Imaginative, practical, focused on their goals, and are very ambitious. According to the dob of Sachin Tendulkar, Mars in the fourth house of his birth chart indicates that he will have a martial spirit and take this mentality into any activity involved in and he has a warrior-like sense of commitment. Venus in the ninth house is considered good, bestowing fortune and happiness in life. He may suffer from some physical ailments. The Sun in the ninth makes him dutiful and one who values spiritual matters. The fifth house of the horoscope mainly gives indications regarding family, mind, and intelligence…Read More
Sachin Tendulkar's Horoscope and birth chart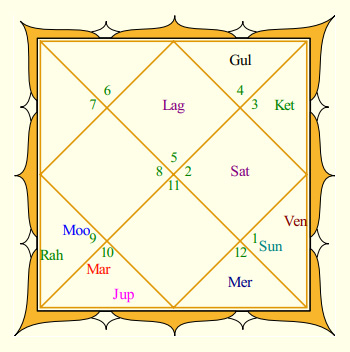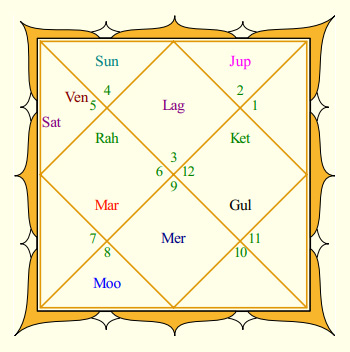 Sachin Tendulkar: 2020 Astrological Predictions
In the year 2020, Sachin Tendulkar zodiac sign and Sachin horoscope say that he will be going through the sub-period of Saturn in the Jupiter Dasha which is for 2 years, 6 months and 12 days, and it started in late 2018 and will remain till the end of 2020. The movements of the Sun, Jupiter, and Saturn have a great influence on his life.
The start of the year shows that he may have a troubled time which may leave him frustrated, hamper his health and reputation in some way, the mid of the year will bring some relief and will help him to be in harmony, expand his learnings and knowledge, involved in philanthropic acts and happiness and good news from the success of his children. As the year ends, he is suggested to be careful while taking risks as sudden unforeseen financial losses may occur. He shouldn't fall into disputes and not take major decisions in this period. A wonderful life is waiting ahead in the coming future…Read More