Name: Rahul Gandhi
Gender: Male
Date of Birth: 18 June, 1970 Thursday
Time of Birth (Hr.Min.Sec) : 09:52:00 PM Standard Time
Time Zone (Hrs.Mins):05:30 East of Greenwich
Place of Birth: Delhi, India
Longitude&Latitude (Deg.Mins): 77.13 East, 28.40 North
Ayanamsa: Chitra Paksha = 23 Deg. 26 Min. 47 Sec.
Birth Star – Star Pada (Quarter): Jyeshta – 2
Birth Rasi – Rasi Lord: Vrischika-Kuja
Rahul Gandhi's Horoscope and Success: Explained from an Astrological perspective
Planets- the influences of planets and its aspects, transits, houses, and combinations determine the characteristics and life events of an individual. Here's an in-depth analysis on Rahul Gandhi horoscope.
The horoscope of Rahul Gandhi indicates specific Raj yogas. For this reason, he will be born into an affluent family. Rahul Gandhi's birth chart analysis includes the following characteristics that may be a part of his personality and life.
Rahul Gandhi will be an optimistic person with full of confidence. According to the birth chart of Rahul Gandhi, he may have born with all luxuries and may remain prosperous throughout his life. He may be practical, very kind, and tolerant of extremities. He will pay attention to detail. Towards life, he may carry a philosophical attitude. He is very determined, flamboyant, strong-willed, hardworking, and soft-spoken and at times may be cunning. He may have to face quite a lot of trials to reach the greatest potential.
…Read More
Rahul Gandhi's Horoscope and birth chart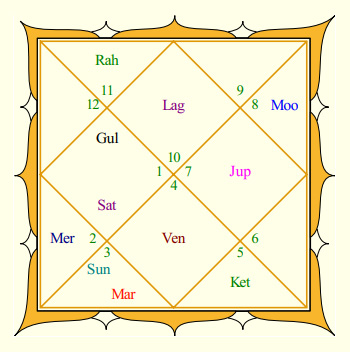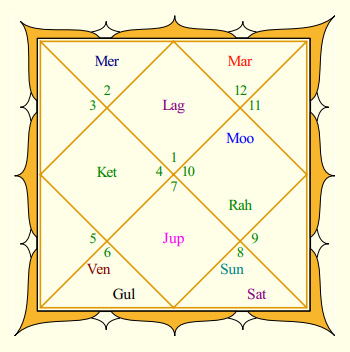 Rahul Gandhi: 2020 Astrological Predictions
Let's see an overview of the year 2020's Rahul Gandhi horoscope analysis.
The year 2020 will be a year of progress for him.
According to Rahul Gandhi horoscope predictions, he may face work-related trouble and emotional disturbances. The planetary placements and transits may reduce the adverse effects and enhance progression. Career-related prospects may turn out fruitful and he may excel in new ventures. He will receive a lot of comfort from his family. Trade prospects, technical know-how, and diplomacy will earn him wealth this year. He may gain more popularity and receive a lot of honor from powerful people…Read More