Name: Hrithik Roshan
Gender: Male
Date of Birth:10 December 1974 Tuesday
Time of Birth (Hr.Min.Sec) : 03:24:00 AM Standard Time
Time Zone (Hrs.Mins):05:30 East of Greenwich
Place of Birth: Mumbai
Longitude&Latitude (Deg.Mins): 72.51 East, 19.03 North
Ayanamsa: Chitra Paksha = 23 Deg. 30Min. 41 Sec.
Birth Star – Star Pada (Quarter): Swati – 1
Birth Rasi – Rasi Lord: Tula – Shukra
Hrithik Roshan's Horoscope and Success: Explained from an Astrological perspective
Placements of planets, specific planetary combinations, its aspects and influences in the horoscope indicate various events in a person's life. Here's a brief outlook on the success story of Hrithik Roshan from an astrological viewpoint.
The following characteristics may be a part of his personality. The date of birth of Hrithik Roshan indicates that he's stubborn, sensitive, a dreamer, poetic, generous, sympathetic, inclined towards arts, and spiritual. He will have a keen interest in writing, drama, poetry, and acting. At times, he may be quite intuitive and mystical. He may possess many talents. He will have a striking physique and attractive eyes. He will have close associates with all straits of society. There are specific times that his reputation may ruin and he may encounter more enemies. His determination, masculine quality, and mental power may save him during tough times.
Hrithik Roshan zodiac sign signifies that he'll be a hard worker. He may live extravagantly all through his life. He will indulge in courageous activities that earn him a great reputation. He will love to wear beautiful, attractive, and appealing outfits. He strives to achieve his goals and fulfill his dreams. The commitment level on any task he undertakes is quite high. The aspects of powerful planets may provide him with abundance. Throughout his career, he may have faced sudden ups and downs at times…Read More
Hrithik Roshan's Horoscope and birth chart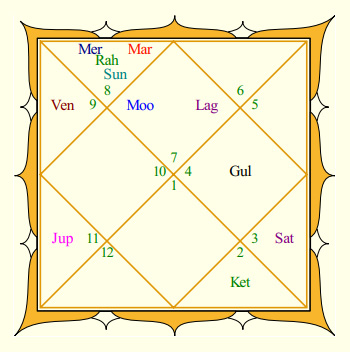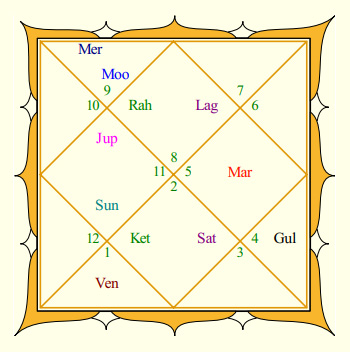 Hrithik Roshan: 2020 Astrological Predictions
Let's look into the brief outlook of Hrithik Roshan's yearly horoscope analysis for the year 2020.
The year 2020 will be a year of financial prosperity, diligence, growth, and domestic comforts. During a specific period, his earnest efforts transform into abundant success. Hrithik Roshan's date of birth and time-based horoscope indicates that he may increase his wealth, gain more success, and become even more popular. He may have to face some problems and take care of his mother's health. Many opportunities may win over his enemies and befriend them. While there could be certain setbacks, new friendships and associations will be very supportive and beneficial. Gain from businesses, domestic happiness, friendship with dignitaries, acquisition of luxury vehicles and properties, pleasurable trips, and social eminence may bless him. He will also indulge in many charitable deeds and make generous offerings.