What is Sri Krishna Janmashtami?
Sree Krishna Janmashtami also was known as Sri Krishna Jayanthi, Ashtami Rohini or simply Janmashtami is one of the most celebrated Hindu festivals. The Janmashtami festival commemorates the birth of Sree Krishna, the ninth incarnation of the God Vishnu.
It is celebrated all over India and Nepal and by the Hindu diaspora around the world. Wide celebrations take place in countries such as Fiji, Guyana, Trinidad and Tobago, Jamaica and Suriname where the Hindu immigrants contribute a major share of the population. The festival of Sri Krishna Jayanthi falls on the Bhadrapada month of Hindu calendar.
When is Krishna Janmashtami 2019/Ashtami Rohini 2019?
Krishna Janmashtami on 

Saturday, August 24, 2019

In some places Janmashtami is celebrated on 23rd August 2019
Nishita Puja Time – 12:01 

AM

 

to 

12:46 

AM

, Aug 25
Duration – 00 

Hours

 45 

Mins
Dahi Handi on 

Sunday, August 25, 2019
Parana as per Dharma Shastra
Parana Time – 

after

 05:59 

AM

, Aug 25
Mid Night Moment – 12:24 

AM

, Aug 25
Chandrodaya Moment – 12:22 

AM

, Aug 25 
Ashtami Tithi Begins – 08:09 

AM

 

on 

Aug 23, 2019
Ashtami Tithi Ends – 08:32 

AM

 

on 

Aug 24, 2019
Rohini Nakshatra Begins – 03:48 

AM

 

on 

Aug 24, 2019
Rohini Nakshatra Ends – 04:17 

AM

 

on 

Aug 25, 2019
Get amazing  Offers on your horoscope on this Janmashtami !!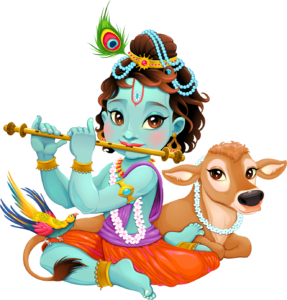 The day of birth of Lord Krishna – Astrological Observations
According to the legend, Lord Krishna took birth in the midnight of the 8th lunar day (Ashtami) of the dark fortnight (Krishna Paksha) of Bhadrapada month (Lunar month – Shravan). The Nakshatra or lunar mansion of the day was Rohini (Aldebaran). Every year, Janmashtami or the birthday of Krishna falls on the Ashtami of the dark fortnight of the Bhadrapada month (August -September in Gregorian calendar). The Nakshatra or lunar mansion Rohini will coincide with this day which is the reason why the festival is called Ashtami Rohini.
According to some Indian & Western scholars, the life of Krishna, on an approximate, was between 3200 and 3100 BC. Some astrological calculations suggest the date of birth of Krishna as 18th July 3228 and, it is supposed that he lived until 18th February 3102 BC.
The legend of Sri Krishna Jayanthi
Krishna is the ninth avatar of God Vishnu and Janmashtami or Sri Krishna Jayanti is the day in which he made his earthly appearance. According to the Hindu texts, he was born as the eighth child of princess Devaki and her husband Vasudeva, who belonged to the Vrishi clan of Yadavas from Mathura, on the dark fortnight Ashtami and Rohini Nakshatra of the Bhadrapada month.
Devaki's brother Kamsa was a wicked prince who imprisoned his father Ugrasena to ascend the Yadava throne. Kamsa, following the prophecy that he would die at the hands of Devaki's 8th child, imprisoned Vasudeva and Devaki too. Devaki's 7th conception, after the death of first six infants at the brutal hands of Kamsa, became an apparent miscarriage which was actually a secret transfer of the infant to Rohini, Vasudeva's another consort.
Later, Rohini gave birth to Balarama, Krishna's brother. In the night of Krishna's birth, the Ashtami tithi of the dark fortnight of Shravana, Vasudev, as instructed by divine order, took the infant Krishna to Nanda and Yashoda of the cowherd community of Gokul. It was a night of heavy rain; the prison guards fell asleep, and the hackles and prison gates got unlocked. Vasudeva, as per the divine order, carried infant Krishna across the river Yamuna, reached Gokul, kept Krishna there and returned with Yoshoda's newborn baby girl.
Thinking her to be Devaki's eighth child, Kamsa tried to kill her. While he attempted to kill her, the baby rose into the air, revealing herself as Goddess Durga and implicated his death at the hands of Krishna. Little Krishna and his brother Balram grew up in Gokul. They endured several attempts of Kamsa to kill them and, upon returning to Mathura, Krishna killed Kamsa and freed his parents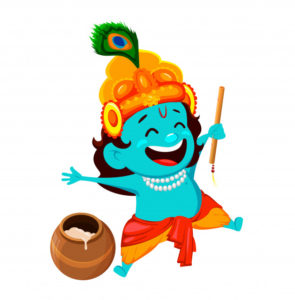 Krishna – the most adored Hindu God
Krishna is one of the most worshipped Hindu deities. The story of Krishna and his exploits is much more than the killing of Kamsa and freeing his parents. He can be considered as the central figure of the epic Mahabharatha. There are many exciting stories/legends regarding Sri Krishna's life and is being adored for the various roles he took in his life from birth to death to show his divine prowess. The epic of Mahabharatha portrays him as a naughty and innocent child, an ideal friend, a teacher, a philosopher, a saviour and a leader.
Krishana acted as protector and counsellor to Arjuna during the Kurukshetra war. On the battlefield of Kurukshetra, before the beginning of the war, Arjuna had a dialogue with Krishna for the emotional dilemma and agony he felt. Krishna then counselled him and explained how someone can seek the union with God by focusing on his duties. These teachings of Krishna came to be known as Bhagavad Gita which till date is studied for its deep and versatile meanings relevant to everyone and to all generations. Unlike other spiritual teachings, Gita doesn't suggest renunciation of the world, instead, it suggests the acceptance of the world reality.
Sri Krishna Jayanti Celebrations
Janmashtami festival is one of the most decorated religious festivals in India. It is celebrated in every nook and corner of the nation with their own regional variations. Though the observations vary according to the regional beliefs and cultures, everywhere the birthday of Lord Krishna is celebrated with colours and passion. The common observations of Janmashtami festival include visiting Krishna temples, giving offerings, chanting hymns, fasting, gifting, singing, dancing and social merrymakings.
The Janmashtami festival offerings include performing abhishekam on Krishna idols with milk, ghee, honey and water.  Devotees may also offer butter, ladoo, bhog etc. to the deity. Special dishes such as kasar (panjiri mixed with dry fruits and nuts), kheer, aloo ki kachodi, poori, chhole, makhan mishri and sweets are prepared at homes and people enjoy it with their family.
In some places, a cradle with infant Krishna's idol is placed and swung, symbolising his birth. Social gettogether and merrymakings are a feature of the Janmashtami festival. Conducting Janmashtami processions is a common observance in which kids dress up as little Krishna and enact the instances from Krishna's life. The celebrations have an added fervour in regions like Maharashtra, Gujarat and Uttar Pradesh.
Dahi Handi (pot of curd) is a high energy celebration conducted on Krishna Janmashtami. An earthen pot containing butter, buttermilk, ghee (milk fat) or milk will be hung at a height and men would make a human pyramid by climbing on each other, to reach the pot and to break it. A participant in this festival is called as Govinda or Govinda pathak. A variation of this game known as Uriadi is conducted in some regions in South India as a part of Ashtami Rohini celebrations.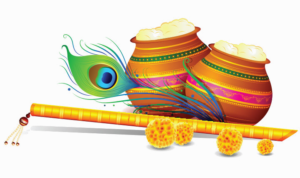 The crowd participation in Janmashtami celebrations will be high in regions associated with the legends of Krishna viz. Mathura, Gokul, Vrindavan and Dwaraka. Hordes of devotees can be seen on the Janmashtami festival day at major Krishna temples like Dwarkadhish temple Dwaraka, Rajagopalaswami Temple Mannargudi, Udupi Bala Krishna temple, Pandavadhoothar temple in Kanchivaram and Guruvayur Krishna temple.
Janmashtami Fasting & Pujas
Devotees observe special fasting and pujas on Krishna Janmashtami in order to seek the Lord's blessings. The relevant timings of Ashtami Rohini 2018 are provided above which will be useful for those observing fasting and pujas.
Devotees performing the Vrut may observe a day-long fast to break it on the next day when Ashtami Tithi is over. Some devotees observing the fast may spend their day, eating phalahar consisting of fruits and water while some like to break their fast with charnamrit and dhaniya panjiri. The devotees on fast would also like to stay awake until midnight, which is the time Krishna was born.
What is the 
significance of 
Janmashtami?
Krishna Janmashtami commemorates the birth of Krishna – the ninth avatar of God Vishnu. The purpose of every avatar is to free the world from evils and guide humanity in the path of Dharma or righteousness. Lord Krishna is a major character in the epic Mahabharatha which depicts numerous instincts of his Mayas and efforts for establishing righteousness. The greatest contribution of Krishna to this world is the Bhagavad Gita that preaches the value of Dharma.
The teachings of Bhagavad Gita have great social, moral, spiritual and scientific significances. It is relevant to every individual irrespective of his age, belief and status and its value will remain timeless. In Gita, the Lord says, 'whenever there is a predominance of evil and decline of righteousness, I'll incarnate to destroy them and to re-establish Dharma in the world'. Hence, every Krishna Jayanti or Janmashtami festival should be an occasion to restore the Dharma or righteousness. Let Sree Krishna Janmashtami 2018 be a new beginning for us, the beginning of our journey in the path of Dharma.