Narendra Damodardas Modi born on 17 September 1950 in Gujarat is the 16th prime minister of India and he is the current Prime minister since May 2014. He started his political life at the age of eight by joining Rashtriya Swayamsevak Sangh (RSS). Modi's administration focuses on implementing several policies to improve Indian economy.
An inspiring quote by Narendra Modi
" Once we decide we have to do something, we can go miles ahead. "
Horoscope of Narendra Modi.
Name: Narendra Modi
Gender: Male
Date of Birth: 17 September 1950 Sunday
Time of Birth (Hr.Min.Sec) : 11:00:00 AM Standard Time
Time Zone (Hrs.Mins) : 05:30 East of Greenwich
Place of Birth: Mehsanangitude &Latitude (Deg.Mins): 72.22 East, 23.35 North
Ayanamsa: Chitra Paksha = 23 Deg. 10 Min. 8 Sec.
Birth Star – Star Pada (Quarter) : Anuradha – 2
Birth Rasi – Rasi Lord : Vrischika – Kuja
Lagna (Ascendant) – Lagna Lord : Vrischika – Kuja
Thidhi (Lunar Day) : Shashti, Suklapaksha
Narendra Modi's detailed horoscope.
The first house of the horoscope determines the characteristics of a person.Based on the position of Lagna in Narendra Modi's horoscope represents his personality. He is sarcastic, impulsive, intelligent, strong willed, secretive, quarrelsome, sickly in childhood, sharp,quick-witted, inconstant, excitable and a good conversationalist.
>>>>> Get your personalised horoscope for free <<<<
Narendra Modi's character doesn't take advice well. There may be chances to argue with parents over money or land. The second half of his life will be luckier than the first. There may be chances of having special marks on palms or feet. He has the caliber to perform well in competitions. Narendra Modi has the luck to enjoy luxury. Narendra Modi also possesses a talent for art, dance, or singing.
Since the Lagna lies in the first Drekkana of its house, there may be the chances to face financial uncertainties and problems early in life. Preferred areas may be business, journalism, politics, and industry. He will be recognized as an independent spirit.
Narendra Modi possesses a very courageous nature. However, he can also be changeable. He is a person of numerous interests. He may be fascinated by a variety of subjects and a variety of people. He will be alert, both mentally and physically. His horoscope shows that he will travel to or live in other countries.
Since the Moon occupies the first house, he will be strong, and have beautiful eyes and his outlook will be spiritualistic . Lagna lord is positioned in own house, which indicates that there may be chances to rise to positions of power and authority.
Rasi
Dasa balance at birth = Sani 11 Years, 2 Months, 11 Days
Navamsa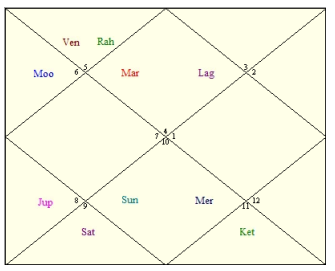 Bhava Chart